Sitting north of the San Francisco Bay Area and west of the Central Valley, the spectacular rugged shoreline of Mendocino County stretches 130 miles along Northern California's lost coast and includes so much more than its jaw-dropping, world famous scenic vistas…
Mendocino's Pacific coast is made up of rocky cliffs, wild headlands, and grassy bluffs broken up by hidden coves and breathtaking beaches, sea stacks and rock arches, and sea caves, punchbowls, and blowholes. All along the coast you'll find abundant tidepools, vast sand dunes, glass beaches, towering redwood forests, ecological terraces, protected wetlands and coastal estuaries, stunted pygmy forests, miles of hiking, biking, and walking trails. You'll also be able to visit historic lighthouses, art galleries, museums, bed and breakfasts, restaurants, and wineries, ride a historic train, and tour an African animal preserve.
There is definitely no shortage of things to do in and around Point Arena, Mendocino, and Fort Bragg!
Here are some of our favorite family-friendly activities in Mendocino County:
01. Pomo Bluffs Park
Pomo Bluffs Park, with stunning views of the Pacific Ocean, covers the 25 acres of land south of Noyo Bay. A paved trail follows the edge of the bluffs to scenic lookout points, interpretive displays, and viewing benches. The Park is located on Todd Point, a great whale watching spot during the gray whale migration from February through April.
---
02. Noyo Headlands Park
Noyo Headlands Park sits north of Noyo Harbor atop the rugged bluffs of California's rocky Pacific coastline. The 92 acre oceanfront park is located on land that was reclaimed from an industrial mill site owned by Georgia-Pacific. The flat, eight foot wide, ADA-accessible, paved Noyo Headlands Fort Bragg Coastal Trail hugs the cliffs, providing awe-inspiring views of the Northern California coastline, scenic lookout points, benches made by local artists, and interpretive displays.
---
03. Historic Fort Bragg And The Guest House Museum
Fort Bragg is the largest city between San Francisco and Eureka on the beautiful Mendocino Coast. The city is famous for its Glass Beach, family-friendly tidepooling at MacKerricher State Park, and the 100+ year old Skunk Train.
The Guest House Museum, located in the 1892 Victorian Mansion used as Fort Bragg Lumber Company's guest house, features exhibits on the logging, railroad, and fishing industries, the Pomo Indian Tribe, and the history of Fort Bragg and the Mendocino Coast.
---
04. Glass Beach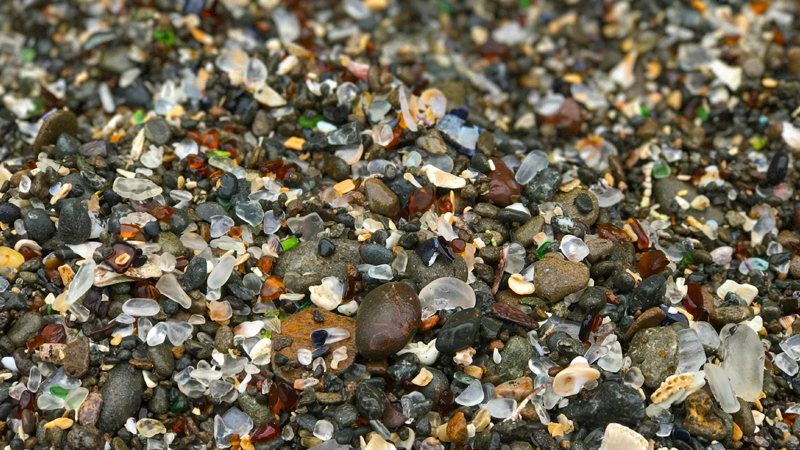 Glass Beach is believed to have the highest concentration of sea glass in the world and is one of the most popular tourist destinations on Northern California's Mendocino Coast. While there is an "official" Glass Beach in Fort Bragg, there are actually three different glass beaches accessible off the Noyo Headlands Fort Bragg Coastal Trail.
---
05. Pudding Creek Trestle And Beach
Built in 1915 as part of the Ten Mile Railroad, Pudding Creek Trestle was originally used to move timber for the Union Lumber Company across Pudding Creek, from Ten Mile River to the mill in Fort Bragg until 1949. Measuring 527 feet long and 44 feet tall, Pudding Creek Trestle was the first of five trestles built for the railroad.
Pudding Creek Beach, sitting below the Pudding Creek Trestle at the mouth of Pudding Creek, is a sandy pocket beach with tidepools between the steep cliffs of two coastal headlands in Fort Bragg.
---
06. MacKerricher State Park
Located just three miles north of Fort Bragg, MacKerricher State Park extends nine miles along the majestic Mendocino Coast. The park encompasses nearly 2,300 acres, over 450 of which make up a protected underwater area that helps preserve California's natural underwater ecosystems.
The Laguna Point Boardwalk features several scenic observation platforms with interpretive panels, a seal watching station, opportunities for while watching, magnificent views of the Mendocino coast and Pacific Ocean, and access to some of California's richest tide pools.
---
07. Inglenook Fen—Ten Mile Dunes Natural Preserve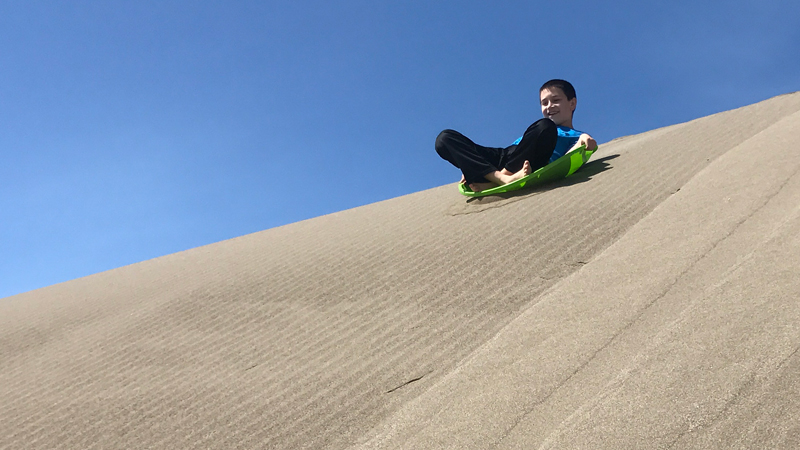 The Mendocino sand dunes are part of the 1,300 acre Inglenook Fen—Ten Mile Dunes Natural Preserve that forms the northern section of MacKerricher State Park and includes Ten Mile Beach, the Inglenook Fen, and the Ten Mile Dunes. The Ten Mile Dunes extend three-quarters of a mile from the beach to Highway 1. With sandy dunes reaching up to 130 feet tall, this is California's most pristine stretch of coastal dunes.
---
08. International Sea Glass Museum
Located just south of Fort Bragg is the world's first and only Sea Glass Museum and the largest permanent sea glass exhibit in the world. Founded in 2009, the museum has more than 150,000 pieces on display, including terracotta pieces and sea glass in a variety of shapes, sizes, and colors like rare stoppers, handle pieces, rounds and marbles — all found on Fort Bragg's glass beaches.
---
09. The Skunk Train
Built as a logging railroad in 1885, the world famous Skunk Train continues to follow the coastal "Redwood Route" as it has for more than 130 years, but instead of transporting lumber company families and workers to the logging camps along the route, the train now carries tourists to the majestic Mendocino redwood forests.
---
10. Jug Handle State Natural Reserve
Established in 1976, Jug Handle State Natural Reserve is a 776 acre park on the rugged Mendocino coast with spectacular ocean views, a wide sandy beach, picnic areas, lush forests, and a unique ecological staircase. While visiting Jug Handle State Natural Reserve, you can simply relax at the picnic area and enjoy the gorgeous views of the Pacific Ocean, or you can hike down to the sandy Jug Handle Beach, hike the Headlands Loop Trail or hike the Reserve's famous Ecological Staircase.
---
11. Point Cabrillo Light Station
The 296 acre Point Cabrillo Light Station State Historic Park features a beautifully restored 1909 lighthouse, 11 other historic structures, and hiking trails on a rugged headland 1.5 miles north of Mendocino, California.
The Light Station, one of the most complete in the United States, and Point Cabrillo Natural Preserve occupy a spectacular coastal headland and prairie thrusting out into the Pacific Ocean. And, in a cove nearby, lay the remains of the brig Frolic, the most important Gold Rush era shipwreck in California.
---
12. Russian Gulch State Park
Russian Gulch State Park includes 7,630 feet of stunning rocky coastal bluffs, a protected beach, tidepools, 15 miles of lush forested hiking trails and horseback riding trails, five miles of bike trails, campgrounds, and shaded picnic areas.
Also called a blow hole, Devil's Punch Bowl is a 100 foot wide, 60 foot deep partially collapsed sea cave easily accessible from the park's Headlands Trail
---
13. Mendocino Village And Mendocino Headlands State Park
The sleepy, Victorian-era, seaside village of Mendocino sits on rocky bluffs along the rugged Northern California Coastline and offers visitors quaint shops, cozy bed and breakfasts, delicious restaurants, art galleries, and absolutely stunning panoramic views of the Pacific Ocean.
Mendocino was the first of several north coast towns founded between 1851 and 1920 during the height of the lumber industry. It is designated a National Historic Preservation District with 86 Mendocino Category 1 Buildings easily walkable in the historic downtown.
---
14. Big River Beach
Located in the Big River Unit of Mendocino Headlands State Park, where Big River flows into the Pacific Ocean, driftwood-laden Big River Beach sits just below the south end of the historic village of Mendocino. The white sand beach is part of a nearly 7,400 acre wildlife corridor that includes 1,500 acres of coastal estuary wetlands.
---
15. Mendocino Bay Overlook
The Mendocino Bay Overlook Public Access Easement includes an easy, flat, 0.2 mile out and back trail to a small yet magnificent grassy area atop the bluffs overlooking Mendocino Bay, Big River Beach, Mendocino Headlands State Park, and historic Mendocino Village. This is the spot photographers stand to take postcard-quality photos of the town atop the bluffs.
---
16. Van Damme State Park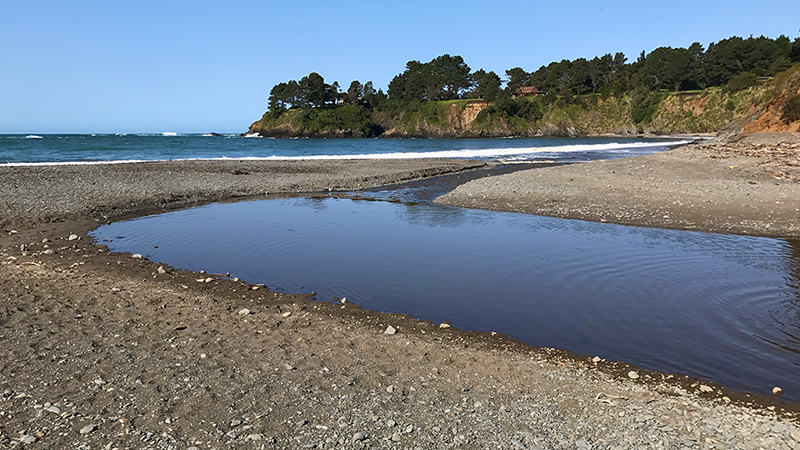 Located at the mouth of Little River, Van Damme State Park, sits across Highway 1 from the Little River Golf Course and offers visitors a gorgeous semi-protected beach, ten miles of hiking trails through lush forest, campgrounds, and a unique Pygmy Forest.
---
17. Greenwood State Beach
Located in the tiny town of Elk, Greenwood State Beach includes a coastal headlands trail with cascading carpets of wildflowers, a shady picnic area, breathtaking views of the sparkling blue Pacific Ocean, and access to a long stretch of beach. Just offshore in Greenwood Cove, sea arches and sea stacks, with names like Wharf Rock, Gunderson Rock, and Casket Rock, rise from the surf.
---
18. Manchester State Beach Park
With almost five miles of spectacular California coastline, Manchester State Beach Park has a long stretch of sandy beach, sand dunes, wetlands, and acres upon acres of flat meadow-like grasslands on coastal bluffs. The northernmost segment of California's 800 mile long San Andreas Fault, separating the Pacific and North American tectonic plates, intersects a portion of Manchester State Beach Park.
---
19. Point Arena Lighthouse
Located on the majestic southern coast of Mendocino County, the 115 foot Point Arena Lighthouse is the tallest lighthouse on the west coast where visitors can climb the 145 step spiral staircase all the way to the lantern room at the top. The historic Fog Signal building houses a museum displaying the Lighthouse's original 1908 First Order Fresnel Lens and exhibits about the area's history.
---
20. Point Arena Pier In Arena Cove
Surrounded by the Point Arena-Stornetta Public Lands, a unit of the California Coastal Monument, Point Arena is one of the smallest incorporated cities in the state of California. Located on the southern coast of Mendocino County, the point is a land mass jutting out into the ocean that is the closest spot to Hawaii in the contiguous 48 states.
The 330 foot Point Arena Pier, considered to have some of the best pier fishing in California, is located in Arena Cove directly below the cliffs of the Point Arena-Stornetta Public Lands.
---
21. B Bryan Preserve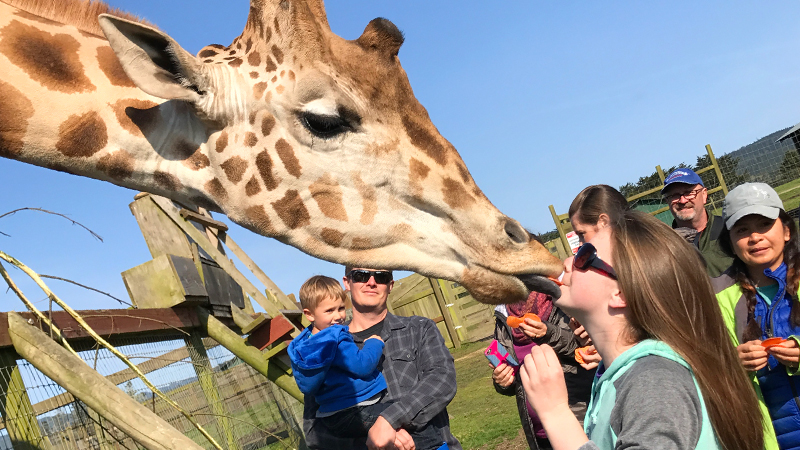 B Bryan Preserve is a 110 acre African Wildlife Conservation Center located in Point Arena, California that houses rare and endangered African animals including Roan, Sable, and Greater Kudu Antelope, as well as Grevy's Zebra and Hartmann's Mountain Zebra, and the Rothschild's Giraffe. They even let you feed the giraffes an get giraffe kisses.
---
22. Moat Creek Beach
Moat Creek Beach, officially called Moat Creek Coastal Access, covers three miles of beautiful beach, bluffs, and two creeks that flow into the ocean — Moat Creek and Ross Creek. It includes a small parking lot, a rocky sand beach, and a scenic half-mile loop trail along the coastal bluff between Moat and Ross Creeks, which is also part of the California Coastal Trail.