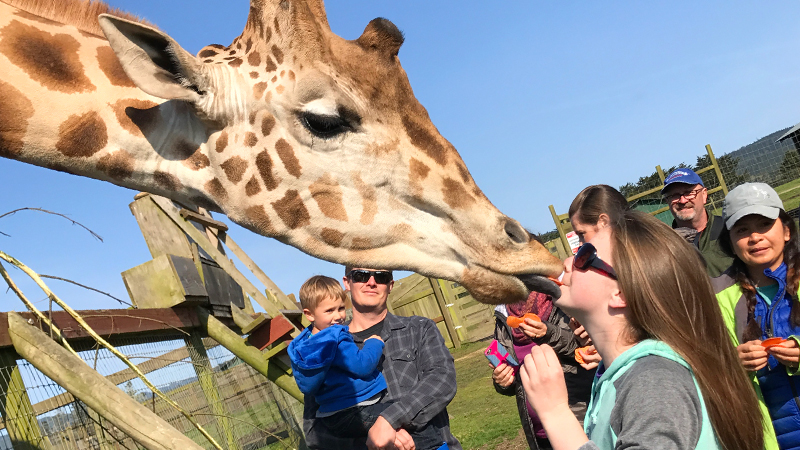 While we were exploring historic Fort Bragg, wandering in and out of the shops along Main Street, Natalie and I got to talking with a couple of the shopkeepers. They had asked how long we were visiting for and were sharing some ideas of fun things to do in Mendocino and Fort Bragg. When one told us that she was taking her family to an animal preserve with zebras and giraffes the next day, I thought she was joking. An African animal preserve near Fort Bragg? Say What?!
It turns out, she wasn't joking. About one hour south of Fort Bragg in Point Arena is the B Bryan Preserve, where you can get up close and personal with antelope, zebras, and giraffes. The kids and I were so excited that we made Brian check out the website and book reservations for our tour later in the week!
Because our tour wasn't until 4:00 in the afternoon, we planned to check out the coast and tour the Point Arena Lighthouse on the way to the Preserve. We also ended up visiting Greenwood State Beach, Moat Creek Beach, and Manchester State Beach Park, and exploring the Point Arena Pier at Arena Cove and downtown Point Arena.
About B Bryan Preserve
B Bryan Preserve is a 110 acre African Wildlife Conservation Center located in Point Arena, California that houses rare and endangered African antelopes, zebras, and giraffes.
The preserve raises, breeds, and studies African hoof stock, including Roan, Sable, and Greater Kudu Antelope, as well as Grevy's Zebra and Hartmann's Mountain Zebra, and the Rothschild's Giraffe.
While most of the animals, ranging from critically endangered to endangered, have come from zoos or other private organizations, B Bryan Preserve is not a zoo. It is a private preserve housing majestic African animals in large open fields.
Touring B Bryan Preserve
Visiting B Bryan Preserve is by reservation only. The 90 minute tours are only given once in the morning and once in the late afternoon during the animals' normal feeding time so you can get as close as safely possible to the animals while they are on their best behavior and near the barns. The tours are given in super cool, open-air, imported, vintage Land Rovers, which means there is limited seating and reservations book up well in advance.
We arrived quite a bit early for our 4:00 pm tour, which gave us time to explore the rental cottage grounds and beautiful gardens, poke around the old barn and gift shop, and watch a movie about endangered African wildlife, predatory hunting, and current conservation efforts.
Soon other families began to arrive and the friendly staff checked us all in by name. At exactly 4:00 the tour started with a welcome presentation in the barn and then we headed outside and were assigned a vehicle for our tour. We were stoked to be riding in the back of a vintage Land Rover!
Unlike other tours, the B Bryan Preserve tours aren't sitting tours, but on-off tours. You're only riding in the vehicles to move from one area of the 110 acre property to another. When you reach a destination, everyone departs the vehicles to see the animals up close — and when I say up close, I'm not kidding…
Our first stop was to see three Hartmann's Mountain Zebra, one of which was a baby. These zebra weren't even in enclosures and they were literally only about 15 feet from us. It was a pretty amazing experience.
Then we drove a bit further to see a herd of Sable antelope, Roan antelope, and Greater Kudu antelope, and a group of Gevy's Zebra. While these zebra were behind a chain link fence, they walked right up to the fence to eat, which gave us an appreciation for the warnings to keep our hands off the fence!
The last stop was to see the giraffes and it was by the best part of the entire tour!
We've paid for the whole "feed a giraffe" experience at multiple zoos, where they give you a tony bit of lettuce, one giraffe comes over and eats it, and the whole thing is done in seconds. The B Bryan Preserve giraffe experience is the complete opposite.
When we hopped out of the vehicles, the guides had five gallon buckets of sliced sweet potatoes ready. Not only could we grab as many pieces as we wanted to feed the giraffes, the staff encouraged us to get kisses from the giraffes by placing the sweet potato pieces in our mouths! Natalie and I totally got giraffe kisses, but Brian and Carter opted to stick with feeding the giraffes by hand.
Touring B Bryan Preserve was an incredible experience.
The staff was really friendly and patient, they answered all of the questions we had, and never once did we feel rushed to "move on." They even offered to snap photos with our own iPhones and gave us tips to get great photos with the animals.
We really enjoyed our tour and seeing the animals in a natural habitat somewhat similar to the land in their native Africa, and have recommended B Bryan Preserve to pretty much everyone we know.
B Bryan Preserve History
Founder Dr. Frank Mello and his wife Judy, have always been wildlife enthusiasts. While Judy had spent time in several parts of Africa, Frank was introduced to Sable Antelope during a visit to West Texas. In 1998, on family land in Mississippi, the Mello's founded B Bryan Preserve for the study and conservation of Sable, Roan, and Greater Kudu antelope.
In 2004, Frank retired and Judy followed a job opportunity to Northern California. They purchased a 100 acre ranch and moved their 11 animals to Point Arena in Mendocino County. Since then, endangered Grevy's and Hartmann's Mountain zebra and Rothschild's Giraffe have been added to the Preserve.
With an understanding that most people will never be able to go to Africa and view these majestic creatures in their native habitat, B Bryan Preserve aims to educate visitors about the precious African animals, what is happening on the African Continent, and current conservation efforts, as well as inspire interest in the preservation and conservation of these breathtaking animals.
Know Before You Go
B Bryan Preserve is located at 130 Riverside Drive, Point Arena, California 95468 in Mendocino County, south of Mendocino and Fort Bragg.
The family owned preserve raises, breeds, and studies Roan, Sable, and Greater Kudu Antelope, as well as Grevy's and Hartmann's Mountain Zebra and the Rothschild's Giraffe.
You can Tour the Preserve to see the majestic animals up close. Tours are offered at 9:30 am and 4:00 pm daily (3:30 in the winter) and reservations are required. No drop-ins are allowed.
Make reservations early! There are limit spaces available per tour and tours book up fast.
Tours are given in awesome old open air Land Rovers, and during the tour you'll be getting in and out of the vehicle at each animal stop.
The 90 minute tours cost $35 per adult and $20 per child 10 and under (including infants) and are held rain, sun, or wind.
If you visit B Bryan Preserve, make a day of it and also visit nearby Point Arena Lighthouse, the Point Arena Pier at arena Cove, Moat Creek Beach, Manchester State Beach, and Greenwood State Beach.
Have a jacket on hand. The fog and wind can show up fast! Wear comfortable walking shoes and be prepared for a little mud.
Want to stay? There are fully furnished, eco-friendly cottages that are available for lodging.
Pets are not allowed on B. Bryan Preserve.