We had been looking forward to visiting Hawai'i Volcanoes National Park and seeing an active volcano for months, and after visiting Maui and Haleakalā National Park and seeing the volcano rise up into the clouds, the first thing we thought when arriving at Hawai'i Volcanoes National Park was, How come we can't see Kīlauea Volcano? As it turns out, we were on top of the volcano just a short ways from the erupting Halema'uma'u Crater in the Kīlauea Caldera!
From sea level to 13,677 feet elevation, Hawai'i Volcanoes National Park covers 333,086 acres of the Big Island of Hawai'i. It encompasses the summits and rift zones of two of the world's most active volcanoes, Kīlauea and Mauna Loa. Kīlauea has been in nearly continuous eruption since 1983.
Designated an International Biosphere Reserve in 1980, and a World Heritage Site in 1987, Hawai'i Volcanoes National Park features calderas, pit craters, cinder cones, spatter ramparts, fumaroles, solfataras, pāhoehoe and 'a'ā lava flows, tree molds, lava tubes, black sand beaches, and thermal areas.
The park is home to 59 endangered species and includes 66 miles of paved roads, 155 miles of marked trails, 7 ecological zones — seacoast, lowland, mid-elevation woodland, rain forest, upland forest, subalpine, and alpine.
We spent two full days, from around 7:00 am to well after dark, exploring this remarkable park, primarily off Crater Rim Drive and Chain Of Craters Road. We LOVED our visit to the park and highly recommend it for anyone who is interested in nature, history, science, breathtaking views, and volcanoes.
Here is our list of all the things to do while visiting Hawai'i Volcanoes National Park — click the pink buttons to learn more about each attraction:
01. Historic Volcano House
Volcano House, with 33 historic guest rooms, is the only hotel in Hawaii Volcanoes National Park and Hawaii's most unique hotel location. Volcano House overlooks Halema'uma'u Crater at the summit of Kilauea and has two crater view restaurants, a snack bar and lounge, two gift shops, and a pressed penny machine. If you stay in a Crater-View Room, you'll be able to see the red glow of lava from the Halema'uma'u eruption from your bed!
---
02. Kīlauea Visitor Center
The Kīlauea Visitor Center, located near the entrance to Hawai'i Volcanoes National Park, is the first stop for almost all of the 2.6 million visitors to Kīlauea Volcano. The Visitor Center features exhibits on island formation, the arrival of life, ecosystems from sea to summit, the sights and sounds of the rain forest, invasive species, and those who make a difference in resource protection and 24/7 access to park maps and information posted in a covered outdoor area.
At the Visitor Center, you can get the latest information on trails, ranger-led activities, road conditions, and safety precautions. Don't underestimate the importance of this information! Because of the dynamic nature of the two active volcanoes in the park, conditions can change rapidly.
---
03.Jaggar Museum, Kīlauea And Halema'uma'u Overlook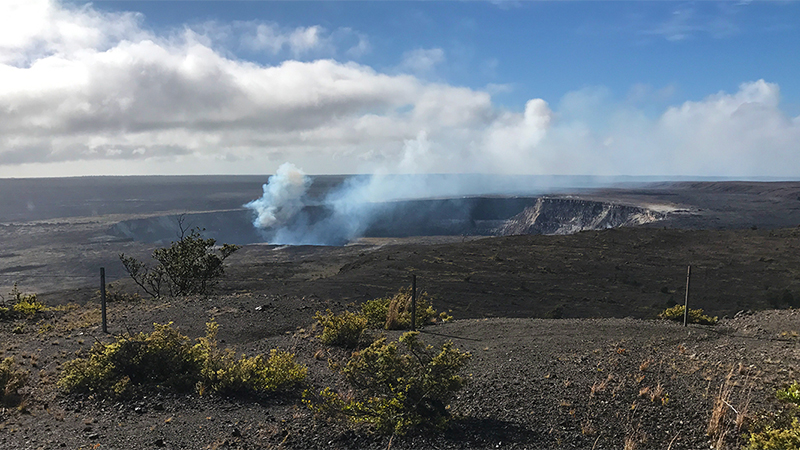 The Thomas A. Jaggar Museum is a museum on volcanology with displays of equipment used by scientists to study the volcano, state-of-the-art seismographs, an exhibit of clothing and gear from scientists who got too close to lava, and video screens showing footage of lava flows. There are also several Hawaiian cultural exhibits and a gift shop with books, videos, maps, shirts, souvenirs, and other items for sale.
The Jaggar Museum Overlook provides panoramic views of Kīlauea Caldera, interpretive displays about one of the world's most active volcanoes, and breathtaking views of Halema'uma'u Crater.
---
04.Kīlauea Overlook
The Kīlauea Overlook has basically the exact same view of Halema'uma'u Crater within Kīlauea Caldera as the Jaggar Museum Overlook. The only real difference between the two scenic vista points is that the Jaggar Museum is very crowded and has interpretive displays, and the Kīlauea Overlook (and picnic area) is practically deserted.
---
05. Steam Vents And Steaming Bluff
Several trails lead from the parking lot to fenced off steam vents releasing large plumes of clean steam into the air. Steam vents are created by ground water that seeps down to the hot volcanic rocks and returns to the surface as steam.
The walk from the steam vents parking area to Steaming Bluff is 0.25 miles round trip. Steaming Bluff is a series of ground cracks along the edge of Kīlauea Caldera that pour out steam. Here you get a new perspective on the enormous caldera.
---
06. Ha'akulamanu — Sulphur Banks
At Sulphur Banks, known as Ha'akulamanu, volcanic gases seep out of the ground along with groundwater steam. These gases are rich in carbon dioxide, sulfur dioxide and hydrogen sulfide — the gas that smells like rotten eggs. Some sulfur gases deposit pure crystals at Sulphur Banks. Other sulfur gases form sulfuric acid which breaks down the lava to clay. This clay is stained red and brown with iron oxide.
Sulphur Banks Trail is an easy 1.2 mile round trip walk on a paved trail and wooden boardwalk to an area where volcanic gases deposit colorful sulfur crystals and other minerals.
---
07. Kīlauea Iki Overlook
The Kīlauea Iki Overlook provides visitors magnificent views of the black Kīlauea Iki crater floor. Today the 5,280 foot long, 3,000 foot long wide, 400 foot deep crater is pretty calm, but back in November of 1959 it erupted shooting hot, molten lava into the air as high as 1,900 feet and creating a 414 foot deep lake of bubbling lava.
This is the trailhead for the Kīlauea Iki Trail, a four mile, moderate/challenging, loop trail that travels around the rim of the Kīlauea Iki Crater and across the crater floor.
---
08. Nāhuku — Thurston Lava Tube
The 20 minutes, 0.4 mile Thurston Lava Tube loop trail leaves from the parking area, passes through a dense, green, fern-covered forest, across a small bridge, and through a remarkable 400 foot long, 500 year old lava tube.
---
09. Pu'u Pua'i Overlook
The Pu'u Pua'i Overlook is a scenic vista point with views of the Pu'u Pua'i Spatter Cone and Kīlauea Iki Crater. The Pu'u Pua'i Cone was created during the molten lava fountains of the 1959 eruption when winds carried lava pumice cinders to this spot. The cinders were so hot they elded themselves together to create a spatter cone.
The overlook is also the upper trailhead for Devastation Trail. This Hawai'i Volcanoes National Park scenic overlook was closed during our visit due to winds blowing volcanic gases into the area, so I grabbed this photo from the park website.
---
10. Devastation Trail
Devastation Trail is an easy, paved 0.5 mile out and back paved trail (one mile total) through a breathtakingly stark landscape buried by cinders from the Kīlauea Iki eruption to the Pu'u Pua'i Overlook. Unlike other volcanic areas in the national park covered in thick, rough a'a lava flows and smooth, wavy pahoehoe lava flows, Devastation Trail is surrounded not by a hard basaltic lava flow, but by a thick blanket of loose pumice.
---
11. Keanakākoʻi Crater
Keanakāko'i Crater, formed during the 1400s, is a 115 foot deep pit crater sitting on the boundary fault that encircles Kīlauea's summit. From the roped overlook across the street from Keanakāko'i, you can see the fissures with still-smoking fumaroles from the 1974 Kīlauea eruption that lasted from July 19-23.
---
12. Lua Manu Crater
Formed approximately 200 years ago, Lua Manu is a pit crater that is roughly 300 feet across and 125 feet deep. It is the uppermost crater along the Chain of Craters in the upper east rift zone.
---
13. Puhimau Crater
Puhimau Crater is a 400 foot wide, 650 foot long, 500 foot deep, oval-shaped crater. The crater and the surrounding area is part of the Puhimau Thermal Hot Spot and because a large channel of magma flows below the areas, if conditions are just right, you can actually see the crater steaming.
---
14. Ko'oko'olau Crater
Ko'oko'olau Crater is a pit crater, created from magma below the surface suddenly draining and the ground above collapsing. Ko'oko'olau has had no lava for more than 200 years and the crater view is almost completed obstructed by trees and vegetation.
---
15. Hilina Pali Road And Hilina Pali Overlook
Hilina Pali Road is a nine mile narrow road that travels from Chain Of Craters Road to the awe-inspiring Hilina Pali Overlook. The 1.5 mile wide, 50 foot tall Koaʻe Fault stretches 10 miles down the left side of the road. At the end of the road is the 12 mile long Hilina Pali Overlook sits at 2,282 feet elevation and offers visitors breathtaking views of the the Ka'ū desert, the Hawaii coastline, and the sparkling blue Pacific ocean.
---
16. Pauahi Crater
Pauahi Crater, at almost 2000 feet long, 300 feet wide, and nearly 500 feet deep, was created by a an eruption in 1973 lasting 31 days. From the parking area, a short boardwalk extends to the to rim of Pauahi Crater and near the end of the boardwalk, if you look carefully, you can also see the fissure that dumped lava into the crater in 1973.
---
17. Mauna Ulu Crater Eruption Trail
Located along the east rift zone of Kīlauea, Mauna Ulu is a volcanic cone that erupted in several phases from May 24, 1969 to July 22 of 1974. The Mauna Ulu Eruption Trail is a super short 0.1 mile trail to the 1969 eruption fissure and the lava splatter zone (called a rampart).
---
18. Mau Loa O Mauna Ulu
From the roadside pullout, you can see Mauna Ulu in one direction and the sparkling, blue Pacific Ocean in the other. For miles in all directions, the sprawling hills and cliffs are blanketed in smooth, curving, rolling, black pahoehoe lava originating from the 1969-1974 eruption of Mauna Ulu. A short paved trail leads to the Mau Loa O Mauna Ulu observation deck that sits at 2,959 elevation.
---
19. Kealakomo Lookout
Perched on the edge of the Hōlei Pali cliff, 2,000 feet above sea level, the Kealakomo Lookout offers visitors spectacular panoramic views of the Pacific Ocean, the Hawaii coastline, and vast lava flows. Kealakomo Village was an ancient Hawaiian coastal village covered by lava in 1971 during the Mauna Ulu eruption.
---
20. Pu'u Loa Petroglyphs
The Pu'u Loa Trail is a moderate, 0.75 mile, out and back hike (1.5 miles total) to an elevated viewing boardwalk in the middle of the Pu'u Loa Petroglyphs. With more than 23,000 stone carvings, the Pu'u Loa Petroglyph field is known as the hill of long life and is one of the most extensive petroglyph fields in Hawaii. The petroglyphs document the life of native Hawaiian people and include pukas, circles, geometric designs, human figures, hooks, canoe sails, starfish, and other designs.
---
21. Hōlei Sea Arch Viewing Area
Directly across from the ranger station at the end of Chain Of Craters Road, is a short trail to the steep, rocky lava cliffs lining the coastline and the magnificent Hōlei Sea Arch. The Hōlei Sea Arch, created within the last 100 years, is a 90 foot tall arch carved out of 550 year old steep lava cliffs. This sea arch has a limited lifespan and will eventually disappear into the ocean.
---
22. Lava Tree Molds
Lava Tree Molds hike isn't really a hike, it's an easy, 0.2 mile, semi-shady loop walk along the road to view several tree molds. Lava tree molds are holes in the ground where trees once stood before being engulfed by lava and burning up after the lava around them cooled.
---
23. Kīlauea Military Camp
Only the lodging at Kīlauea Military Camp is reserved for military. Almost all other amenities are open to the public, including the six-lane bowling alley, game room with arcade games and pool tables, cafe and bar, coffee shop, general store, post office, and gas station. The General Store is the perfect place to stop in the morning to stock up on picnic items, snack, drinks, and bottled water before adventuring out into the national park.
---
Know Before You Go
Hawai'i Volcanoes National Park is located off HWY 11, Hawai'i 96718 on the southeastern part of the Island of Hawai'i, in the districts of Ka'ū and Puna. It is 30 miles from Hilo, 96 miles from Kailua-Kona, and 125 miles from Waimea through Hilo via HWY 19 and HWY 11.
Admission fee is $25.00 per personal vehicle and is good for seven days. Free admission days are on Martin Luther King, Jr. Day, the first day of National Park Week, National Public Lands Day, and Veterans Day.
Hawai'i Volcanoes National Park is open 24 hours a day, everyday, year round.
It's okay to wear sandals or flip flops, but bring tennis shoes in case you want to hike.
The weather may be hot and humid and cool, windy, and rainy all in the same day. Come come prepared with layers, raingear, jackets, gloves and hats.
Other than a few snacks for sale at the Kīlauea Visitor Center and Jaggar Museum, there is nowhere to get food or drinks anywhere in the park. Be sure to bring a lot of water, food, and snacks, especially if you plan on doing any hiking.
On Crater Rim Drive, water and restrooms can be found at the Kīlauea Visitor Center, the Jaggar Museum, and the Thurston Lava Tube.
On Chain Of Craters Road, there are no services (water, gasoline, or food). Vault toilets are at the Mauna Ulu parking lot, Hilina Pali Overlook, and Hōlei Sea Arch parking lot.
Cell service is almost non-existent. There is an emergency 911 phone at the Pu'u Loa Petroglyphs trailhead.
Pay attention to warning signs. Volcanic fumes are hazardous to your health. Visitors with heart or breathing problems and infants, young children, and pregnant women are at risk and should avoid Halema'uma'u Crater, Sulfur Banks, and areas where volcanic fumes are present.