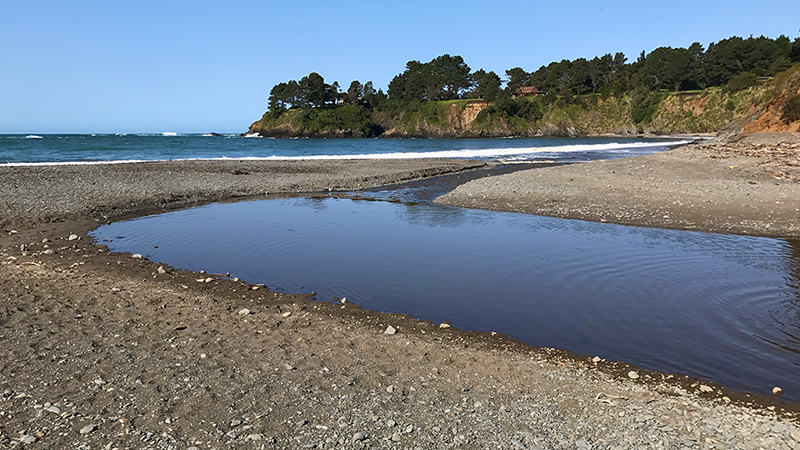 Northern California's rugged Mendocino coast is lined with rocky cliffs, grassy headlands, quaint seaside villages, and small coves with sandy beaches. Van Damme State Park includes one of the beaches and visited the park twice during our spring break road trip to Fort Bragg.
While many of the state park trails into the forested area were closed during our visit due to severe winter storms, I was happy to be able to access some of the more popular attractions.
About Van Damme State Park
Located at the mouth of Little River, Van Damme State Park, sits across Highway 1 from the Little River Golf Course and offers visitors a gorgeous semi-protected beach, ten miles of hiking trails through lush forest, campgrounds, and a unique Pygmy Forest.
The park's habitats include marine, coastal beach, coastal bluff terrace, pygmy forest, redwood forest, and riparian, with wetlands areas farther inland. Bishop pine and coastal redwoods grow along Little River, which tumbles out of Fern Canyon and winds through the wide, pebble-filled beach to the ocean. It is the perfect spot to walk along the surf, search for sea shells and interesting rocks, and have a picnic on the warm sand.
Van Damme State Park, in the small town of Little River, offers many opportunities for hiking, biking, camping, kayaking, abalone fishing, and birdwatching. Most popular with hikers, the park has trails to primitive environmental campsites, through Fern Canyon, along the Old Logging Road, and to the Pygmy Forest or the bog Cabbage Patch.
The Pygmy Forest
Located off Airport Road, the Van Damme Pygmy Forest Trail is a 0.25 mile, accessible loop trail on an elevated wooden boardwalk that winds through a pygmy forest of stunted growth trees in bog-like conditions.
The trail begins at a small parking area with one accessible space and fewer than 10 spaces total. Interpretive signs describe the science and history of the cone-bearing, mature cypress and pine trees that stand 6 inches to around 8 feet tall. In an area famous for it's giant coastal redwood trees, it's a pretty odd experience to see trees more than 100 years old that aren't much taller than you are!
Little River and Van Damme State Park History
Little River was built as a mill town in 1864 by Ruel Stickney, Silas Coombs, and Tapping Reeves after the property, formerly called Kents Cove, was purchased from William H. Kent, the first permanent American settler in the area. Little River became widely-known as a lumber port and a shipyard, but by 1893 heavy logging diminished the local resources and the mill was forced to close.
The town of Little River deteriorated, activity at the port declined, the school closed, weekly steamship service ended, the shipyard closed, and the population dwindled. Eventually Little River reverted to a natural state.
Van Damme State Park was named for Charles Van Damme who was born and raised at Little River. After years as a successful operator of the Richmond-San Rafael ferry line in San Francisco, he returned to Little River to purchase 40 acres of redwood forest to create public camping and picnic grounds. Van Damme left his property to the state and in 1934, his land along with most of the upper Little River drainage lands, became Van Damme State Park.
Know Before You Go
Van Damme State Park is located in Mendocino County three miles south of Mendocino on Highway 1 in Little River, California. The highway runs through the park where Little River empties into the Pacific, separating the campground and the Fern Canyon trail head to the east and the beach and parking lot to the west.
Download the state park brochure for Van Damme, Mendocino Headlands, and Russian Gulch.
The park is open daily from 8:00 am to 9:00 pm.
The majority of the state park sits east of the highway in Fern Canyon.
The 1930s Visitor Center is located near the campgrounds in the old Civilian Conservation Corps recreation hall.
A 2.5 mile paved trail meanders alongside Little River up Fern Canyon and connects to a trail that leads to the Pigmy Forest packed with Mendocino Pygmy Cypress.
The fog usually burns off mid-morning, but wear layers!
Van Damme has more than 65 drive-in campsites where reservations are strongly recommended and nine first-come, first-served environmental sites in a redwood forest along the Fern Canyon Scenic Trail, 1.75 miles from the trailhead near the end of the campground.
Bicycles are only allowed on designated paved roads, dirt roads, and trails, including the 2.5 mile Fern Canyon Scenic Trail, the 1.2 mile Old Logging Road Trail, and the 0.2 mile trail that leads from Old Logging Road to the Airport Road parking area.
Dogs are not allowed on trails or dirt roads or in hike-in sites. They should be on-leash elsewhere and in a tent or vehicle at night.
All features of the park are protected by state law and may not be disturbed or collected.