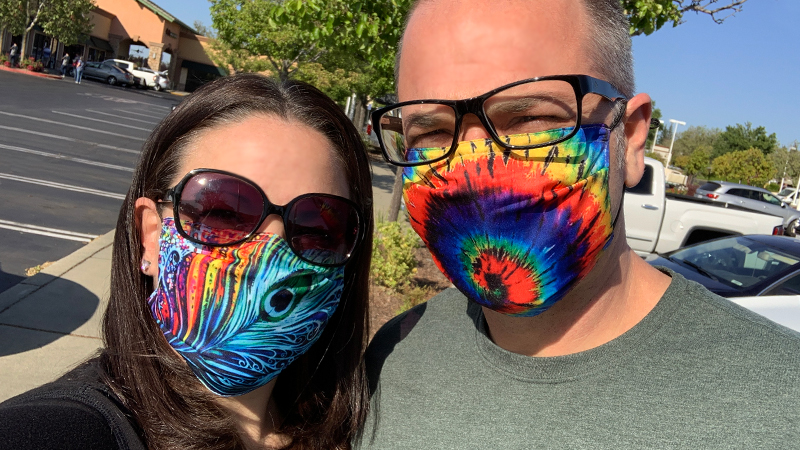 The first time I did Whole30… OMG…
I had the headache and fatigue many experience during the first week. They're a sign your body is going through sugar and grain withdrawals and the more sugar-heavy your diet is (and the worse you eat) before Whole30, the worse the symptoms are. Thank goodness a friend suggesting prepping for Whole30 by slowly removing sugar for the two weeks before to ease in a bit or it would have been way worse!
My husband and I did our first Whole30 together and liked it so much that we extended it to 63 days. We finally broke Whole30 at a Dead & Company Concert, enjoying beers and delicious food truck food! We did the program again later that same year and again the following year.
Whole30 has since become our go-to reset when we've let our diets get a little too far off course and our pants get a little too tight.
I can honestly share that the best I have ever felt throughout my entire adulthood was when Brian and I followed the Whole30 eating plan. Eliminating dairy, added sugar, grain, legumes, and alcohol, as well as red meat and pork, also eliminated all digestive issues I was struggling with.
Important Lessons Learned
Here some key things we learned doing Whole 30 and sticking close to a paleo diet when at home:
The lower quality your food is, the more you have to eat to feel full and stay full. So eating lots of veggies and healthy fats helps you eat less without feeling hungry.
If you buy it, you'll eat it. The easiest way to make a change in your diet is to do so at the grocery store by being more aware of what you put on your cart and take home.
Meal prep and meal planning make all the difference. If you make it easy to grab quick healthy snacks and whip up yummy healthy meals, you'll do it. If cooking feels difficult and like a lot of work, you're more likely to make unhealthy choices. Do yourself a favor and make the time to meal plan and meal prep.
Thirst feels the same as hunger. Often when you think you're hungry and need a snack, you're not hungry you're thirsty. So before you eat anything, drink a big glass of water and see if you still feel like you need that snack.
Speaking of water… You need to drink A LOT of it. You should be drinking half of your body weight in water every day at minimum as your body, skin, and organs all need water to thrive.
The less added sugar you eat, the sweeter other natural things like fruit will taste. This is why the first time I tried the Vegan Chocolate Shakeology years ago, I didn't really like it. After cutting almost all added sugar from my diet, however, my tastes changed. When I tried Shakeology again late last year, it taste much sweeter — almost like dessert!
Eating out and eating healthy isn't impossible. You simply need to be careful about what you order. Some menu items that appear to be healthy aren't! Don't be afraid to ask questions about ingredients or request modifications. This is something I had to get really comfortable with when I developed a dairy allergy.
Mistakes Will Be Made
While I know how to eat healthy and smart choices, I don't always do it and the COVID-19 pandemic hasn't helped one bit.
The stay-at-home orders have had everyone eating a little differently than normal and I'm no exception. Not having to take the kids to school everyday or go anywhere meant that I could eat dairy and it didn't matter, which brought on bloating and other symptoms I won't even talk about.
My husband binged on ice cream and cookies — a lot of ice cream, often topped with cookies and Magic Shell.
I ate Peanut M&Ms and Planters Cheez Balls in quantities our family shall not ever discuss again.
I also used hummus and baby peppers and salami and Triscuits as a coping mechanism, blowing past the serving sizes every day and justifying it to myself that peppers and hummus are healthy. Lol. That's only true if you eat the hummus in moderation!
My goal of losing weight in 2020, slowly turned into a goal of maintaining my existing weight through our emotional pandemic eating. I was fine with that at first, but as the weeks went by, I began to feel burned out and exhausted and I really started struggling with focus and productivity. The energy that carried me through April seriously waned in May. So I decided to take action and do something about it.
June Whole 30 + More: Going All In
I decided to start another round of Whole30 June 1 to give me something positive to focus on and my husband is joining me for the ride. I'm also, once again, documenting it here for personal accountability.
The big difference with this round of Whole30 is that I'm making an allowance to include Vegan Shakeology — it has a little bit of added sugar but the pros so far outweigh the cons that I don't care. Plus, it's important to me that anything I do not only makes me feel good and makes me happy, but is sustainable over the long-term without stress.
I'm also giving intermittent fasting a try because why not?! I have several friends who have tried it and seen great success over time, so I figured this would be a good opportunity to give it a try too.
In January, I started working out seriously through Beachbody On Demand and on April 25, hit my first goal by completing 100 workouts! I'm currently working on hitting the 200 workout mark and am sharing sweaty selfies after each workout in my Instagram and Facebook stories for extra accountability.
Over the next month, you'll find me here sharing my experience, meals, and recipes. This is the first post in the series and I'm so happy you're here!
Whole30 Day 1
For the most part I crave savory things more sweet things, I already don't eat dairy (bye bye Peanut M&Ms and Cheez Balls), I have never been a coffee drinker, and I'm only an occasional drinker. So getting started again wasn't all that hard.
EXERCISE: After working out over the weekend both days, today was a rest day! Thank goodness because I had an ouchie ankle that wasn't going to have it!
FASTING: I ate dinner last night at 6:00 pm too so I could start on track today and with an increase in water consumption in the morning, it wasn't hard waiting until 11:00 am to eat.
FOOD: I devoured my go-to breakfast — a veggie and egg scramble with onions, peppers, tomatoes, spinach, and turkey sausage. Around 2:30 pm, I had a Vegan Chocolate Shakeology with spinach. Around 6:00 pm, we had Spring Chicken Salads for dinner with barbecue chicken, apples, pecans, dried cranberries, and Tessemae's Everything Bagel Ranch.
Whole30 Day 2
Today I remembered just how repetitive Whole30 can get if you don't shop for a variety of compliant foods in advance. Eating can also get boring if you cook larger quantities and eat leftovers or if you're aware of food waste. I also definitely missed having dessert in the later evening too — especially when my daughter is eating ice cream right in front of me! It was a little pandemic joy that's now gone.
EXERCISE: I completed a Barre Blend and a T25 Beta workout (both available through Beachbody On Demand) in the morning — my butt is so kicked by the end of these back-to-back! I'm still trying to figure out which is easier to do first.
FASTING: Not going to lie… I was hungry this morning. But I stuck with the fasting, drank a tons of water, and ate breakfast at 11:00 am, lunch around 2:30 pm, and dinner at 6:00 pm.
FOOD: I had a veggie and egg scramble with added avocado for breakfast, a Vegan Chocolate Shakeology with spinach for lunch, and Taco Salad with chopped mixed lettuce, carrots, chopped peppers and onion, pumpkin seeds, and Cauliflower And Ground Turkey Taco Meat topped with Tessemae's Habanero Ranch.
Whole30 Day 3
Wednesday are very busy, very long days because I lead live training and Q&A sessions for my program Profitable Project Plan from 12:00 pm to 2:00 pm and work to process all of the audio and video directly afterward. I had work that had to get done before the training, so my workout got pushed to the late afternoon, which I hate. I also felt extra tired today and called it a night about an hour earlier than normal.
EXERCISE: I completed a Barre Blend and a T25 Beta workout in the late afternoon — both were cardio workouts and five minutes into the second workout I had a little regret. By the end sweat was pouring down my entire face and even dripping off my eyelashes!
FASTING: I was definitely hungry this morning! Thank goodness for 11:00 am!
FOOD: I had a Vegan Cafe Latte Shakeology with lots of spinach for breakfast, I ate an apple with almond butter and mini peppers with Everything Bagel Cashew Cheese for lunch, and for dinner we had Taco Zucchini Boats with a side salad.
Whole30 Day 4
Everything about today felt slow, sluggish, and hard. Everything. Following the 2B Mindset from Beachbody, I typically try to steer clear of carbs like potatoes at dinner, but OMG… today I needed them. Okay, maybe I didn't need them. I just really wanted them and every bite was so worth it!
In case you're not familiar with 2B Mindset, it's a simple nutrition training program with four key components: water first, veggies most, track your food, use the scale.
2B Mindset teaches you to eat a 50/50 split of protein and fiber-filled carbs at breakfast, a 50/25/25 split of veggies, protein, and fiber-filled carbs at lunch, and 75/25 split of veggies and protein at dinner — because you don't need energy at night. It's a really simple, easy to follow plan and I loved it because the program explains why certain foods are better choices than others.
EXERCISE: I only squeezed a Barre Blend workout into my day today. I worked out later in the day and not only was I really tired, but I just wasn't feeling it. One butt-kicking workout was enough.
FASTING: I got busy with a work project and didn't end up eating my first meal of the day until 1:00 pm. Yikes! Needless to say, I ate a dinner at 5:00 pm to compensate.
FOOD: I had a Vegan Cafe Latte Shakeology with spinach and an apple with almond butter for the first meal, and for dinner we had grilled chicken, asparagus, and potato wedges. Instead of my normal BBQ sauce, I opted for the Tessemae's Everything Bagel Ranch. It's my latest obsession.
Whole30 Day 5
Thank goodness it's Friday! I'm so ready for the weekend and I stocked up at the grocery store today with lots of fresh fruit, compliant snacks, and veggies!
EXERCISE: Normally, I do them back-to-back, but today I did my T25 Beta workout in the morning and planned to do the Barre Blend Workout in the afternoon but our internet went out and I couldn't access Beachbody On Demand.
FASTING: I'm finding a groove with the timing of my meals! 11:00 am, 2:30 pm, and 6:00 pm seem to be the perfect cadence and so far I haven't felt too hungry during the fasting period. I am drinking so much water though that I am running to the restroom more often!
FOOD: A simple potato, egg, and bacon scramble with a spinach side salad made up breakfast. I made Brian a Shakeology to drink while in meetings, so I also had his extra! Bonus! I had peppers and cashew cheese again for lunch and for dinner made homemade Artichoke And Garlic Meatballs and Air Fryer Brussels Sprouts.
Reflecting On The First Five Days
Overall, I am happy with my workout cadence. When I workout in the mornings, I have more energy and can power through no problem. But when I wait until the afternoon or evening, the day has taken its toll and everything just feels a lot harder. Moving forward more of effort needs to be put into getting up early and getting a workout in before the day begins.
Also, intermittent fasting isn't as big of a deal as I thought it would be. As long plenty of water is consumed, I don't feel hungry in the morning. One thing I noticed, however, is that compressing all eating between 11:00 am and 7:00 pm means eating less food. After a big old veggie scramble at 11:00 am, I'm just not ready for another meal at 2:30. A Shakeology and something like an apple and almond butter feels light and perfect.
I need to really watch the time and make sure I eat when I should. On the day that I let my work takeover and worked through my first meal, I know I didn't eat enough food to power my body and workouts and felt it. I was sluggish and tired.
Food-wise, I miss our family desserts and snacks while playing games and watching movies, but I really want to see this month through and I'd like to get back on track with my original goal of losing a few pounds. PEP TALK: I did a Whole30 paired with exercise before and I can definitely do it again.
I think I just need to make sure our pantry and fridge is always stocked with healthy proteins, fruits, and veggies so I have more choices at each meal.
My Month Of Whole30 Recaps
Catch all of my modified (including Shakeology) Whole30 recaps — five days at a time — and get a glimpse at my workout routine and my first try at intermittent fasting: