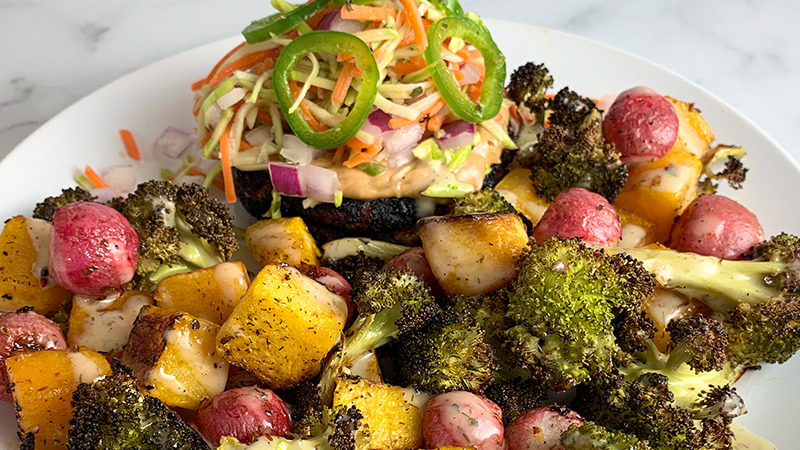 We're well past the Whole30 halfway point now!
We're 20 days in and nearing the finish line and it feels really good. I put on my jeans for only the second time since the COVID-19 pandemic stay-at-home orders went into effect and they were loose! It was an awesome feeling. I also had to drop down a size in workout pants because my old ones kept inching down during all the jumping and squatting in T25! Woohooo!
Brian and I decided to do this round of Whole30 (with a slight modification to allow for Vegan Shakeology) because we found ourselves stress eating our emotions. Some of it stemmed from our work, some of it stemmed from the stress around the pandemic, and some of it stemmed from having the kids at home 24/7. We felt sluggish and unmotivated and unfocused and the more "bad" foods we ate, the more "bad" foods we wanted.
That's the thing you don't realize: The more sugar you consume, the more your body craves sugar. So when you cut out sugar, your body eventually stops craving sugar.
When we first started Whole30, we joked with the kids about the junk foods we were going to eat as soon as we were done because our bodies were craving them. But now, after 20 days of no added sugar, alcohol, grains, legumes, dairy, carrageenan, MSG, or added sulfites, neither of us are craving any of those junk foods! In fact, we're contemplating doing another round of Whole30 after this!
I've been documenting our Whole30 (modified to allow for Vegan Shakeology) for accountability in groups of five days. Here's my recap of days 16-20:
Whole30 Day 16
Today was a busy, jam-packed day of work, I had a dentist appointment, and I hit the grocery store for some Whole30 essentials. I'm finding that I'm past the fatigue stage of Whole30 and into what the program calls the "Tiger Blood" stage, where you suddenly have more energy. I'm noticing my productivity and focus are improving as well — thank goodness, because since the pandemic started, I've found it VERY hard to focus on work at all.
EXERCISE: I wasn't quite feeling it today, so I went back to one of my favorites: Focus T25 Stretch. The 25 minutes of active stretching felt good!
FASTING: I had a dentist appointment this morning, which pushed back my first meal. I ate at 12:00 pm, 3:00 pm, and 6:00 pm.
FOOD: Brunch was grilled chicken, an apple, and almond butter and I was so hungry that I scarfed down my food before I remembered to take a picture of it! Mid-day I had a Vegan Shakeology with spinach. Dinner was Asian Turkey Burgers topped with almond butter and a Jalapeno Broccoli Slaw and roasted vegetables. The burgers and spicy slaw were to die for. Brian liked the slaw so much, he ate all the leftover too! I am definitely making those again!
Whole30 Day 17
Today I had a major fail. I ruined dinner. Dinner was supposed to be a delicious Spinach Pesto Chicken Salad, but because my grocery store was out of fresh basil, I bought a "tube of basil" that was more like a basil paste. I totally failed to account for the concentrated nature of the basil and let's just say we threw the dish away. It was so gross and so disappointing because I love homemade pesto and really was looking forward to this meal. Next grocery cycle, I'll be trying this again but only with fresh basil!
EXERCISE: I got in double workouts today but had to spread them out because of work meetings. Got T25 Beta Upper Body done early and got Barre Blend Week 4: Booty Blend done mid-day.
FASTING: Stayed on track today with meals at 11:00 am, 2:30 pm, and 6:00 pm.
FOOD: I enjoyed fresh fruit and Broccoli and Asparagus Egg Muffins with Cajun seasoning for brunch — I LOVE Cajun seasoning, more than I even love Everything Bagel Seasoning or Everything Bagel Ranch! My mid-day meal was a Vegan Shakeology, mixed raw nuts, and a Sriracha Chicken Epic Bar. Dinner was a big plate of roasted broccoli and purple cauliflower followed up with a handful of raw mixed nuts.
Whole30 Day 18
I've noticed I am finally passed that "I'm peeing 24/7" stage of increasing my water intake. I upped my water intake earlier this year and for the most part have done really well, drinking a minimum of 75 ounces of water per day. This month, I bumped it up to aiming for a minimum of 100 ounces of water per day and definitely noticed a difference. For the most part, I've hit somewhere between 100 and 120 ounces of water each day and on the few days I was lazy about drinking water, I felt like crap.
EXERCISE: I didn't get my workout in early enough, the day got away from me, and I didn't feel like working out in the evening, so I let today be my rest day.
FASTING: I got busy with work projects and lost track of time, which meant I didn't eat my first meal until almost 1:00 pm! Yikes! I drank a ton of water though, so I didn't even feel hungry. This pushed out my other meals, eating at 4:00 pm and almost 7:00 pm.
FOOD: Lunch was Broccoli and Asparagus Egg Muffins again. Thank you meal prep! Mid-day was just a Vegan Shakeology as I wasn't really hungry. Brian made a huge batch of shredded chicken for me, so dinner was Cajun Shredded Chicken Stuffed Sweet Potatoes and roasted carrots and broccoli. Yes, we eat a lot of broccoli!
Brian and I are also starting to discuss whether or not we want to extend our Whole30 again and make it a Whole60. This same point during our first Whole30 is when we started to ponder the same decision and ended up doing two rounds back-to-back. We just feel so good and have so much more energy when we're choosing to eat healthy foods. I do really miss my hummus and peppers though, so we'll see!
Whole30 Day 19
Brian and I are used to eating out quite a bit, especially during the week. By the end of the workday, we're both fried — Brian more so than I — and we've found that a change of scenery does both of us good and a big ice cold beer in a frosty mug helps too! It was too easy and we quickly fell into a routine of eating out to cope with work stress and frustration. My coping food is fries and Brian's is beer.
It was fun rotating through our favorite pub-style restaurants every week and getting to know the staff. It just wasn't good for either of us!
Then the pandemic and California's stay-at-home orders changed everything and I've been cooking every night since March 13. To be honest, I'm getting cooking fatigue. Meal prep helps, but I'm definitely having those familiar "I don't want to cook" feelings. But we haven't had good luck with takeout and the food just isn't as good, so we're going to keep on keeping on… and some other people are going to start taking turns cooking more often!
EXERCISE: Kicked off the day with two back-to-back workouts: T25 Beta Speed 2.0 and Barre Blend Week 4: Core Blend. Both of these workout programs (and my other favorite: 10 Rounds) are available through Beachbody On Demand (BOD) and I love that BOD is easy to access tons of different style workouts to fit whatever mood I am in!
FASTING: Stayed on track today with meals at 11:00 am, 2:30 pm, and about 6:00 pm.
FOOD: Brunch was easy but yummy: sliced turkey and fresh fruit. Mid-day was a Vegan Shakeology with spinach and a handful of raw mixed nuts. My in-laws stopped by to check out the progress we're making on our backyard remodel project and picked up Chipotle! To stay on track with Whole30, Brian and I both had chicken bowls with only chicken, fajita veggies, guacamole, and salsa. I also had some grapes because I was still hungry! It so great to not cook!
Whole30 Day 20
Brian and I were up early today to make a quick run to the dump and look at some property. Our next door neighbor's kid plays ping pong off-and-on all day every day until 9:00 pm and it's driving us crazy. We can hear in in the house even with all of the windows and doors closed. They put the ping ping table right outside my office window and now I have to work with noise cancelling headphones on in my own office or I can't concentrate enough to get my writing projects done. We also can no longer enjoy our own backyard in peace. It's a horrible experience and totally obnoxious — this has been our worst neighbor "experience" ever over our 20 years of being homeowners.
So we're looking at property and making plans to move. It may take a long time to find just the right spot, but just knowing we'll be moving makes me feel a little better. In the meantime, that family is gone for the weekend, so I spent the entire day enjoying my pool and yard in peace and quiet and it was glorious!
EXERCISE: It's the weekend and I had plans to relax in my backyard, so only one workout today: Barre Blend Week 4: Cardio Blend. I'm nearly 20 Barre Blend workouts in and I am still amazed at how much this program kicks my butt! By the end my leg and arm muscles are all burning!
FASTING: I woke up starving. I woke up and my stomach was growling. There was no way I was going to be able to wait until 11:00 am for breakfast, so I had an RX Bar at 9:00 am. Then I ate at 12:00 pm, 3:00 pm, and 7:00 pm — totally off my normal schedule today! But I listened to my body and gave it what I felt it needed.
FOOD: The RX Bar held me over until noon, when Brian and I had big turkey sausage and veggie packed breakfast scrambles. Mid-day I had a Vegan Shakeology and a mix of raw nuts and a Sriracha Chicken Epic Bar. I spent the entire afternoon floating in the pool and reading and didn't feel like getting out of the pool or cooking dinner, so Natalie and Brian cooked and we had turkey burgers with grilled veggies!
Is Whole30 Sustainable?
A lot of health experts have criticized the Whole30 program, saying that eliminating added sugar, alcohol, grains, legumes, dairy so so long have cause you to not get enough nutrients that your body needs. It has also been criticized for being unsustainable.
Whether or not Whole30 works for you is up to you. It's important to note that the program isn't meant to be a diet or weight loss solution. It also isn't meant to be a long-term solution.
The program is called Whole30 for a reason: Eliminate problematic foods for 30 days to reset your body, then slowly reintroduce foods one at a time over time, to see how your body responds to those foods.
I did my first Whole30 and my second Whole30, in 2017 and while I did lose some weight, the biggest benefit was gaining a better understanding of how my body responds to specific foods and how I feel when I eat mainly whole foods versus when I eat processed foods or eat out too often. It also helped me create healthier habits that I could stick with long term.
Sustainability is what I care about. I'm not looking for a quick fix or a magic bullet to drop lots of weight in a short amount of time. I'm interested in slow, gradual sustainable changes that become habit. Changes and choices that become part of a healthy lifestyle. That's why I'm choosing to modify this Whole30 slightly to incorporate Vegan Shakeology, which is part of my long-term healthy living routine.
That doesn't mean I won't enjoy dessert in the future or order fries when we finally do visit a restaurant again. It doesn't mean I won't eat hummus and Triscuits or Cheez Balls. What it does mean, is that I'll be better equipped to make smart, balanced decisions. I know that if I splurge on dessert, I may need to do an extra workout. I know that if I eat fries with lunch, I'll need to load up on more veggies at dinner. I know that if I eat dairy, I won't feel good and I'll have digestive problems.
Knowing how my body responds to food and being able to make smart, balanced decisions to enjoy the foods I love without guilt is the secret to long-term, sustainable changes… and that makes me happy.
My Month Of Whole30 Recaps
Catch all of my modified (including Shakeology) Whole30 recaps — five days at a time: