Brian and I are early birds. We always have been. It's way easier for us to get up early than stay up late and luckily our kids are the same way… well except for Natalie. She's been a sleeping machine ever since she turned twelve.
Being early birds has never failed to pay off in big ways when it comes to our family adventures. We are always able to get a parking spot, we enjoy touristy areas before they get loud and crowded, lines are smaller or non-existent, and we're actually able to do many more fun activities in a single day than most other people.
Between our time hiking in Pinnacles National Park and our hiking adventures in Big Sur, we took a family day trip to Monterey California, and getting up early paid off again. We were able to do all sorts of fun things, shop, visit historic sites, and play all day without feeling rushed.
If you're planning a family trip to Monterey, California, here is the day trip itinerary from our recent visit (and some alternate options if you have little kids):
Old Fisherman's Warf
Old Fisherman's Wharf in Monterey is lined with gift shops, candy stores, jewelry shops, art galleries, and seafood restaurants ranging from casual eateries to formal indoor dining options. Whale watching tours, fishing trips, and family-friendly boating adventures can also be booked on the Warf.
There's a great coffee shop to the right of the entrance to Fisherman's Warf that serves coffee, cocoa, pastries, and crepes — a perfect place to grab some fuel for the day.
---
Monterey State Historic Park
Directly across from the entrance to Old Fisherman's Warf is Custom House Plaza, the historical center of Monterey. Unlike many state historic parks where the park attractions are all in one place, the Monterey State Historic Park is a collection of 55 significant historic houses and buildings interspersed throughout Old Monterey, connected by the two mile Monterey Walking Path of History.
---
Cannery Row
Running parallel to the Monterey Bay coastline, Cannery Row consists of luxury waterfront hotels, over 25 different restaurants and bars, tasting rooms, and more than 85 shops, ranging from high-end boutiques to souvenir shops. It is also home to a number family-friendly attractions, including an indoor miniature golf course, a mirror maze, laser tag, and an XD theater.
---
Lovers Point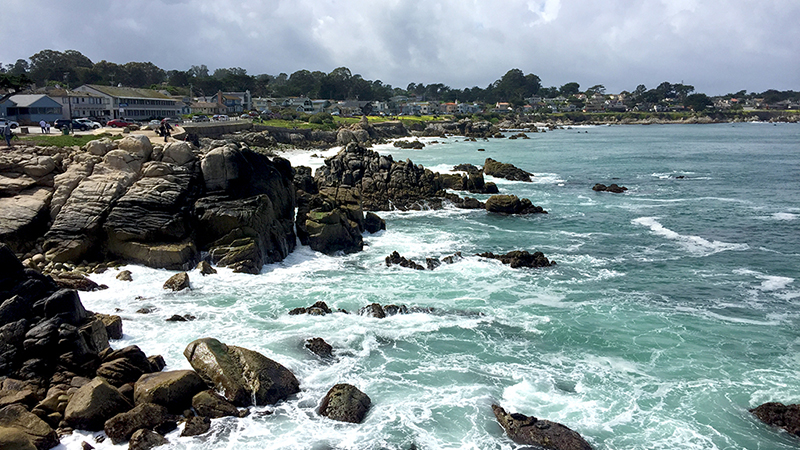 Lovers Point Park is a 4.4 acre community park in Pacific Grove. With a large grassy area, it is perfect for picnics, kayaking, and biking, walking and running along the Coastal Recreation Trail. The rock outcropping at the edge of Lovers Point provide a fun opportunity to climb around, get great photos of the surf and coastline, and watch surfers ride the waves.
---
Driving The Monterey Coastline
Driving along the coastline provides absolutely spectacular views of waves crashing on the shore, water spraying into the air as it crashes over rocks, and stretches of rocky beaches. With many areas to pull off the road and explore, it took us an hour to drive just a few miles!
---
Point Pinos Lighthouse
Lit February 1, 1855, the Point Pinos Lighthouse is the oldest continuously operating lighthouse on the west coast. It is a simple, stone, Cape Cod style dwelling located on the northernmost tip of the Peninsula. The building, lenses, and prisms are all original, and it is still an active aid to navigation.
Tour the historic Point Pinos Lighthouse main floor and kitchen, living quarters and operator office, basement museum, and view the working light.
---
Alternate Option: Monterey Bay Aquarium
If you have little kids, or you have never been to the Monterey Bay Aquarium, we definitely recommend you make this part of your day! Located at the end of Cannery Row, the aquarium provides an up close and personal look at marine life. Our kids love watching the daily shows and feedings, and walking through the Wave Crash Gallery Tunnel. Our favorite exhibits are the penguins, sea otters, jellies, kelp forest, and sharks.
---
Alternate Option: Dennis The Menace Playground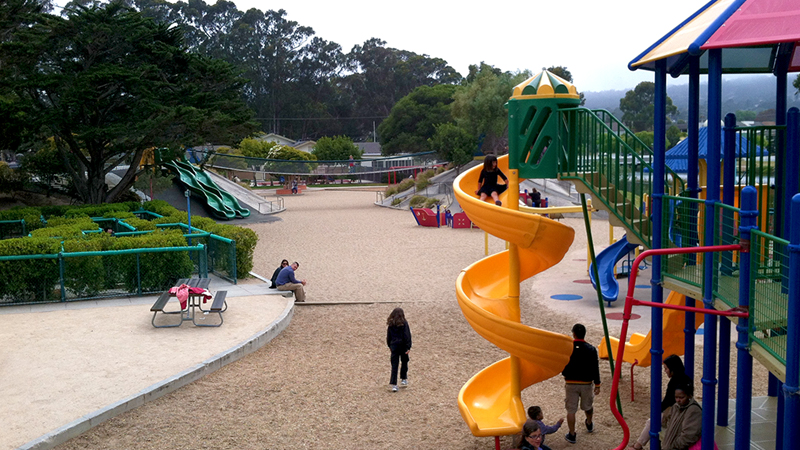 The playground was originally designed and partially funded by Monterey resident and Dennis The Menace comics creator Hank Ketcham. With large wavy slides, a fast slide, a roller slide, a zip line, several playground structures, cement tunnels, a rock climbing wall, a suspension bridge, a labyrinth maze, and a giant arch bridge to climb over, your kids are going to be in playground heaven.