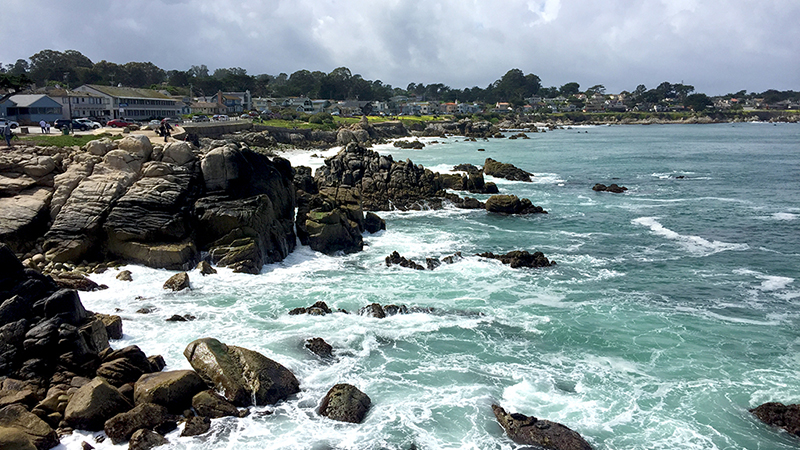 After visiting Old Fisherman's Wharf, Monterey Historic Park, and Cannery Row, we headed to famous Lovers Point in Pacific Grove, California.
Lovers Point Park is a 4.4 acre community park that is perfect for picnics, kayaking, and biking, walking and running along the Coastal Recreation Trail.
The beach is west-facing and protected by a concrete wall, making it one of the few safe swimming beaches in the area.
The rock outcropping along the edge of Lovers Point provide a fun opportunity to climb around, get great photos of the surf, and watch surfers ride the waves.
Lovers Point Park also has a beach volleyball court, a snack bar, kayak and bike rentals, and a swimming pool.
Fun Fact: According to local legends, back when Pacific Grove was a Methodist retreat camp, Lovers Point was called Lovers of Jesus Point.
Visiting Lovers Point
We parked in the parking lot at 17th Street and walked through the beautifully landscaped park. We grabbed a bench overlooking the beach and relaxed for a while, watching the surfers. When Carter simply couldn't wait any longer, we headed out to the large outcropping of rocks to climb around on — he loves climbing on big rocks!
Out on the point looking back at the shore, beautiful homes, and quaint Bed and Breakfasts stretch along the coastline in both directions. With the buildings providing a colorful backdrop for the ocean waves crashing on the rocky shore, it is a simply stunning location to photograph.
Directly offshore from Lovers Point Park is the Lovers Point State Marine Reserve (SMR), one of four small marine protected areas located near the cities of Monterey and Pacific Grove. In a State Marine Reserve, you may not injure, damage, take, or possess any living, geological, or cultural marine resource.
If you're exploring the Monterey Bay coastline and looking for the perfect picnic spot for your family, where you can relax and enjoy spectacular views of the ocean, while your kids run around and burn off some of their energy, this is the place to go!