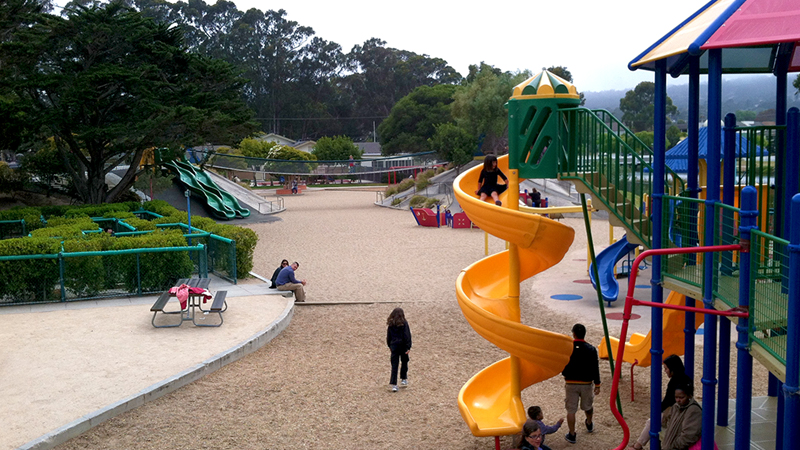 We've have taken the kids to visit Monterey, California off and on for years. We love the pacific coastline of California and because it's only a few hours from our house, we seem to head down to the area at least once a year. We've biked with the kids along the Monterey Coastal Recreation Trail from Old Fisherman's Wharf to Lovers Point and back, spent time visiting historic buildings in the Monterey State Historic Park, checked out the fish and sea life at the Monterey Bay Aquarium, shopped and ate along Cannery Row, and more.
While we're typically on the go, checking out all the fun things Monterey has to offer families, nothing quite beats downtime at a fantastic playground.
My kids to love to adventure and hike and visit museums, but some of their favorite moments of our family travels have been the times we take a break, relax, and just let the kids play, run around, and burn off steam at the beach or at a playground — and Monterey has an awesome playground for kids of all ages that when the kids were younger, we stopped at every time we were in town.
The Dennis The Menace Playground
The famous Dennis The Menace Playground, located at 777 Pearl St, Monterey, CA 93940, is part of the El Estero Park Complex, a 45 acre park that includes El Estero Lake, a lighted ball field, skate park, group picnic area, snack bar, exercise course, and youth center.
The playground is free and open daily from 10:00am to dusk, and closed behind locked gates on Tuesdays from September through May.
Your kids will LOVE the Dennis The Menace Playground.
The spacious playground, originally designed by Monterey resident and Dennis The Menace comics creator Hank Ketcham, is a favorite for kids and parents alike. Ketchum, along with the Monterey Peninsula Jaycees, donated most of the initial money and time to create the park.
With large wavy slides, a fast slide, a roller slide, a zip line, several playground structures, cement tunnels, a rock climbing wall, and a giant arch bridge to climb over, your kids are going to be in playground heaven. Some of the playground is on a rubberized surface and some is in sand.
Other fun attractions in the playground include:
A labyrinth maze made out of hedges and a tall lookout tower in the maze that has views of the entire park
A lion water fountain — kids actually have to put their head in the lion's mouth to get a drink
Retro 70s style playground equipment to climb on
A steam engine locomotive — the kids used to be able to play on this, but it's been blocked off for safety concerns. Stay tuned though because there is talk of a new train themed play area being built around the engine
Two baby swings and two big kid swings
A large swaying suspension bridge
When my kids were younger, I appreciated the separate boat-themed tot play area for kids 2-5 years old that has two smaller slides. There are also lots of benches for parents to relax on and the park is clean and well kept. We saw no trash or graffiti when we visited the park.
Dennis The Menace Playground Tips For Parents
Not excited to spend hours of your vacation or weekend at a kids playground? No problem! Instead of sitting down for a long dinner or lunch at a restaurant, grab some pizza, sandwiches, a to-go order, or even a gourmet meal from the deli, and take your meal to the park. On more than one occasion, Brian and I have enjoyed a peaceful, delicious meal while sitting on a grassy hill under a shade tree while the kids played.
There are well-maintained restrooms at the playground entrance, making things so much easier. There's nothing worse than finally finding a parking space, hauling your family out of the car, making it all the way to the park, and then five minutes later one of your kids needs to use the bathroom. Ugh!
Be sure to allow for plenty of playtime, otherwise you may have some sad kiddos on your hands. I've seen far too many parents carrying crying kids out of the playground because they didn't get to play long enough. Heck, Brian had to carry Carter out crying when he was little — there are just way too many cool things to play on/with at this park!
Plan ahead to spend time at the playground at the end of your day. While you're browsing shops at Cannery Row, walking Old Fisherman's Wharf, visiting the Point Pinos Lighthouse, or walking the Monterey Walking Path of History and touring historic buildings, your kids can get through knowing their reward for being good all day is LOTS of time at an awesome playground. Then make your playtime bribe even sweeter, by telling them you'll have a picnic there for dinner for even MORE playtime.
Have Your Visited The Dennis The Menace Playground?
Have you ever been to the famous Dennis The Menace playground in Monterey, California? I'd love to know what you thought, or if you have any tips to share…