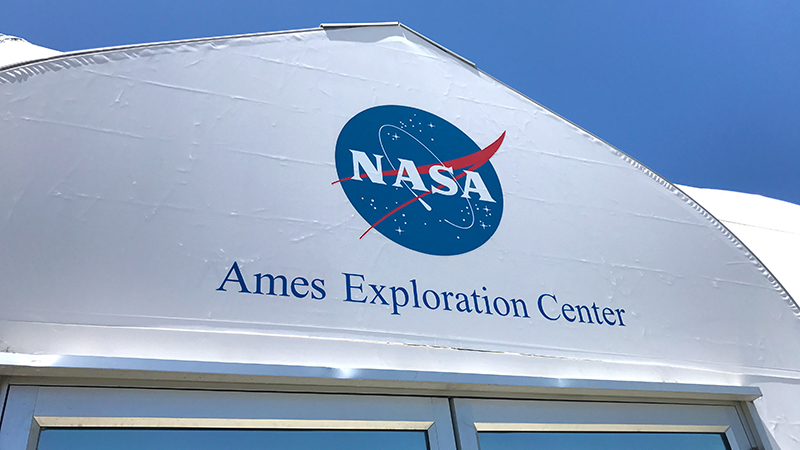 After purchasing tickets to see Dead and Company play two shows at Shoreline Amphitheater, we booked a hotel nearby and figured out what else we should do on our road trip. Adventuring and exploring during the day and concerting at night is one of our most favorite summer activities.
While in Mountain View, we visited the Computer History Museum, Mission Santa Clara De Asis, the Tech Museum of Innovation, Hoover Tower at Stanford University, and the NASA Ames Exploration Center.
The Visitor Center at the NASA Ames Exploration Center wasn't even on my list of things to do, but when we drove past the white tent-style building, the kids and I decided it was a must-do stop because we love learning about history and science and space!
Located in the heart of Silicon Valley, the NASA Ames Research Center is one of ten NASA field centers. Since 1939, Ames has led NASA in conducting world-class research and development in aeronautics, exploration technology and science aligned with the center's core capabilities.
The official NASA Ames Research Center isn't open to the public, but there is a family-friendly visitor center. The Ames Exploration Center is an interactive visitor center where you can learn more about NASA and space science. The visitor center is small and the exhibits are old, but it's still worth a stop.
The Ames Exploration Center experience is self-guided, and it only took just just under and hour to check out all of the exhibits, including:
Models of previous and recent spacecraft missions from NASA Ames.
A real lunar sample retrieved by the crew of Apollo 15 from the Moon's Hadley-Apennine region that is part of the 169 pounds retrieved from the lunar surface during the crew's 66.9-hour stay on the Moon.
Mercury Redstone 1A (MR-1A) — A capsule that was launched in 1960 and was the last unmanned test flight before the Mercury 7 astronauts took flight
Science on a Sphere — A look at the planets, weather patterns, and earthquake data with a large, spherical projection system
Living and Working in Space
The Kepler Mission — Discovered over a thousand potential new planets orbiting near-by stars while surveying our region of the Milky Way galaxy.
Stratospheric Observatory for Infrared Astronomy (SOFIA) — See the original wind-tunnel model of SOFIA, a world-class airborne observatory.
Our visit to the NASA Ames Exploration Center was short, but really interesting and we were all glad we had time to squeeze it in. If your family is interested in space make sure you plan an hour to poke around this Silicon Valley space science center.
Know Before You Go
The NASA Ames Exploration Center Visitor Center is located at Moffett Field on Moffett Boulevard in Mountain View, California 94043. It is about 40 miles south of San Francisco and 12 miles north of San Jose, between Mountain View and Sunnyvale just off US 101 at the Moffett Blvd/NASA Parkway exit.
Admission is free.
A free parking lot can be found behind the white tent structure.
While the research facilities at NASA's Ames Research Center are closed to the public, the Exploration Center is open to the public Tuesday thru Friday from 10:00 am to 4:00 pm and Saturday and Sunday from 12:00 noon to 4:00 pm. It is closed Mondays and federal holidays.
We spent about 45-60 minutes exploring the NASA Ames Visitor Center.
There is a gift shop, but it has very little merchandise that seemed out of place.