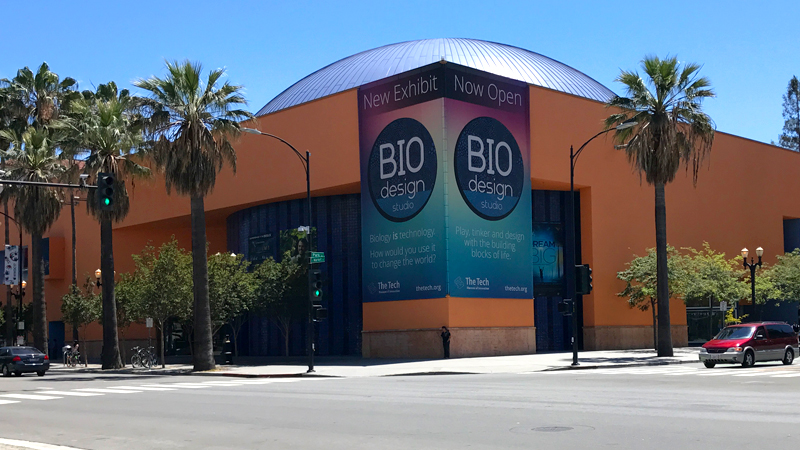 The last time we visited The Tech Museum of Innovation was in 2014 to see a limited run Star Wars Exhibit. After visiting the Star Wars exhibit, we meandered through the museum a bit, but it was really, really crowded and we decided to go grab lunch and visit again another time.
It took us a long time to get back to The Tech. We finally made it back again while in town for the Dead and Company concerts at Shoreline Amphitheater. We spent the morning visiting Mission Santa Clara and the Computer History Museum, grabbed lunch at Gordon Biersh, and then explored The Tech until it was time to head over to the venue for the concert.
Visiting The Tech
I'll be honest, I wasn't blown away by The Tech Museum of Innovation. The museum is huge, but there is A LOT of empty and wasted space with nothing to see or do. On top of that, the museum is redoing several of the exhibits, so a few large areas were closed off while new exhibits are being created.
Plus, some of the interactive exhibits were closed, others were booked for the day and unavailable, and others have a max number of people allowed in the space and were closed to anyone new while we were there.
Thank goodness it was the Bank of America Free Museum Weekend and admission for Brian and I was free. If I had paid full price for all of us to visit the somewhat empty, under construction, unavailable museum, I would have been a little more than upset. (And I would have felt a bit ripped off.) Already, the kids were a bit disappointed.
With that said, the few interactive things we were able to during our visit were awesome!
We learned all about the human body and saw imagery of organs, the nervous system, muscles, and more, and discovered what some organs look like when unhealthy and diseased.
The earthquake platform shook us all around and made us feel like we were in a real earthquake.
Natalie discovered what it was like to command a jetpack in space and Carter rode a bike to make electricity.
In the Bio Design Studio the kids used real lab gear to engineer multi-colored bacteria in the Living Colors Lab. Then in the Creature Creation Station, they used a kit of tangible biological parts to build and program their own virtual creature, release it into an immersive world, and watch it interact with other creations.
In the Cyber Detectives exhibit, they learned about encryption, code breaking, and more.
I definitely think The Tech Museum of Innovation is a great family-friendly activity to do with the family to beat the heat in the summer and escape the cold in the winter. I just think you probably should wait until the new exhibits are finished and get there right when they open before the limited capacity interactive exhibits fill up.
Know Before You Go
The Tech Museum of Innovation, also called The Tech, is located at 201 South Market Street, San Jose, California 95113.
The Tech opens daily at 10:00 am, and along with the Hackworth IMAX Dome Theater, is closed Thanksgiving Day and Christmas Day.
Don't throw away your ticket! On one end of your ticket is your "Tech Tag." The tag has a scannable barcode on it that personalizes your museum experience.
There is a store with educational and science-related toys, books, gifts, clothing, and souvenirs, as well as a cafe with freshly prepared soups, salads, sandwiches, and children's meals on-site. Both open at 10:00 am.
Food and drinks are not allowed in the exhibit areas.