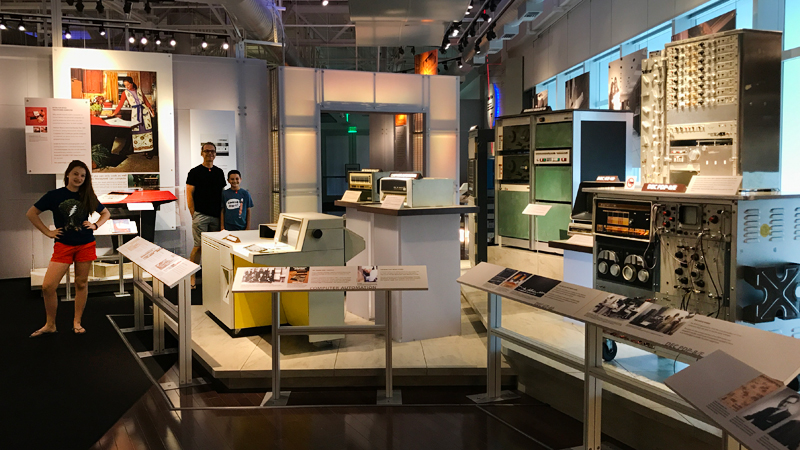 After visiting Mission Santa Clara, we drove over to the Computer History Museum. We didn't have to be at Shoreline Amphitheater until around 5:00 pm for the Dead and Company show, so we had plans to make the most of our day!
I had briefly read about the Computer History Museum when looking for things to do during the day when we saw Dead and Company at Shoreline Amphitheater in 2016, but we ended up doing other things. To be honest, this museum wasn't at the top of our family fun list, but because admission was free — thank you Bank of America for Free Museum Weekends — we decided to check it out.
Computer History Museum
The Computer History Museum in Mountain View, California has a four decade history as the world's leading institution exploring the history of computing and its ongoing impact on society. The Museum is dedicated to the preservation and celebration of computer history and is home to the largest international collection of computing artifacts in the world, encompassing computer hardware, software, documentation, ephemera, photographs, oral histories, and moving images.
OMG. This museum is so much more awesome than you think it's going to be.
We all enjoyed our visit immensely, we spent way more exploring the Computer History Museum there than expected, and we learned some new things too. Carter got to play old school video games like Pong and Spacebar, and check out a collection of robots. Natalie oogled the old phones and early computers, and they both had fun with the interactive exhibits and getting inside the self-driving car. On our way out, we even picked up some t-shirts and gifts in the gift shop.
The Computer History Museum Exhibits
A visit to the Computer History Museum begins with a short movie and then you're unleashed in a technical mecca of engineering accomplishments and artifacts dating back 2,000 years. As you walk through the exhibits, you'll see more than 1,100 historic artifacts, including some of the very first computers from the 1940s and 1950s.
Exhibits include:
Revolution: The First 2000 Years Of Computing
Everyone uses computers, but few know the story of how they came to be. Revolution: The First 2000 Years of Computing is an engaging 25,000-square-foot exhibition, featuring 19 galleries, 1,100 objects, and an array of original multimedia experiences that chronicle the history of computing on a global scale, from the abacus to the smartphone. Experience one-of-a-kind objects, devices, and software, while hearing the firsthand accounts from the innovators who set the computer revolution in motion.
Thinking Big: Ada Countess of Lovelace
Be inspired by the remarkable life of English mathematician and visionary Ada Lovelace (1815-1852). Drawing on the Lovelace papers held at the University of Oxford's Bodleian Libraries, Thinking Big: Ada, Countess of Lovelace features reproductions from the Bodleian's exceptional collection that highlight Lovelace's mathematical prowess as well as her creativity and imagination.
Discover rare historical documents from Lovelace's childhood and later correspondence to and from her distinguished tutors, including Augustus De Morgan, Charles Babbage, and other well-known Victorian thinkers. Visitors can also see paintings and photographs from Lovelace's life, and hear special audio readings of four select papers.
Make Software: Change The World!
Fly through World of Warcraft's fantastic world of Azeroth, learn Photoshop from the pros, try your hand at coding, and speed-text your way to victory in Make Software: Change the World!
Make Software explores the history, impact, and technology behind seven game-changing applications: MP3, Photoshop, MRI, Car Crash Simulation, Wikipedia, Texting, and World of Warcraft. The Stata Family Foundation Software Lab is at the center of the exhibition, where visitors are introduced to basic programming concepts and encouraged to try coding hands-on.
Where To? A History of Autonomous Vehicles
Taking land, air, and sea by storm! Where To? A History of Autonomous Vehicles covers the decades-long challenge of bringing self-driving cars to the general public. Self-driving cars have remained perpetually two decades away since the 1930s, while over the past century, autonomous and semi-autonomous vehicles have conquered the air, sea and roamed the edges of our solar system.
Know Before You Go
The Computer History Museum is located at 1401 N. Shoreline Blvd., Mountain View, California 94043.
Museum hours are Wednesday-Thursday and Saturday-Sunday from 10:00 am to 5:00 pm, and Friday from 10:00 am to 8:00 pm. Sometimes the Museum is also open on Tuesdays, but you need to check the current hours before visiting.
Coats, backpacks, luggage, and large strollers are not allowed. A coat check is available during regular museum hours.
Do not touch any historic artifacts. Do not bring food or drink into the exhibition areas.
Tickets are valid for the date indicated only. There are no refunds or exchanges.
There is a 1,500 square foot store with tech-related gifts, books, games, clothing, and gadgets. Museum admission is not required to enter the store. Hours are Tuesday-Thursday and Saturday-Sunday from 10:00 am to 5:00 pm, and Friday from 10:00 am to 8:00 pm.
Cloud Bistro features breakfast, coffee, espresso, soups, sandwiches, salads, seasonal specials, and pastries. Museum admission is not required. Hours are Wednesday-Friday from 8:00 am to 5:00 pm, and Saturday-Sunday from 10:00 am to 5:00 pm.
Personal non-flash photography is permitted throughout the Museum´s exhibit areas. Use of flash, tripods or other equipment is prohibited.
The history of the Computer History Museum dates back to 1979.