Kings Canyon National Park is named for the deepest canyon in North America. Reaching up to 8,200 feet deep, Kings Canyon, cut by the Kings River, is even deeper than the Grand Canyon. The park is adjacent to Sequoia National Park and Giant Sequoia National Monument in California's Sierra Nevada mountains.
Established in 1940, Kings Canyon National Park is split into two separate regions.
The Grant Grove region is famous for its picturesque giant sequoia groves, especially the General Grant Tree.
The Cedar Grove region, on the other hand, boasts two nearly vertical granite cliffs, a gorgeous meadow, a historic cabin, and a spectacular waterfall.
The Kings Canyon Scenic Byway connects the two regions and passes through the national monument in between. When visiting, you can access a variety of family-friendly hiking trails, groves of towering giant sequoias, and sweeping panoramic vista points.
Here are the eight best things to do at Kings Canyon National Park for families and kids:
01. Kings Canyon Visitor Center at Grant Grove Village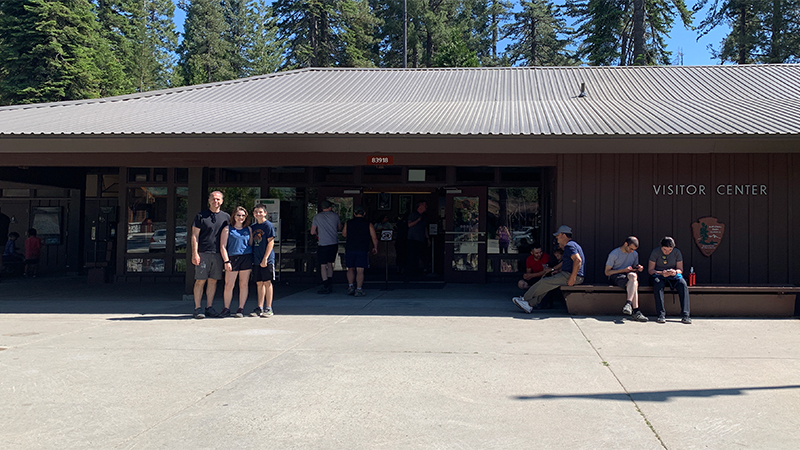 Grant Grove Village sits at an elevation of 6,500 feet in the western portion of the national park, just 3.0 miles east of the Big Stump Entrance. Here you'll find John Muir Lodge and the Grant Grove Cabins, the Kings Canyon Visitor Center, the Grant Grove Restaurant, the Grant Grove Gift Shop, the Grant Grove Market, a post office, an ATM, and a picnic area.
---
02. General Grant Tree Trail
Named in 1867 for Civil War General and U.S. President Ulysses S. Grant, the General Grant Tree is the world's third largest tree. The General Grant Loop Trail is a 0.5 mile paved trail that explores the grove of giant sequoias around the General Grant Tree and passes the historic Gamlin Cabin, the Centennial Stump, and the Fallen Monarch.
---
03. Panoramic Point Scenic viewpoint
Panoramic Point Trail is a paved, 0.25 mile, out-and-back trail that gains 100 feet in elevation and totals 0.5 mile round trip. At the top of the trail, a rocky outcropping opens up to breathtaking northeastern views that look out over the Sierra Nevada wilderness, Kings Canyon, and Hume Lake 2,300 feet below.
---
04. Big Stump Trail
While Giant Forest in Sequoia National Park was never logged, most of the sequoia groves around Grant Grove and North Grove were damaged by Bay Area logging company interests. Big Stump Loop Trail is a 1.0 mile dirt trail with a 200 foot elevation change that circles a meadow in logged sequoia grove at Big Stump Basin.
---
05. Cedar Grove Visitor Center And Village
The Cedar Grove region of the national park is a glaciated valley that features towering cliffs, stunning waterfalls, majestic meadows, and the turbulent Kings River. Cedar Grove Visitor Center provides information about the Cedar Grove region of Kings Canyon National Park. Here you can chat with a ranger, pick up maps and guidebooks, and buy books, souvenirs, apparel, and even games.
---
06. Canyon View Overlook And Knapp's Cabin
During the Roaring Twenties, wealthy Santa Barbara businessman George Owen Knapp took elaborate summer camping trips to this region of the Sierras. In 1925, he built this simple, one-room, wood-shingled cabin, just downstream from the confluence of the Roaring River, to store gear in during his fishing and camping excursions in Kings Canyon.
---
07. Roaring River Falls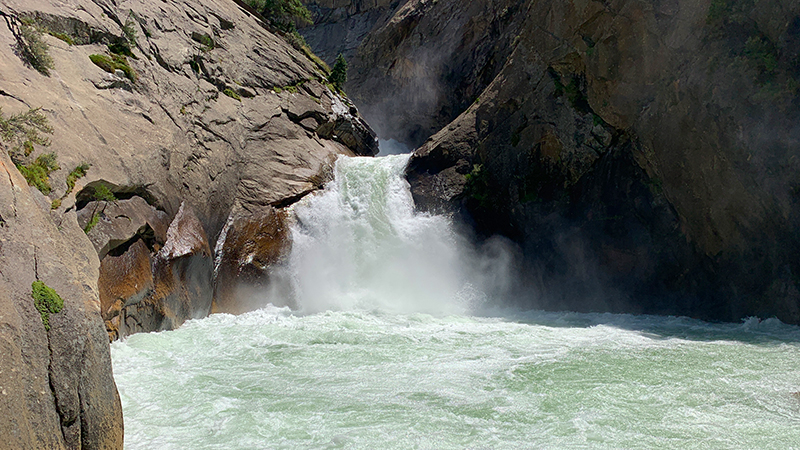 Roaring River Falls, in Kings Canyon National Park, drops 40 feet through a narrow granite chute, over a granite ledge into a beautiful, foaming, aqua pool. The gorgeous waterfall marks the spot where the Roaring River meets the Kings River.
---
08. Zumwalt Meadow
The Zumwalt Meadow Loop Trail is a 1.5 mile trail that sits between two nearly vertical granite cliffs, North Dome and the Grand Sentinel, and features a beautiful wooden bridge, a gorgeous meadow, and the sparkling Kings River.
---
Know Before You Go
Kings Canyon is the deepest canyon in North America. In 1976, Kings Canyon was designated by UNESCO as part of the Sequoia-Kings Canyon Biosphere Reserve.
Sequoia National Park and Kings Canyon National Park are basically treated as the same park — even the National Park Service combined both parks into one website.
The combined area of these two parks is 865,952 acres with most of that area being wilderness backcountry.
The parks are open 24 hours a day, 365 days a year. Occasionally, winter storms will close roads leading into the parks until they can be plowed.
Admission fees are good for seven days and both parks. They are $35.00/vehicle, $30.00/motorcycle, $20.00/individual entry on foot or bicycle, $15.00/person for a non-commercial group.
There are five free admission days: the birthday of Martin Luther King, Jr., the first day of National Park Week, the National Park Service Birthday, National Public Lands Day, and Veterans Day.
Visitor centers, ranger stations, and a museum offer opportunities to explore the nature and history of these parks, watch park films, and get trip-planning information. Park stores within visitor centers offer books and other products related to the park.
Weather varies a lot by season and elevation, which ranges from 1,370 feet to 14,494 feet. Bring layers and be prepared!
Pets are not permitted on any trails at Sequoia and Kings Canyon National Parks. In campgrounds and picnic areas, pets must be kept on a leash of no more than six feet at all times.