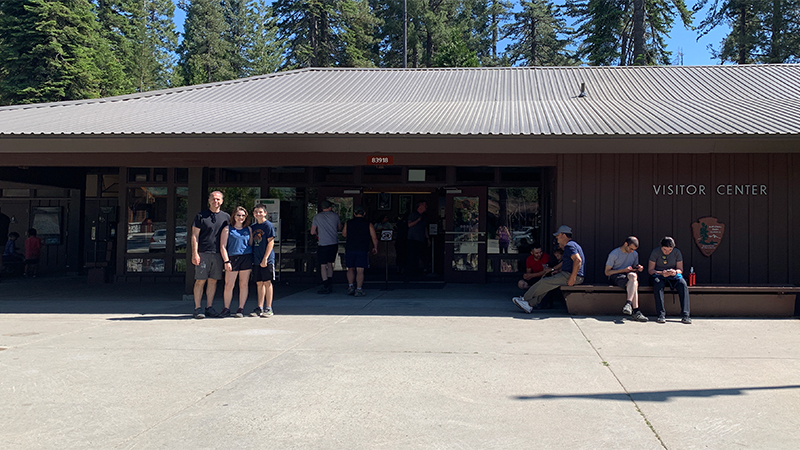 After spending two days exploring Sequoia National Park, we were really excited to check out Kings Canyon National Park right next door! From the town of Three Rivers, Califorina, we took Highway 180 and entered the park through the Big Stump Entrance. The Kings Canyon Visitor Center in Grant Grove Village was our first stop.
Grant Grove Village sits at an elevation of 6,500 feet in the western portion of the national park, just 3.0 miles east of the Big Stump Entrance. Here you'll find John Muir Lodge and the Grant Grove Cabins, the Kings Canyon Visitor Center, the Grant Grove Restaurant, the Grant Grove Gift Shop, the Grant Grove Market, a post office, an ATM, and a picnic area. A just a little further down the road is Grant Grove, a giant sequoia grove that is home to the third largest three on Earth: the General Grant Tree.
Kings Canyon Visitor Center
We stopped in the Kings Canyon Visitor Center to pick up my park Christmas ornament and Natalie's park keychain (which she also uses to decorate her own Christmas tree), and learn more about the three different regions in Kings Canyon National Park: the giant sequoia groves, the canyon (also called Cedar Grove), and the High Sierra.
At the visitor center, you can also:
Catch a short, 15 minute movie about the park
View exhibits on logging and the role of fire in the forests
Get maps and guidebooks
Chat with park rangers about things to do
Pick up souvenirs and gifts
After visiting the visitor center, we walked across the street to check out the separate Grant Grove Gift Shop — and yes, I did get another Christmas ornament! The gift shop has a wide range of souvenirs, gifts, magnets, toys, books, keepsakes, apparel, Native American-themed arts and crafts, and outdoor items. Exiting out the back door of the gift shop takes you to a large wooden deck and picnic area and the entrance to Grant Grove Restaurant.
While the restaurant looked like a great family-friendly dining option, we were too excited to check out the park to sit down for a full meal. Instead, we decided to have a quick snack out in the sunny picnic area.
Brian and Natalie hopped in line to get ice cream from the "order at the counter" window but after 10-15 minutes, it was clear that the line wasn't moving and Carter I were getting bored. We went to check out the rest of Grant Grove Village and found the post office and the market — and Grant Grove Market has groceries, camping supplies, beer, wine, a pressed penny machine, and ice cream!
Brian and Natalie hopped out of the snack bar line (which still hadn't moved) and picked out ice cream bars from the market, and soon we were on our way to visit the General Grant Tree.
Know Before You Go
About the Visitor Center In Grant Grove:
The Kings Canyon Visitor Center is located at 83918 CA-180, Grant Grove Village, California 93633 about 3.0 miles east of the Big Stump Entrance.
The Visitor Center, which has accessible restrooms, is open daily, year-round. Hours vary based on the time of year.
Grant Grove Market is open daily from 7:00 am to 9:00 pm. In addition to groceries, camping supplies, beer, wine, a pressed penny machine, and ice cream, in the winter it has ski and snowshoe rentals and sells tire chains, boots, coats, hats, gloves, and other winter items.
Grant Grove Gift Shop is open daily from 8:00 am to 9:00 pm and sells everything from books and souvenirs to apparel, Native American crafts, and event sequoia saplings.
About Kings Canyon National Park:
Sequoia National Park and Kings Canyon National Park are basically treated as the same park — even the National Park Service combined both parks into one website.
The parks are open 24 hours a day, 365 days a year. Occasionally, winter storms will close roads leading into the parks until they can be plowed.
Admission fees are good for seven days and both parks. They are $35.00/vehicle, $30.00/motorcycle, $20.00/individual entry on foot or bicycle, $15.00/person for a non-commercial group.
There are five free admission days: the birthday of Martin Luther King, Jr., the first day of National Park Week, the National Park Service Birthday, National Public Lands Day, and Veterans Day.
Visitor centers, ranger stations, and a museum offer opportunities to explore the nature and history of these parks, watch park films, and get trip-planning information. Park stores within visitor centers offer books and other products related to the park.
Weather varies a lot by season and elevation, which ranges from 1,370 feet to 14,494 feet. Bring layers and be prepared!
Pets are not permitted on any trails at Sequoia and Kings Canyon National Parks. In campgrounds and picnic areas, pets must be kept on a leash of no more than six feet at all times.