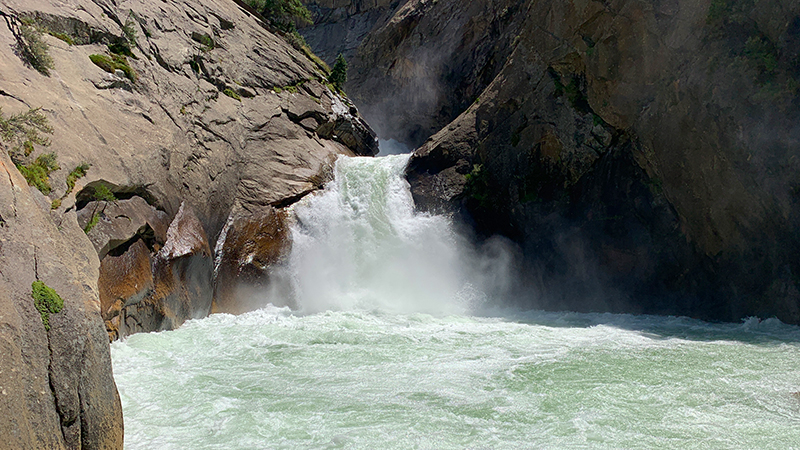 On a road trip vacation where we expected to see mostly giant sequoia trees, stunning scenic views, and lush, green, High Sierra meadows, we were pleasantly surprised to experience two underground marble cave adventures at Crystal Cave in Sequoia National Park and Boyden Cavern in Giant Sequoia National Monument, and see some amazing waterfalls like Grizzly Falls and Roaring River Falls.
Roaring River Falls, in Kings Canyon National Park, drops 40 feet through a narrow granite chute, over a granite ledge into a beautiful, foaming, aqua pool.
The gorgeous waterfall marks the spot where the Roaring River meets the Kings River.
From the roadside parking lot, just off the Kings Canyon Scenic Byway, a short tree-lined, shady five minute walk along a paved, wheelchair-accessible trail took us right to the edge of the stunning falls pool. Then on the walk back, we were treated to views of North Mountain and the rugged cliffs on the opposite side of Kings Canyon.
Know Before You Go
Roaring River Falls, dropping 40 feet through a narrow granite gap, is located in Kings Canyon valley, just off Highway 180.
Sequoia National Park and Kings Canyon National Park are basically treated as the same park — even the National Park Service combined both parks into one website.
The combined area of these two parks is 865,952 acres with most of that area being wilderness backcountry.
The parks are open 24 hours a day, 365 days a year. Occasionally, winter storms will close roads leading into the parks until they can be plowed.
Admission fees are good for seven days and both parks. They are $35.00/vehicle, $30.00/motorcycle, $20.00/individual entry on foot or bicycle, $15.00/person for a non-commercial group.
There are five free admission days: the birthday of Martin Luther King, Jr., the first day of National Park Week, the National Park Service Birthday, National Public Lands Day, and Veterans Day.
Visitor centers, ranger stations, and a museum offer opportunities to explore the nature and history of these parks, watch park films, and get trip-planning information. Park stores within visitor centers offer books and other products related to the park.
Weather varies a lot by season and elevation, which ranges from 1,370 feet to 14,494 feet. Bring layers and be prepared!
Cell service is not available in most areas. You may get service in Grant Grove and at the Foothills Visitor Center. WiFi is available at the Foothills Visitor Center, the Grant Grove Visitor Center, and in the lobby of Wuksachi Lodge.
Pets are not permitted on any trails at Sequoia and Kings Canyon National Parks. In campgrounds and picnic areas, pets must be kept on a leash of no more than six feet at all times.