Summer. It's my favorite time of year. The sun is bright, it's hot, and Brian and I often end our workdays early to spend some quality family time in the backyard, swimming and relaxing by the pool with some great music. We also eat lunch out in the poolside cabana almost daily while the kids swim.
Our whole family enjoys eating outside with the waterfalls running — it's so peaceful, and because we keep summer food staples like this yummy Sun Dried Tomato And Artichoke Pasta Salad ready to go in the fridge, lunches and dinners by the pool are super easy and fast.
Believe it or not, I actually didn't really like pasta salad much when I was younger — most recipes were just so plain! But then, I tried my mother-in-law's pasta salad and fell in love. Now it's one of my go-to side dishes for summer cookouts, picnics, potlucks, and barbecues. It's colorful and delicious.
Now the last thing I want to do when it's hot is stand in front of a stove cooking, so I love easy and quick recipes that last all week. I can make this Sun Dried Tomato And Artichoke Pasta Salad on Sunday, and we'll eat it as a side dish with lunch or dinner throughout the week — and it still tastes as good late in the week as it did on the first day!
When I was grocery shopping this past weekend, I found the cutest, mini stoneware bakers completely by accident. I wasn't even looking for them. They were just tucked inconspicuously on the shelf between other random foods in the WinCo entry isle.
I love the colors, especially the red, and they have lids! At $3.50 each, I knew I had to buy them. While I had originally thought of them for soups and hot side dishes, they're perfect for serving up the pasta salad too!
While we're also talking about quick summer meals, I can't help but show you how great our dinner looked — and it only took a few minutes to put together.
Brian barbecued the whole package of chicken on Sunday while I made the pasta salad and fruit salad, so all we had to do was put together the chicken sandwiches, add a scoop of pasta salad and fruit salad to the plate, and dinner was ready!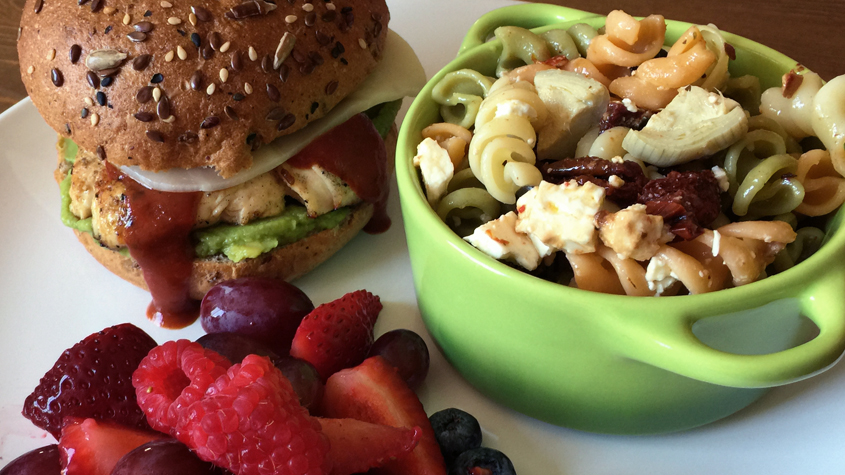 Seriously. How fantastic does this meal look?! It is just perfect for an early backyard summer dinner — and I can't wait to use those mini bakers again.
Oh, and if you're thinking of making this easy and delicious pasta salad recipe for a barbecue or potluck, consider doubling it and save some for yourself at home!
Sun Dried Tomato And Artichoke Pasta Salad
The rich colors from the sun dried tomatoes, artichoke hearts, olives, and feta make this pasta salad not only beautiful to serve, but crazy delicious to eat!
Ingredients
1 bag of multicolor pasta (bowties are my favorite)
I jar marinated artichoke hearts, drained and chopped
1 jar sun dried tomatoes, drained and chopped
1 container crumbled feta cheese (garlic or sun dried tomato)
1/3 cup sliced black olives
1 packet Italian salad dressing mix
White vinegar
Extra virgin olive oil
Instructions
Prepare the Italian dressing according to the instructions on the packet. Set aside.
Boil pasta al dente style. While pasta is boiling, chop the artichoke hearts and sun dried tomatoes.
Drain pasta and add Italian dressing to prevent sticking. Add artichoke hearts, sun dried tomatoes, feta, and olives, and toss to coat. Refrigerate at least two hours before serving.
Notes:
This pasta salad recipe is best made in advance, or even the day before serving as it allows all ingredients' flavors to blend.
Make this pasta salad recipe dairy-free by simply omitting the feta cheese and adding pine nuts.
You may be tempted to choose easy and grab a bottled Italian Dressing for this recipe, but don't do it! Even the same brand bottled dressing tastes different than making it yourself. Plus, if you're like me, you may like a little extra vinegar in your dressing and making it at home lets you make it just how you like it.