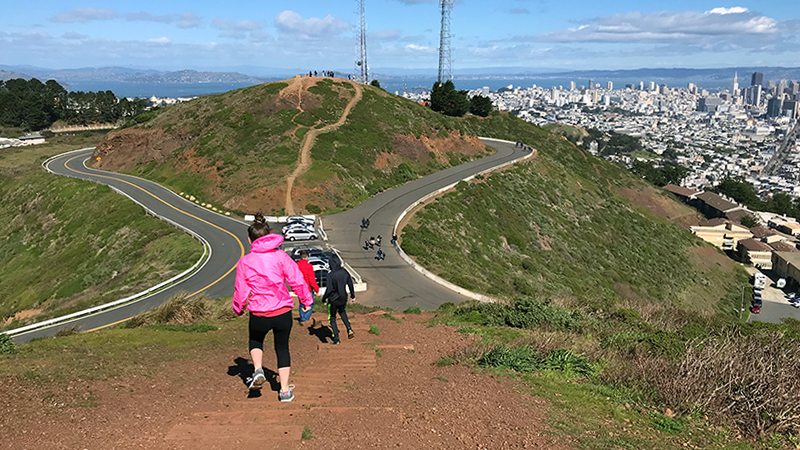 Hiking in San Francisco say what?! Yes, it's possible to not only hike the steep hills and streets, but climb steeps staircases, hike trails above the skyline, and walk, bike, or run along flat trails that hug the coastline.
On our last few day trips and weekend getaways to San Francisco we have had a blast exploring the less crowded, more natural areas of the city, including:
On our most recent visit to the city, we decided to hike Twin Peaks.
Twin Peaks in San Francisco — North Peak (Eureka Peak) and South Peak (Noe Peak) — sit only 660 feet apart and rise to an elevation of 922 feet, second only in height to Mount Davidson.
Located in the geographical center of San Francisco, Twin Peaks is often split by sun and coastal fog. The eastern slopes are usually sunny, while the western slopes experience lots of coastal fog and very strong winds. Unlike other San Francisco vista points, there are no trees or tall shrubs atop Twin Peaks, so this scenic viewpoint offers a true 360 degree view.
Christmas Tree Hill Overlook
At the base of the Twin Peaks' summits, Twin Peaks Boulevard travels in a figure eight around the hills. The small summit parking lot at Christmas Tree Hill provides access to a large curving sidewalk and overlook with viewing telescopes with a spectacular 180 degree view of the city below.
Once we snapped our photos, checked out the view, and had enough of the crowds, we left the parking area, crossed the street, and began our trek up the North Peak.
Hiking North Peak: Eureka Peak
Hiking to the top Eureka Peak, the North Peak of Twin Peaks was difficult, and not because it was steep or because we had already climbed other staircases that same day. It was difficult because of the insanely strong winds that were blowing so hard, we were actually being pushed off the trail! Thank goodness we all grabbed out jackets to throw on over our sweatshirts!
At the North Peak summit, we were treated to the most magnificent and stunning views of San Francisco surrounding us on all sides. We could see Ocean Beach and the Golden Gate Bridge, downtown San Francisco, the Mission District and Potrero Hill, Mount Diablo, Mount Tamalpais, Mount Davidson, Golden Gate Heights, the Marin Headlands, and even the East Bay.
It would have been nice to stay a while and relax, but the wind was ripping in from the pacific Ocean and our noses and fingers were already ice cold. So we followed the trail steps down the opposite side of the North Peak, across a small parking area, and up the South Peak.
Hiking South Peak: Noe Peak
When climbing up Noe Peak, the South Peak of Twin Peaks, the wind felt even stronger, as if it were whipping around and over the North peak only to blast the South Peak. We all were happy to be wearing sturdy tennis shoes and not our normal flip flops for this urban hike because staying on the steep staircase and trail was tough!
While the view from Noe Peak wasn't quite as good as the view from Eureka Peak, there were fewer people and this area felt more remote. It also gave us a better view of the Golden gate Heights neighborhood we had just hiked through the day before.
Twin Peaks Reservoir
A large reservoir holding 300 million gallons of water was built at Twin Peaks after the 1906 earthquake and fires. It is owned by the San Francisco Fire Department, and supplies water to the Fire Department's independent HPFS water system.
Sutro Tower
From the top of Twin Peaks, there is a fantastic view of Sutro Tower that is located on a hill between Twin Peaks and Mount Sutro. Originally residents worried that the 977 foot tall, three-pronged TV and radio antenna would ruin the gorgeous San Francisco skyline, but the inconsistent television reception was such a problem that the tower was built anyway in 1973 and is still in use today.
Know Before You Go
Twin Peaks Natural Area is located at 501 Twin Peaks Boulevard, San Francisco, CA 94114.
Twin Peaks Trail is a 0.7 mile trail that climbs both peaks.
The park area is open from 5:00 am to midnight and is free to visit.
Twin Peaks offers incredible 360 degree views of Ocean Beach and the Golden Gate Bridge, downtown San Francisco, the Mission District and Potrero Hill, Golden Gate Heights, the Marin Headlands, and even the East Bay.
Twin Peaks is a popular destination for hikers and tourists, so arrive early to get a parking spot at the overlook.
Be sure to wear layers and sturdy shoes, and bring a jacket. Even on beautiful sunny days, at 922 feet above sea level, it can be freezing cold and very windy atop the Twin Peaks.
There are restrooms near the Twin Peaks Overlook parking lot.
Twin Peaks is pet friendly, but all pets must be on a leash.
Vehicle break-ins are becoming common, so don't leave valuables in your car or at least keep them out of sight.
Recently coyotes have been spotted at Twin Peaks. Do not approach or attempt to feed a coyote if you see one.
There is no public transportation all the way to the top of the Peaks, but the 37 Corbett Muni line stops on Crestline Drive near a path up the hill.
Early Spanish settlers originally called the two nearly identical peaks Los Pechos de la Choca (Breasts of the Maiden).