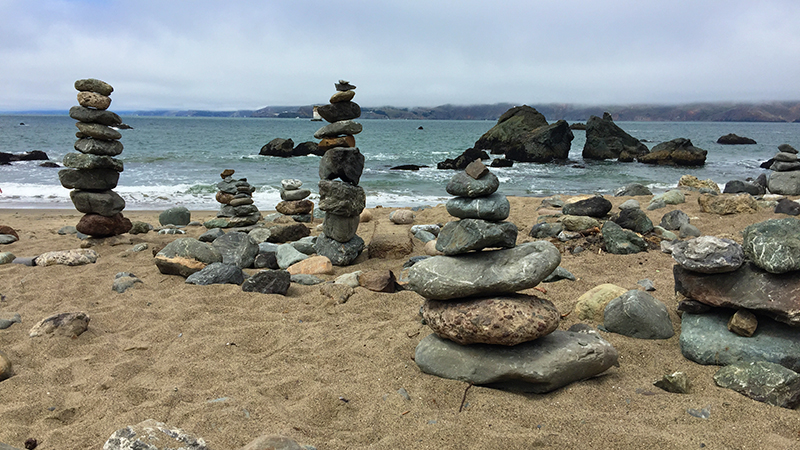 After exploring the Sutro Bath ruins, visiting the Camera Obscura, and peeking inside the Cliff House, we decided to hike the Lands End Trail out to the hidden labyrinth at Eagle's Point and then backtracked down a short trail spur to Mile Rock Beach. Sitting in a small cove tucked below the trail, Mile Rock Beach is a small, rugged, rocky beach in the Lands End portion of the Golden Gate National Recreation Area.
The beach is on the edge of San Francisco's Outer Richmond Neighborhood, and getting there requires a 1.8 mile out-and-back hike along a flat, old railroad bed that then descends down staircases of more than 100 steps — and if you do down the steps, you at some point, have to climb back up! Because reaching the beach requires some effort, it is fairly secluded and the only signs that visitors came before you are the stacks of rocks and meticulously balanced rock piles scattering the beach.
Getting to Mile Rock Beach
To reach Mile Rock Beach, park at the Lands End Lookout parking lot at El Camino del Mar and Point Lobos Avenue. Follow the Lands End Trail, a section of the California Coastal Trail, until you see signs for the Mile Rock Beach viewpoint. From here you have two options:
Follow the signs to the stairs that lead down to the beach.
Continue on the Lands End Trail to Eagle's Point just past Mile Rock Beach to first see the hidden Lands End Labyrinth — it actually overlooks Mile Rock Beach. Then follow a semi-steep dirt trail down to the beach. This is what we did.
The main reason for our visit to San Francisco's Lands End was to check out the secret labyrinth and the views of the Golden Gate Bridge. Mile Rock Beach was an awesome added bonus. I'm so happy we hiked out to the labyrinth first because it gave us a great view of the beach from up high on the lookout. The weather wasn't that great, so it was overcast, dark, and grey, but that also meant the beach was pretty empty. While there were a lot of people on the trail high above the beach, there were only four other people on the whole beach while we were there.
The minute we reached the rocky beach scattered with driftwood, my kids dropped to the ground and began creating their own stacks of perfectly balanced rocks. Carter does this almost everywhere we go and he left several rock stacks behind, and he even left one balanced on some driftwood! After exploring the beach and taking a break to enjoy the view, we followed the stairs back up the to trail for the trek back to the parking lot.
Know Before You Go
The Lands End Lookout is located at 680 Point Lobos Avenue, San Francisco, CA 94121. The Visitor Center, cafe, and gift shop are open daily from 9:00am to 5:00pm.
To reach Mile Rock Beach, park at the Lands End Lookout parking lot at El Camino del Mar and Point Lobos Avenue. The hike is 1.8-mile out-and-back hike with views of Mile Rock Beach, the Golden Gate Bridge, and the Marin Headlands. You can also see the lighthouse foundation on Mile Rock, for which the beach is named.
This hike follows the Lands End Trail, a portion of the California Coastal Trail that sits on the old railroad bed of Adolph Sutro's Cliff House railroad that transported people from downtown San Francisco to the Cliff House and the Sutro Baths, which was at the time, the world's largest indoor swimming facility.
The National Park Service maintains the trail, prunes back the trees and plants, and paints over graffiti, keeping the trail beautiful and clean. There are curved lookouts, benches, and and spectacular views all along the trail.
Be sure to wear layers and comfortable shoes. If the wind picks up, it gets cold very quickly and if you're going to follow the dirt trail, or climb up over rocks, flip flops and sandals aren't a great choice.
Consider packing a picnic to enjoy at Mile Rock Beach as you sit on a piece of driftwood and watch the crashing waves. If you're not the picnic type, you can grab a snack at the Lands End Lookout Visitor Center, gift shop, and cafe, or you can walk down the street a bit to the Cliff House Restaurant.
At high tide, the beach is very small. If you want to explore, make your own stack of balanced rocks, or relax, visit at low tide.
Download the Lands End Brochure and a map of the Lands End area