I want to see everything — all the things — and because there is so much I haven't seen and experienced, when we travel, we're often visiting places that we know we're never going to visit again. That's why when we visit a places like national parks, national monuments, historic sites, and other cool places, I want to get the full experience. Now I know I'm not always going to have time for all of the things to do and see, but most of the time, I can hit all of the highlights and major attractions.
When we planned our summer 2018 family road trip around six Dead & Company concerts, Dinosaur National Monument, and Rocky Mountain National Park, I researched all of the things to do and we made it a point to see everything we could. That meant not only visiting the world famous Wall Of Bones at the Quarry Exhibit Hall, which is what Dinosaur National Monument is know for, but also exploring the entire Cub Creek area of the park.
Most visitors have no idea that there is more to see and do at Dinosaur National Monument than looking at dinosaur fossils…
But in 1938, President Franklin D. Roosevelt increased the 80 acre monument's size by 210,000 acres to also protect the deep colorful canyons of the Green River and Yampa River, as well as the important cultural features left by ancient cultures, settlers, and homesteaders.
The Cub Creek area, located on the Utah side of Dinosaur National Monument, includes hiking trails, petroglyphs and pictographs, striking rock formations, stunning views, historic structures from the monument's homesteading history, picnic areas, river access, and campgrounds. And, the best way to experience the Cub Creek area is on the self-guided Tour Of The Tilted Rocks scenic drive.
The Tour Of The Tilted Rocks is a 12 mile, one-way, scenic drive along Cub Creek Road that starts at the Dinosaur National Monument Quarry Visitor Center.
If you plan on Visiting Dinosaur National Monument in the summer (or warmer months) like we did, chances are, you're not going to be up hiking all day in the sweltering heat. So, instead of hiking a long, sweaty trail in full sun and risking heat exhaustion early in our summer vacation, after visiting the Quarry Visitor Center and Quarry Exhibit Hall, we opted to do the Tour of The Tilted Rocks scenic drive.
What a fantastic decision!
If you only have one day to visit Dinosaur National Monument, I highly recommend starting at the Visitor Center and Quarry Exhibit Hall to see the world famous Wall Of Bones with 1,500 dinosaur bones and fossils, then hoping back in your vehicle for the Tour Of The Tilted Rocks scenic drive along Cub Creek Road. This drive will take you past awesome viewpoints and provide several opportunities to pull off, get out, and explore historic sites, see ancient petroglyphs, dip your toes in the cool river, marvel at odd rock formations, hike along some short trails.
Things To Do On Cub Creek Road
Below is a list of the best things to do while driving the Tour Of The Tilted Rocks on Cub Creek Road in Dinosaur National Monument:
Swelter Shelter Petroglyphs
Swelter Shelter, named by the researchers who excavated the site in the blazing, sweltering heat of summer, is a sheltered area at the base of a rocky cliff with views of petroglyphs and pictographs by the Fremont people. It is one of Dinosaur National Monument's oldest known sites of human occupation.
---
Split Mountain And Green River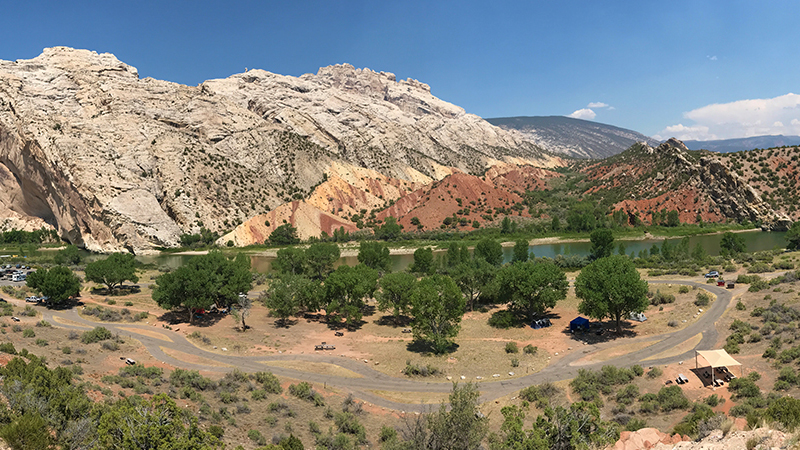 See panoramic views of the Cub Creek Valley and Green River with Split Mountain on the left and Blue Mountain on the right. The Split Mountain Group Campground and day use picnic area is located on the banks of Green River. Beside the campground is the Split Mountain Boat Ramp where river rafters come off the Green River after rafting trips through Dinosaur National Monument's canyons.
---
Turtle Rock And Elephant Toes Butte
Turtle Rock is a giant rock formation that looks like a turtle. Made from Entrada Sandstone, it has many holes that are the result from the rapid weathering of weak rock. Elephant Toes Butte, eroded from Nugget Sandstone, originated as a tall sand dune in the desert 200 million years ago.
---
Fremont Petroglyphs
These 1,000 year old Fremont petroglyph panels feature a variety of typical Fremont designs, including several large lizard figures, not common at other sites. The petroglyphs are only about 50 feet from the road, making it easy to see their detail.
---
Josie Bassett Morris Homestead
Beneath the backdrop of Split Mountain, is the Josie Bassett Morris Homestead. Josie provided for herself for 50 years, living a 19th century lifestyle well into the 20th century. Evidence of her life along Cub Creek can still be seen, including her recently rehabilitated cabin, an old chicken coop, remnants of the irrigation system she developed, and fruit trees that were once part of her orchard.
---
Box Canyon Trail
The Box Canyon Trail is an easy, mostly flat, 0.5 mile round trip, out and back hiking trail that winds underneath a canopy of trees and leads into a box canyon. This box canyon sits at the base of Split Mountain and was used by Josie Morris as a natural corrals for her livestock. On the Box Canyon Trail walk/hike, lasting about 20 minutes, you'll pass by walls of the Split Mountain Weber Sandstone, under a canopy of trees, and over a sandy canyon floor.
---
The Hog Canyon Trail
The Hog Canyon Trail is an easy, relatively level, 1.5 mile round trip out and back hiking trail into a box canyon of Split Mountain. Like Box Canyon, Hog Canyon was also used to house livestock by Josie Morris.
---
The River Trail
The River Trail is a 2.0 mile, one way, dirt trail totaling 4.0 miles round trip, that follows the Green River, connecting the Green River and Split Mountain Campgrounds. It provides dramatic views of Split Mountain and wildlife is frequently seen along the river including mule deer and a variety of birds.
---
Know Before You Go
The Tour of Tilted Rocks Scenic Drive is a 10 mile one-way scenic drive along Cub Creek Road in Dinosaur National Monument.
The drive begins at the Quarry Visitor Center located off Highway 149 at 11625 E 1500 Street, Jensen, Utah 84035 in Uintah County.
The last two miles of the route are unpaved but well maintained. The last four miles are unplowed in the winter and may not be passable by car December to March.
At the Quarry Visitor Center, pick up the Tour of Tilted Rocks print guide ($2.00) with information about wildlife, unique rock formations, petroglyphs, and historic sites along the road.
The guide will tell you to allow for at least one hour for the Tour Of Tilted Rocks Scenic Drive, but it took us almost three hours because we got out at almost all of the stops to do some exploring.
The Visitor Center is open daily from 8:00 am to 6:00 pm during peak season from late May to mid-September and 9:00 am to 5:00 pm during the off season from mid-September to late May. Dinosaur National Monument is closed on Thanksgiving, Christmas, and New Year's Day.
On the drive down Cub Creek Road and back, there will be many opportunities to get out and take short walks to get a closer look at the points of interest. Also, wildlife may occasionally be seen, including mule deer, bighorn sheep, pronghorn, prairie dogs, and many bird species.
Fuel, food, and other services are not available along this route. The nearest services are in Jensen, Utah, seven miles south of the Quarry Visitor Center.