One of the most incredible things about owning your own business is being the master of your own schedule, with the ability to move work around, choose the hours you work, set your own deadlines, and dictate how you spend your time. This ability has allowed us to experience work and life with great satisfaction, joy, and fulfillment. We are able to do great work, serving our clients well and working hard in highly productive sprints, while also traveling and going on family adventures regularly.
This past summer, our ability to manage our work-life balance was more important than ever.
With several large development contracts and a variety of design projects scheduled, it was to be our heaviest summer workload to date. Yet, if you took a look at our family calendar, you would see it jam-packed with travel, adventures, hiking, and concerts. We had the most epic summer ever, and at the same time, honored all of our contracts, finished every project, met every deadline, and even turned a few new clients, who were thrilled with their experience, into long term retainer-clients.
Our road trip to Portland, onto Washington, and back home again to see Dead and Company at Moda Center and The Gorge Amphitheater is a great example of how we balance work and life.
It was a last minute trip — Wednesday to Sunday — and to make it happen:
We worked very, very long days on Monday and Tuesday, and most of Wednesday to get ahead of our client deadlines.
We left Wednesday night, driving halfway to Portland.
We woke up early Thursday morning, ate breakfast, and checked email and responded to clients in Basecamp, before driving the rest of the way to Portland. After checking into our hotel, we spent the late afternoon and evening exploring downtown Portland.
On Friday morning, Brian took an early client call while the kids and I prepped for a day trip hiking in the Columbia River Gorge. We then set out to explore Vista House, Bridal Veil Falls, Latourell Falls, Shepperd's Dell Falls, Wahkeena Falls, Fairy Falls, and Multnomah Falls, before heading back to get dinner and showers before the concert that night.
On Saturday, we packed up the truck and drove to The Oasis Campground to get checked in, stopping only at VooDoo Doughnut and Horsetail Falls before crossing into Washington. The campground is a new luxury campground at The Gorge Amphitheater and it was only steps from the entrance — which was awesome because the Dead and Company concert went late and we were exhausted!
On Sunday, we packed up the truck again and set out for home, a 15 hour road trip done in a single day, so we could be back in the office for a Monday morning conference call.
Brian calculates the time needed for our road trips based on the belief that for every four hours spent in the car, we add one hour to the trip for breaks and stops. The drive from The Gorge back home to Rocklin was to be 12 hours, so we planned for a 15 hour drive, and actually hit that time within about ten minutes.
We stopped several times during our road trip, sometimes the stop was quick, and sometimes it was longer to explore something awesome. Listed below are the most interesting pit stops we made on the drive from Washington, through Oregon, and through northern California:
Highway 97 Cascade Volcano Viewpoint, Washington
The Cascade Volcano Viewpoint is located just south of Goldendale, Washington in Klickitat County. The Highway 97 roadside pullout has informational highway markers, views of four volcanoes, and old abandoned cabin. The views were expansive and beautiful, and the giant volcanoes standing strong in the distance were magnificent — and the old abandoned wooden cabin was really cool to explore.
---
Wild Horses Monument
Wild Horses Monument is a memorial to the wild horses which once roamed the region and a magnificent sight for travelers along I-90 near Vantage, Washington. The public art installation, titled Grandfather Cuts Loose the Ponies, is a display of fifteen life-size horses frozen mid-gallop while running wild across a ridge that overlooks the Columbia River. Designed and created by sculptor David Govedare of Chewelah, Washington in 1989, the amazing 200 foot long sculpture is constructed from welded steel plates.
---
The Wanapum Viewpoint
The Wanapum Viewpoint, also called the I-90 Scenic Viewpoint and the Columbia River Scenic Overlook, sits off I-90 in Washington State. This viewpoint has incredible, panoramic views of the Columbia River, the Wanapum Reservoir, the Vantage Bridge, and the Ginkgo Petrified Forest State Park. Interpretive displays and signs provide information about the area's geological history, the native Wanapum Indians, and the Ginkgo Petrified Forest.
Ginkgo Petrified Forest State Park is a 7,470-acre park with year-round camping at Wanapum recreational area. The park features 27,000 feet of freshwater shoreline and was created as a national historic preserve in the 1930s after petrified wood was discovered in the region.
---
Maryhill Stonehenge War Memorial
Positioned high above the rushing Columbia River, The Maryhill Stonehenge is a replica of the original Stonehenge in England. The concrete landmark was commissioned in the early twentieth century by Samuel Hill, a wealthy railroad and utilities magnate who was also an early crusader for modern roads.
The Maryhill Stonehenge was the first monument in the United States to honor the dead of World War I, more specifically, the soldiers from Klickitat County, Washington who had died in the then still on-going war. Today the Stonehenge War Memorial is part of the Maryhill Museum of Art.
---
Abandoned Church in Grass Valley, Oregon
One of the most photographed buildings in Sherman County, this abandoned church in Grass Valley, Oregon is visible right off the highway and the minute I saw I, I yelled at Brian to stop! Sitting there, empty and abandoned under the blazing summer sun, the old church, with its white paint peeling off, was just spectacular. There isn't much information about the church's history, except that it is an old Methodist Church.
---
Peter Skene Ogden State Scenic Viewpoint
As we were driving through Oregon, we all needed a break and a snack, so we were thrilled when we found a stunning gorge, three large bridges, a huge park, and bungee jumpers all at one roadside stop!
Famous for its vertical basalt cliffs and scenic river canyons, the Peter Skene Ogden State Scenic Viewpoint is a rest area and Oregon state park located on the west side of U.S. Route 97. The rest area sits along the the Crooked River, offering visitors restrooms, picnic tables, grassy fields, incredible views of the Crooked River Canyon, and on clear days, views of Mount Hood and Mount Jefferson. There is even a small waterfall spilling over the sheer cliff on the opposite side of the Rex T. Barber Bridge.
---
Welcome To California
While I don't have a blog post to share with you about this road trip pit stop, I had to include it because it represented a major milestone in our drive — entering our home state! Of course we had to pull off and grab a few photos in front of this icon sign.
---
Grass Lake Rest Area
Just over 30 miles into California, on California US Route 97, part of the Volcanic Legacy Scenic Byway, we reached the Grass Lake Rest Area. Grass Lake is a swamp/marsh wetland area 20 miles north of Weed in Siskiyou County. While the rest area isn't very big, it has clean restrooms, several water taps, a large area for pets to get some exercise, and picnic tables. There are also a lot of silly chipmunks running around!
On the right-hand side of the rest area, there is a view of Grass Lake, and on the left-hand side of the rest area, there is an interpretive sign for a Glory Hole — a natural lava tube that acts as a drain for Grass Lake. When we stopped for a quick road trip break, there was a herd of cattle grazing along the right side of the rest area.
According to Bill Miller at the Mail Tribune, Grass Lake used to actually be a lake! At some point in history however, a dynamite blast by a man named James Murphy blew a hole in the bottom of the lake. What he thought was bedrock was actually porous volcanic rock that sucked all the water from the lake and turned it into a wetland area.
---
Mount Shasta Scenic Viewpoint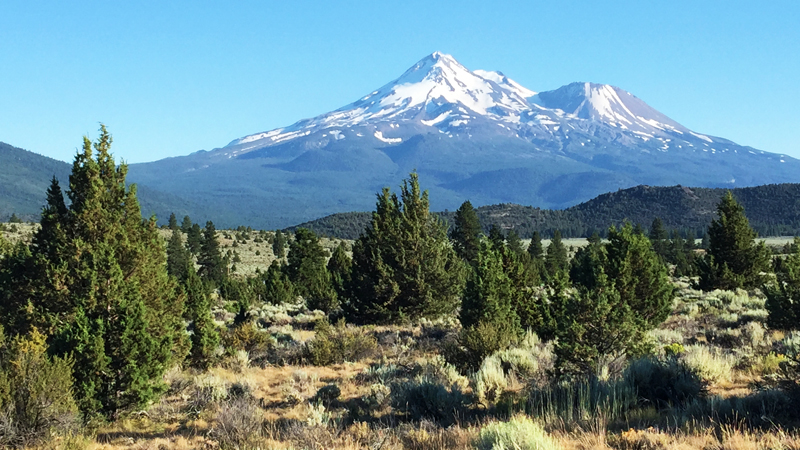 After driving through a very long, very boring stretch of the Oregon National Forest, we passed the "Welcome to California" sign, snapped a few photos, and soon saw stunning views of Mount Shasta.
The Mount Shasta Scenic Viewpoint provides breathtaking, panoramic views of the northern, glaciated side of the Mount Shasta volcano. It also has several displays with information about Mount Shasta and its volcanic history. Mount Shasta hosts California's largest active glaciers. From this scenic viewpoint, you can see the Hotlum Glacier and the Bolam Glacier. Also visible are four volcanoes: Whaleback Mountain, Mount Shasta Summit, Shastina Cone, and Mount Eddy.
---
Weed, California
Yep. There is a town in California called Weed, and while it wasn't the final stop of our road trip home, it was the last road trip stop we made before reaching home — other than a quick stop at a roadside Chipotle for dinner after dark.
The town of Weed, California is located at the base of Mount Shasta, just south of the Oregon border and about half way between Portland and San Francisco. Weed is officially recognized as part of the Volcanic Scenic Byway, a 500 mile route beginning in California's Lake Amador basin and ending at Crater Lake in Oregon.
The town of Weed gets its name from the founder of the local lumber mill and pioneer Abner Weed. In 1897, Abner Weed bought the Siskiyou Lumber and Mercantile Mill and 280 acres of land in what is now the City of Weed.
---
Road Trip Supplies
Our family loves road trips! We have our own space, movies, great music, and trivia, and plenty of room for anything we want to bring with us, like pillows, blankets, ice chests with drinks and our favorite foods, yummy snacks, and more. I've found though the snacks are the best way to keep kids happy when traveling.
Here are a few other tips to help make your next road trip a success:
Keep a fully-stocked first aid kit in the vehicle for emergencies. From Band-Aids to Ace Bandages and disinfectant, you'll never know when you'll need thiese supplies, but trust me, at some point you will.
Keep a medicine bag in the vehicle with every type of medicine you may ever need. For us, this includes Tylenol, Midol, Lactaid, Immodium, Nyquil, Dayquil, Delsym, Tums, Dramamine, and Cough Drops. ALso be sure you have any prescription medications you may need.
Keep a bag with bug spray, sunscreen, and aloe vera in the vehicle.
Make sure you have a roll of paper towels, antibacterial soap, toilet paper, a small bottle of laundry detergent, and cash — you just never now, and when you need it, you'll be thanking your lucky stars you have these on hand.
Pack everyone an extra pair of shoes or two. You don't want to miss out on an awesome adventure because you don't want to get your shoes wet or dirty, and you definitely don't want to suffer through wet shoes if you just go for it.
Pack food and drinks! If you have room, pack dry food and an ice chest of drinks and cold food for picnics and eating on the go.
We have large flat plastic storage containers that fit perfectly under the seats to hold snack items, granola bars, trail mix etc.
Every person has their own "adventure backpack" with a refillable water bottle, extra snacks and candy, and a sun hat.
Load up iPads, iPhones, or the in-vehicle TV with movies for the very long and boring stretches of your road trip. Pack Mad-Libs for the family to do together, drawing pads and colored pencils, books, activity books, car bingo, and other travel games.