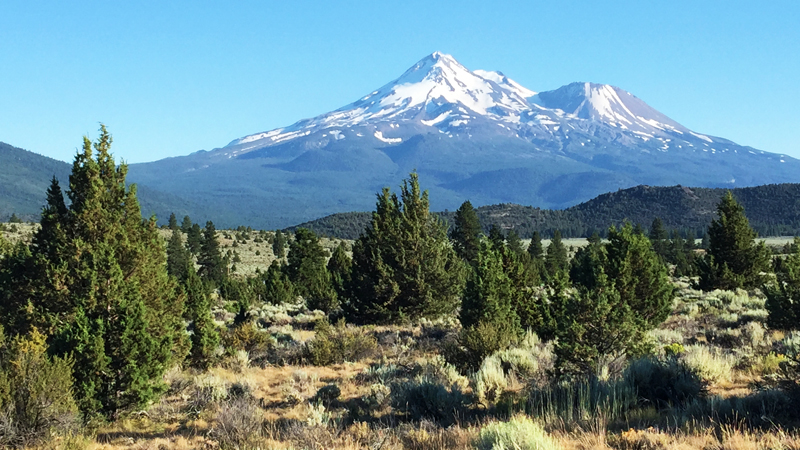 Our drive back home from The Gorge Amphitheater to Rocklin, California took 15 hours and we drove it all in one day, with several stops along the way to check out Wild Horses Monument and the Maryhill Stonehenge in Washington, an abandoned church and Peter Skene Odgen Scenic Viewpoint in Oregon, and finally the Mount Shasta Scenic Viewpoint in California.
All I can say is Brian should be grateful that we passed this viewpoint.
We had been driving through California, experiencing several amazing vistas of Mount Shasta, and I kept asking him to pull over so I could grab a photo, but he wouldn't do it. He said something about safety and no shoulder and getting run over. Whatever 😉 Thankfully, just as I was losing hope of getting the photo I wanted, we saw a sign for the Mount Shasta Scenic Viewpoint! Amen!
Needless to say we pulled into the small parking area and hopped out for some photos, which came out great! This vista point provides breathtaking, panoramic views of the northern, glaciated side of Mt. Shasta. It also has several displays with information about Mount Shasta and its volcanic history.
Mount Shasta Vista Point
Mount Shasta hosts California's largest active glaciers. From this scenic viewpoint, most noticeable is the Hotlum Glacier, the large field of snow and ice below the summit on the left, and the Bolam Glacier, further to the right. Whitney Glacier is the biggest, but is hidden from this viewpoint within a deep cleft between Mount Shasta and Shastina. Unlike most glaciers on Earth, these glaciers have doubled in size since 1950.
Also visible from the Mount Shasta Scenic Viewpoint, are four volcanoes. Of these, two different types of volcanoes are present:
Deer Mountain (left), Whaleback Mountain (front), and Herd Peak (not pictured) are low and broad Shield volcanoes, formed by the buildup of solidified, slow-moving, molten lava flows and smaller cindercone eruptions.
With its steep conical sides, Mount Shasta is a Stratovolcano that forms, erupts, and rebuilds itself in cycles.
About Mount Shasta
Not only did we snap a ton of photos on this quick stop to check out Mount Shasta and stretch our legs, we also read all of the informational displays and learned all about the volcanoes in the area.
The Pacific Ring of Fire circles the Pacific Ocean, releasing heat and pressure from the Earth's interior to create volcanos and frequent earthquakes. Mount Shasta, rising 10,000 feet above the Shasta Valley to its summit at 14,162 feet above sea level, is the largest volcano of the Cascade Range and sits on the Ring of Fire between British Columbia and Lassen Peak.
Mount Shasta evolved through five major stages, spanning about 500,000 years. The first stage volcano grew as large as the current mountain, but roughly 300,000 years ago Mount Shasta erupted with so much power that it collapsed and shattered apart, creating a gigantic landslide more than 25 miles long. The volcano rebuilt itself during four more eruptive stages. Layers of molten lava flows cooled and hardened, overlapping each layer to form the mountain we see today. The Misery Hill, Shastina, and Hotlum volcanic cones, and the Military Pass lava flow are evidence of these four stages.
Mount Shasta has erupted at least 10 times in the past 4,500 years — about once every few hundred years. The latest eruption may have been in 1786, as reportedly witnessed by the seafaring explorer La Perouse while sailing off the coast of Northern California.
Volcanic Legacy Scenic Byway
The Volcanic Legacy Scenic Byway All-American Road stretches 500 miles, from volcano to volcano, through California and Oregon.
The southern end of the byway begins at California's Lake Almanor, just miles from the active geothermal features at Lassen Volcanic National Park. The northern end of the byway is capped by Crater Lake National Park in Oregon where mysteries of the earth's interior are studied. Along the Byway are the slopes of Mount Shasta jutting above the valley floor to the summit at 14,162 feet, curtains of water showering over basalt cliffs at McArthur-Burney Falls Memorial State Park, and lands riddled with remains of underground magma conduits at Lava Beds National Monument.
At 14, 179 feet above seal level, Mount Shasta is the tallest volcano on the Byway.
Know Before You Go
This vista point is located on California State Highway 97, just south of Grass Lake before the town of Weed in Siskiyou County, California.
Courtesy of the Shasta Cascade Wonderland, The Volcanic Legacy Scenic Byway now has a Volcanic Legacy Scenic Byway Travel Guide. We also have an interpretive map and brochure of the byway.
This is not a rest area, it is a scenic viewpoint. So while there are informational displays and stunning views of Mount Shasta, there are no facilities or restrooms of any kind.
On a long road trip and need some rest? You can park at the Mount Shasta Scenic Viewpoint for up to eight hours.