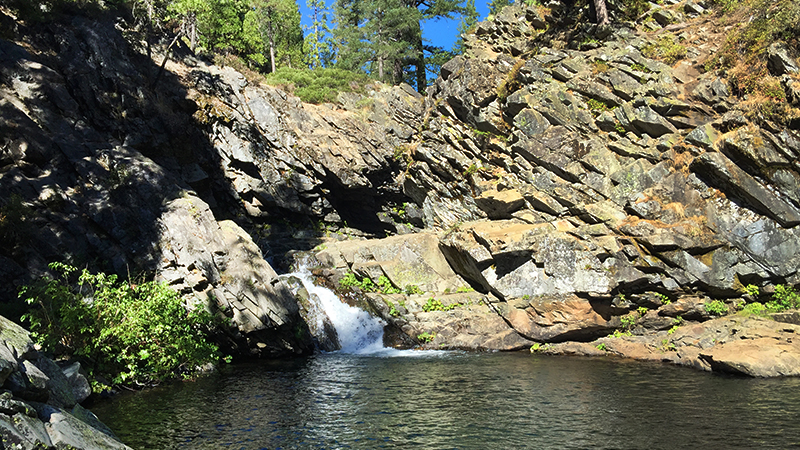 We spent most of this summer's local family hikes and adventures exploring Calaveras County, so when we were kicking around ideas for a post soccer game, Saturday afternoon family hike, we decided to stick a little closer to home and head up I-80 to Emigrant Gap in the Tahoe National Forest — an hour closer to our home.
Brian, clicking through a random Facebook link of the best Northern California swimming holes, found us a waterfall hike with an awesome swimming hole. The North Fork Falls waterfall and swimming hole was the only one listed near us and while there wasn't much information provided, he did some further research, figured out the details, and planned our afternoon hike and picnic dinner.
Normally we're early risers, doing morning hikes and lunchtime picnics. We've found that by getting going early in the morning, we get to most places before the crowds and end up having much of the area to ourselves. Needless to say, I was more than curious to see how an afternoon hike and dinner picnic would work out with the crowds — especially after learning that this was one of the best swimming holes in Northern California and that it was just outside a campground.
Luckily when we arrived at the waterfall and swimming hole, there were only three other women there and they were already packing up their things to head out. We had the entire swimming hole to ourselves. No one else showed up until we were heading back to the car for a tailgate picnic dinner at the Emigrant Gap Scenic Overlook.
North Fork Falls
The North Fork Falls is on the North Fork of the North Fork of the American River at Emigrant Gap in the Tahoe National Forest, Placer County. The waterfall is actually two waterfalls (well, a two-tier waterfall), with the top waterfall pouring into a deep, small pool, then overflowing and cascading down the rocks into a much larger bottom pool.
Shaded by cedar, pine, and fir trees, the area is an absolutely stunning snapshot of the natural Sierra landscape, that provides families a quiet place to relax and play in the swimming holes.
Directions
From I-80, Take the Emigrant Gap Exit (Eastbound, exit 158 / Westbound, exit 158B) and follow signs for Emigrant Gap. Turn right on Emigrant Gap Road and continue down the road for about 6.5 miles to the North Fork Campground. Note: Google Maps shows the road as Texas Hill Road, but the street signs say it is Emigrant Gap Road — they are the same road.
Emigrant Gap Road/Texas Hill Road is a narrow road that hugs the curves of the mountain side and traverses through gorgeous tall trees, scenic viewpoints, and across two bridges. While the distance is about 6.5 miles, it takes about 20 minutes to reach the North Fork Campground. It will feel like forever, like you took the wrong road and you're driving out into the middle of nowhere. But don't worry, you're going the right way!
North Fork Falls Trail
The hiking trail to the North Fork Falls waterfall and swimming hole isn't clean or flat. There are lots of rocks and tree roots on the trail, making it very uneven. So be sure to wear sturdy shoes — flip flops aren't going to cut it. The trail twists and turns through the brush and trees above the North Fork of the North Fork of the American River, and will have you climbing over and around fallen trees. You'll also get glimpses of the river (that's more like a creek) and there are a few really great viewpoints to see some Rapids and a little mini waterfall.
With that said, the trail isn't overly difficult — it was easy for all of us to navigate and it's only 0.2 miles one way. The only spot that gets a little hairy is when the trail drops down to the swimming hole. Here you'll be heading down a fairly steep slope, navigating rocks and tree roots and loose, soft dirt — but the reward is completely worth it. Plus, the tree roots were actually helpful here, giving us a solid surface to step on. Much safer that just stepping slowly on the loose dirt.
North Fork Falls Trailhead
The North Fork Falls Trailhead is located between campsites 9 and 10 at the North Fork Campground.
If you don't have a campsite reserved, you must park on the street outside the Campground and walk in. You'll reach the place where the trailhead is supposed to be, but again, you'll wonder if you're in the right place. It doesn't look like there is a trail. You can't see a trail and there is no signage. But don't fret! The North Fork Falls Trail starts just past a large fallen tree between the two campsites.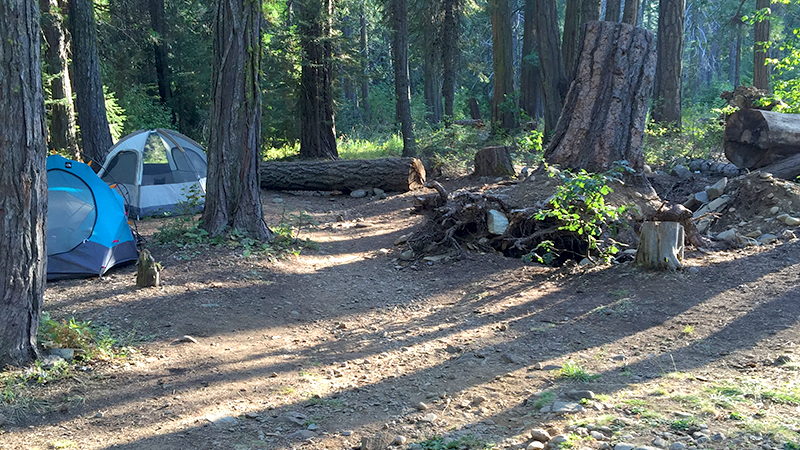 North Fork Falls Waterfall and Swimming Hole
The waterfall is a two-tier waterfall, with the top waterfall pouring into a small pool, then drops in a beautiful cascade over the rocks again down into a larger pool. Both pools are deep enough to swim in and to even cliff jump into!
The lower waterfall and large swimming hole are both easily accessed right from the trail and are fairly family friendly. I say fairly, only because while other swimming holes have smooth, rounded rocks to relax on, the rocks surrounding this swimming hole and waterfall are jagged, rugged, and in many spots sharp and pointy. At 10 and 13, my kids did fine scrambling over the rocks, but I don't think I'd bring small kids.
The upper waterfall and pool require you to climb up steep rocks, at an awkward angle, partly in the water to reach it. We were fairly confident we could make the climb up to the upper pool, but climbing back down was a whole different story. Yes, we could have cliff jumped back down to the lower pool, but it was already getting dark, we couldn't see into the water, and it just didn't feel safe. So for this trip, we skipped it, just enjoying the view of the upper falls from the lower pool and the trail.
Let's Talk About The Water
The water is snow melt, so the water is absolutely freezing. Now, if it were 100 degrees and sunny, this would be no big deal. We all, well maybe not Brian, would have jumped in right away. But it was only in the high 70s and it was late in the day and shady. And did I mention the water was so cold it felt like we were sticking our feet in the ice chest?!
Carter and Brian opted out of swimming and relaxed on the rocks and Natalie and I decided to brave the cold water and go for it, swimming across the waterfall pool for a photo… and it took a long time to get the courage up to get all the way in.
We've swam cold water before. As a kid, I traversed many waterfalls and swam through many cold water pools with my parents on camping and houseboating trips, and even just a couple weekends ago we all swam through snow runoff at Natural Bridges, but then the kids had blow up tubes to float on — I was the only one who swam with my whole body in the ice cold cave water.
I quick got in up to my neck and got back out. My skin was a bit red and for a few second it burned a bit, but it wasn't too bad! Natalie tried, but it was so cold, she couldn't bring herself to get in all the way. I swam across the pool and back by myself to show that it could be done. But the water was so cold, Natalie's feet were going numb, and her nerves were getting the best of her. Every time she dropped into the water, her nerves took over and she got back out.
She was frustrated. She wanted to do it. She knew she could do it. She kept trying to it. But her nerves were holding her back. Finally she decided to go for it. We were going to do it side-by-side together. We inched into the water, counted to three, and jumped into the pool. Well, I jumped into the pool. She couldn't do it. She was mad at herself, she didn't want to miss out, and she knew that if she didn't do it, she would regret it. The frustration was overwhelming and the tears came.
I knew this would be a defining moment for her. I knew that she needed to do this, so I sat with her and helped her through her nerves the best I could. But eventually, the situation called for tough love. It was getting dark, I was getting cold, and we couldn't sit there all evening. It was now or never. She had to do it now or be okay with skipping it. I was going to swim it only one more time. One last jump. If she didn't jump with me, we were going to call it a day.
She took a few deep breaths and committed to it with me swimming next to her. We slid onto the rock ledge in the freezing water, counted to three, and jumped out into the pool together! Natalie was right beside me, swimming across the pool! She did it! She reached the other side of the swimming hole! It may not have been much wider than the length of our pool at home, but when contemplating the freezing cold water and the swim, it looked like a much longer swim! She was relieved, ecstatic, and tired, and we just sat for a moment on the rocks taking in her achievement.
She conquered her nerves and fears and got it done. After that, she had no problem climbing over to the waterfall to take a photo and then leaping off the rocks into the water below for the swim back. After we reached the dry rocks, she burst into tears and gave me a huge hug. They were tears of relief and happiness.
This is definitely an adventure she can be proud of and one I'll never forget!
The North Fork Campground
The North Fork Campground sits at 4,700 ft in elevation in the Tahoe National Forest in Placer County. Reached off the Emigrant Gap freeway exit, the campground is open from May to October and has 17 campsites with only a few large enough for a trailer. The campground offers single-family sites, a few of which are designated for walk-to tent camping only. Each site is equipped with a picnic table and campfire ring. Vault toilets and drinking water are provided.
The North Fork Falls and swimming hole is located a quarter-mile downstream from the campground. Campers can also fish for Rainbow Trout in the river or follow one of the other nearby hiking trails. While camping does require a reservation, the day use area is open to the public and it's free. Just don't park in the campground. Instead park on Texas Hill Road/Emigrant Gap Road.
Know Before You Go
The North Fork Falls is on the North Fork of the North Fork of the American River at Emigrant Gap in the Tahoe National Forest, Placer County. The trailhead is located between campsites 9 and 10 in the North Fork Campground.
Go before you go. The only restrooms available are vault toilets (gross) in the campground. There are no facilities near the waterfall or swimming hole.
Pack a picnic and water. There are no amenities close by, so pack snacks, water, and a picnic.
Wear sturdy shoes. Flip flops aren't going to cut it on the North Fork Falls Trail. It's rocks, uneven, and in places steep and slippery due to loose dirt. Wear tennis shoes or hiking boots.
Rock jump at your own risk. There are lifeguards and you're a quarter-mile hike from help, and even farther from any emergency services. Think twice before cliff jumping into the pools.
Go early or late. Head out to the waterfall and swimming hole early in the morning or late in the afternoon to avoid crowds. The middle of the day is the busiest times with the most people.