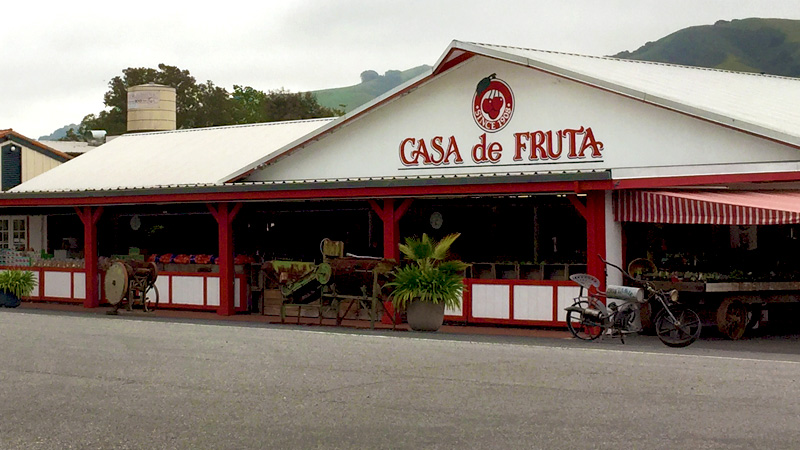 With my family in northern California and our extended family in the Bay Area, we didn't get to see each other too often, but we did meet up for special events, birthdays, Mothers' Days, and Fathers' Days. One of the places we would go was the Monterey Bay and Old Fisherman's Wharf, and every time we would pit stop at Casa de Fruta on the way.
Casa de Fruta, set in the Diablo Mountain Range, is a deluxe fruit stand located off Pacheco Pass Highway in Hollister, California. I have so many fond memories of family pit stops at the farm stand, picnics in the grass, playing on the playground, and visiting the small petting zoo.
Brian teases me because of how much I love Casa de Fruta, but after our last stop there, I think he's becoming a fan too!
The Perfect Road Trip Pit Stop
On the way home from our spring break trip to Pinnacles National Park and Big Sur, we stopped for a picnic lunch at Casa de Fruta, and it turned into a fun two hour detour!
We first stretched our legs, which were a little sore and tired from our week of hiking, exploring the old farm equipment on display and playing at the playground I played at with my sisters when we were little. While the old petting zoo is no longer there, the Casa de Fruta Orchard Resort now has:
A Two Story Venetian Carousel with fourteen hundred twinkling lights and classic moving horses, rocking chariots, spinning tubs and swings
A Narrow Gauge Train and two mile stretch of railroad that meanders through the park and passes through a tunnel
A Wine Shop, tasting room, and gourmet deli
A Sweets Shop with a huge variety of candies, a coffee counter, pies, and an ice cream counter
Once we were done playing at the playground, we all rode the train — which was more fun than I thought it'd be — and the kids rode the carousel. Then we headed over to Casa de Wine.
Wine Tasting
While in Maui for Thanksgiving, we visited Maui Wine, tasted their famous Pineapple Wine, and loved it. So when we saw the Casa de Fruta billboards advertising their pomegranate wine, we knew we wanted to try it too.
As the wine shop and deli offers complimentary wine tasting, we sent Natalie and Carter off to scope out the gourmet snacks and deli for lunch, while we sampled their fruit wines.
Cissy welcomed us to the counter, taught us all about their wines and the different flavors, and invited us to sample the blackberry wine, raspberry wine, plum wine, apricot wine, and pomegranate wine. They all were delicious and she made it fun! We bought several bottles to take home, got some fresh deli sandwiches, and ate outside in the picnic area.
Peacocks And Turtles
While we ate lunch, we also got to enjoy watching the peahens and peacocks strut through the grounds, around the playground, and through the parking lot. It's the beginning of spring and mating season, so several gorgeous male peacocks were displaying their tail feathers tipped with big eyes and shaking them for the peahens. It was pretty awesome to see!
Before we left, we made sure to visit the farm stand with fresh fruit, dried fruits, nuts, and gourmet food items. We also hung out for a while at the duck pond, which didn't have any ducks, but did have several turtles hanging out on the rocks and swimming around in the water.
When it was finally time to get back in the car to finish our drive home, everyone agreed that Casa de Fruta is by far our favorite road trip rest stop.