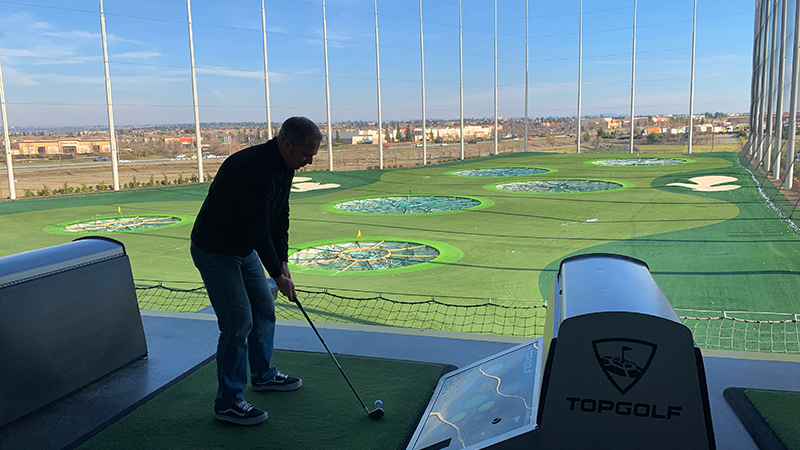 Finding new friends as adults isn't an easy thing to do. Luckily, I spend quite a bit of time in two open, welcoming, friendly communities — WordPress and Deadheads — and that makes it much easier. In fact, I met one of my best friends, Chris Lema, through WordPress.
Chris is actually more like the brother I never had, and the best part of meeting Chris (besides his sage business advice, support, and friendship) is that I also met the rest of his family. It's rare for two families to meet and for all of the adults and the kids to get along and enjoy spending time together with no drama. It's why we vacation together and make time to visit each other throughout the year.
Once again, the Lema Family stayed with us over Christmas break and when they realized we had never been to Topgolf and there was one near our house, Chris booked us time and jokingly called it the Lema/Bourn Christmas Party. Except he wasn't joking. It was booked as a corporate event so we got two bays, tons of food, and a server dedicated to our party, which was pretty awesome.
None Of Us Golf
We never made going to Topgolf Roseville a priority because none of us golf. I honestly thought it was a driving range for golfers and not something we would ever do. But boy was I wrong.
None of us golf and all of us had a blast!
Playing at Topgolf is a lot like mini golfing, but instead of putting you're swinging for the fences, and it doesn't matter how good you are. Yes, you can keep score, but really, it's just fun to play and eat.
OMG The Food
Let me just say that whether you like golf or not doesn't matter. What you should really be asking yourself is, "How much do you like to eat?" We really enjoyed snacking on delicious eats between turns and watching each other mess up or swing and miss the ball made for some seriously funny moments.
With a full sports bar (and an arcade for the kids) separate from all the golfing action, you don't even need to golf to enjoy the food at Topgolf Roseville.
From the barbecue pulled pork sliders, crispy tots, and chips and salsa/guacamole, to the chicken and waffle sliders, signature nachos, and the mini injectable donut holes, to the queso dip and the charcuterie-style jumbo pretzel, we were in food heaven.
Everything we tried from their food and beverage menu was delicious.
Topgolf Family Fun
Topgolf is a great choice for a fun family activity. We had so much fun visiting with the Lema family, that we took my in-laws out for golf and lunch at Topgolf Roseville to celebrate my father-in-law's birthday and I took my son and a group of his friends there too!
We've tried golfing on all of the levels — there are three stories — and the vote on which level we like the best is not unanimous. On the first level, it's easier for the kids to put like mini golf and get the ball into the closest holes, but on the third level, gravity works in your favor and I found it much easier to reach the mid-range holes the higher up I was.
Brian and his dad were the only ones able to hit the ball far enough to reach the farthest holes and they liked the bottom level.
If you're looking for something fun to do with the family and you're tired of bowling and mini golf… If you're looking for a fun date night activity… If you're looking for amazing food, cocktails, and beers and something to do while you're noshing… If you're looking for a unique birthday party option… be sure to check out Topgolf in Roseville! We had tons of fun and left with very full bellies and are already planning our next visit.