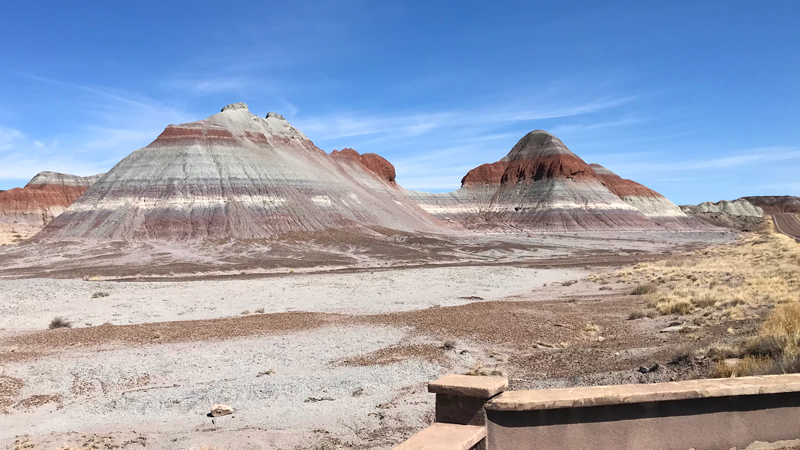 When driving through Petrified Forest National Park from the southern entrance gate, you first drive through the Flattops and a wide expanse of flat desert. But then, seemingly out of nowhere appear tall, cone-shaped hill striped with almost perfect layers of reds, pinks, blues, greys, purples, and white.
Known as the Tepees, the small mountains are stunning and the roadside pullout begs you to stop for photos. And, if you're like us and you can't get enough of the wildly colorful desert, nearby is Blue Mesa Road and the Blue Mesa Trail, where you'll be surrounded by the vibrant colors and rich textures of the Arizona Painted Desert.
About The Tepees
Named for their cone-like shape and similarity to Indian dwellings, the Tepees showcase the cool striated colors of the Blue Mesa Member dating back 220-225 million years.
The Tepees are badland erosional formations in Petrified Forest National Park. As part of the Blue Mesa Member in the Chinle Formation, they consist of thick deposits of grey, blue, purple, and green mudstones and white minor sandstone beds, and are colored by iron, manganese, and other minerals.
The Chinle Formation was deposited over 200 million years ago during the Late Triassic Period. The colorful badland hills, flat-topped mesas, and sculptured buttes of the Painted Desert are primarily made up of the Chinle Formation deposits.
Within Petrified Forest National Park, the Chinle Formation is further divided to include the Blue Mesa Member, the Sonsela Member, the Petrified Forest Member, and the Owl Rock Member.
Know Before You Go
The Teepees are a bandland formation in the Painted Desert of Petrified Forest National Park found directly off the main Park Road, Arizona 86025 in Navajo County.
Petrified Forest National Park actually closes! The park is open daily year-round from 8:00 am to 5:00 pm. When staff permits, extended hours go into effect from 7:00 am to 6:00 pm — and they're not kidding. The park gates actually close and rangers drive the main park road around 4:30 telling you to wrap it up and start heading out of the park.
The Petrified Forest landscape is an extremely dry, high altitude desert so pack lots of water, even for short day hikes, to avoid heat exhaustion.
Petrified Forest is one of the most animal friendly national parks. You can bring your leashed pet any place you are allowed to go except into the buildings.