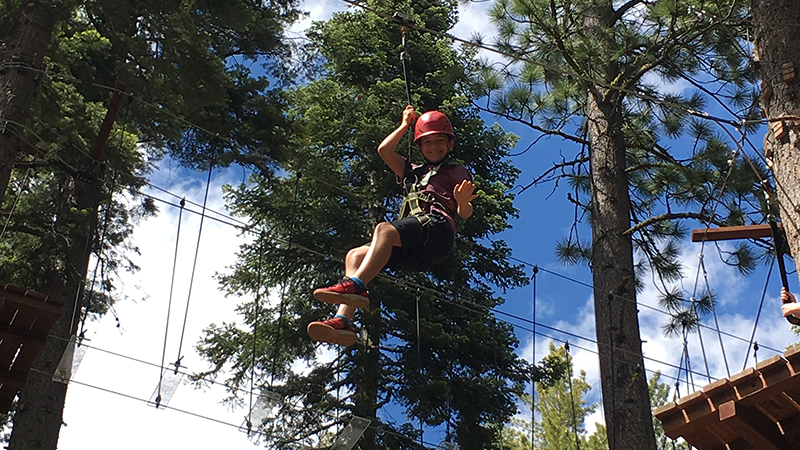 This is a guest post written by my daughter Natalie Bourn about a visit to the Tahoe Treetop Adventure Park in Tahoe City, California with her grandparents. Please check out her blog too…
Every summer, my grandma and grandpa take my brother and I on some sort of vacation, road trip, or adventure and this year. One of the things we did this year is head to Lake Tahoe for a couple days, where we visited Eagle Falls, hiked down to Vikingsholm Castle in Emerald Bay, and did the Granlibakken ropes course at the Tahoe Treetop Adventure Park.
From camping and kayaking, to hiking and biking, we have visited Tahoe A LOT, and I can't believe we had never done the awesome, family-friendly ropes course right in Tahoe City because Tahoe Treetop Adventure Park next to the Granlibakken Lodge is an insanely fun experience!
There are 10 different courses, 97 tree platforms, 27 zip lines, and 60 obstacles and bridges — all totally unique. My brother and I agree that this ropes course and zip line park was pretty much the coolest thing.
We had an insane amount of fun trying the different courses — and it was actually a lot harder than it looks. Luckily, after doing a few and figuring out how it works, we were pros. With your admission fee you get 2.5 hours to explore the whole park on your own at your own pace, and it was plenty of time to do the courses. My brother Carter and I repeated some of the courses because they were so much fun, which meant we didn't try every course… but you could do all the different courses if you wanted in the 2.5 hour time span no problem.
What was really cool is that:
The ropes courses range from very easy to difficult and they use ski ratings for the courses — green circle = easy, blue square = intermediate, and black diamond = difficult. Each part of the rope course is then labeled with a sign telling you how hard it is going to be.
You're in a full body harness and helmet attached to a zip line 100% of the time (even on the bridges and obstacles). This way, if there's an obstacle you are uncomfortable doing, you can use the zip line to skip it! I totally did this one or two times.
Each session begins with "ground school" where the staff teaches you about the ropes courses and zip lines and how it all works.
Once you have your safety gear on and you're locked into the zip lines, you're free to go wherever you want and do whatever obstacle you want as fast or slow as you want.
If you want, you can zip line UPSIDE DOWN! That's right, you can ride the zip line upside down with no hands for more than 200 feet… and it was the only thing we didn't video tape — LAME-Os!
Lots Of Ropes Course Obstacles To Choose From
Tahoe Treetop Adventure Park gives you the feeling of traveling through the forest in the sky. Each course starts with a tree platform accessed by a vertical climb, inclined ramp, or zip line, then you'll have to navigate rope swings, wobbly bridges, swinging logs, tightropes, cargo nets, horizontal climbing walls, zip lines, and more.
"My favorite part about the Tahoe Treetop Ropes Course were all the zip lines. I was pretty scared at first to just jump off the platform with nothing but a rope, but each time I did it, it got more and more fun. I even did one of the long zip lines upside down!

— Carter Bourn
With 10 different courses available to us, we had a lot of options to choose from and ended up only doing six of the ten courses because some were so fun we ended up doing them two or three times!
The courses we did are:
Fuzzy Bunny (green circle): We did this one twice because it was really fun! We thought that this course and Rainbow should've switched ratings, so heads up for that! This course had lots of bridges and obstacles like the rolling logs, glass panel bridge, vertical logs, and more.
Rainbow (blue square): We did this one three times because it's short and easy, and has super long zip lines and two bridges to cross. This course also has the longest zip line measuring 200+ feet.
Snowboard (blue square): This course has one of the most creative themes. It uses snowboards as a part of the course. For example, one obstacle requires you to jump onto a snowboard attached to a cable and snowboard down a zip line! Another was a teeter totter bridge with 5-7 separate snowboards to walk across.
Zipper (blue square): We did twice too because it has a lot of zip lines and some pretty cool obstacles and bridges.
Twins (blue square): This ropes course was really fun, but there were some unexpected challenges. It has some awesome zip lines with great views, but also longer and harder obstacles. There was a very high tight rope, a really long bridge made of stretchy fishnet material, thin logs to walk across, a really long plank bridge, and more!
Wind Chimes (black diamond): This is one of the hardest courses along with the Rings Course, and Carter and I did it last. This course features a few zip lines but was mainly focused obstacles. There was a large log to walk across, the wind chimes which were wooden poles you had to step on and cross, a weird and hard rock climbing thing, and many other super hard bridges and obstacles to pass.
The ropes courses we didn't do were: The Green (green circle), Squirrel Course (blue square), Up and Away (blue square), and Rings (black diamond).
A Few Quick Tips
If you take your family to do the Granlibakken ropes course at the Tahoe Treetop Adventure Park (which I totally recommend you do because it was awesome), I do have some suggestions:
Make sure you can do the course before you start because one you start a course, you can't go backwards.
If you get stuck or don't quite know how to get past an obstacle, there are staff members at each course ready to talk/guide you through it and give you their tips and suggestions. Don't be afraid to ask for help!
Don't save the black diamond course for last because they're hard! Next time, we're going to do the black diamond courses earlier in our time slot so we have enough energy to do them!
Make a reservation! All of the locations book up fast, so make sure you call ahead or book online to reserve a time slot for you and your family or group otherwise you might not get to do it, especially if you're coming on a weekend.
Bring water! While there is a water jug at the course with a spout you want waterfall drink form (no touching), it's for anyone to use and it's in the sun and warm. It's better to come prepared and have a Hydro Flask or bottled water of your own so you can stay hydrated.
Overall, this was an incredible experience that I will never forget — Thanks Grandma June and Grandpa Steve! — and I will 100% be bringing my mom and dad back to try it!
Know Before You Go
Tahoe City Treetop Adventure Park at Granlibakken in Tahoe City is located at 725 Granlibakken Road, Tahoe City, California 96145 in Placer County.
Tahoe Treetop Adventure Parks offers three different Aerial Adventure Parks, each one offering a variety of different courses for every skill level and fitness level. Each course consists of multiple tree platforms connected by a variety of different style events or bridges and/or zip lines.
Pricing varies between parks. The Tahoe City Treetop costs $50.00 for children 5-12 and $60.00 for adults 13+ and your sessions lasts for 2.5 hours.
There are some requirements. To participate you must be at least five years old, weigh under 260 pounds, wear closed toe shoes, and be able to follow instructions. All advanced courses require a minimum height of 49 inches to participate.
Tahoe City Treetop operates rain, snow, or shine — only severe weather conditions such as fire, lightning, or severe wind will temporarily close the courses.
Dogs are not allowed on the property on or off leash during session times. Service dogs are the only exception.
There are many ladders, wobbly and shaky bridges, and some zip lines, which means you are working while playing and you'll be sweaty and tired when you're done.