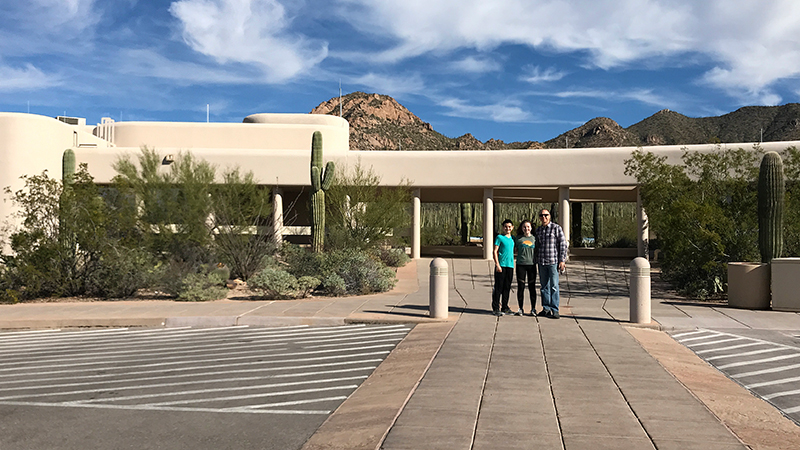 Since 2013, every Thanksgiving our family hits the road for an epic family vacation and adventure. We've driven dune buggies at Pismo Beach, enjoyed Disneyland, toured Santa Barbara, went to a luau in Hawaii, and road tripped through Death Valley.
We're on a quest to visit all of the national parks, so this year we planned a trip with stops at Saguaro National Park, Big Bend National Park, Carlsbad Caverns National Park, and Guadalupe Mountains National Park — a different kind of trip from any we have done in the past. Typically I do a ton of road trip food prep, and we tailgate and picnic all throughout the vacation. But I couldn't do that this time.
Like most families, we're beholden to the school schedule, which only gives us one week off at Thanksgiving. To make this road trip work, we needed to maximize time, so we flew to Tucson to start the trip and flew home from Midland Texas at the end of the trip. The flights meant no normal road trip food prep. It also meant I couldn't bring my tripod because we carry-on.
So this time we did an experiment: We Amazon Primed an ice chest to our Tucson hotel and made time to grocery shop on the first night of the trip, and as needed during the trip, which worked out FANTASTIC and we're already planning another trip!
Saguaro National Park
Saguaro National Park was our first destination and we couldn't wait to see the giant saguaro cacti. While you could do Saguaro National Park in one day, this national park is divided into two completely separate sections with the city of Tucson separating them. We chose to visit the Tucson Mountain District on the first day and the Rincon Mountain District on the second day, because that also gave us time to explore other things in the area like the Old Tucson Studios Wild West Town, Mission San Xavier del Bac, and the Pima Air & Space Museum.
The Tucson Mountain District, also called Saguaro West, is 10 miles west of Tucson, Arizona.
It is lower in elevation than the Rincon Mountain District, also called Saguaro East, and has a denser saguaro forest, which means you're going to see more saguaros but younger and smaller saguaros. Also, because it is so close to Old Tucson Studios and the Arizona-Sonora Desert Museum, is the most popular and most visited half of Saguaro National Park.
Red Hills Visitor Center
Whenever possible our first stop at any national park is always the Visitor Center. This way we can get the lay of the land, chat with a ranger, pick up a map, and grab a souvenir or two, which meant visiting the Red Hills Visitor Center.
The Red Hills Visitor Center in the Tucson Mountain District of Saguaro West offers park information and spectacular views of the desert landscape, mountains, and saguaros right from its back porch.
At the Visitor Center, you can also:
Pay your park entry fee
Pick up park brochures and maps
View cultural and natural history exhibits of the Sonoran Desert and even interactive exhibits that say please touch
Watch a 15 minute program called Voices of the Desert, giving a Native American perspective of the Sonoran Desert
Check out the well-stocked bookstore run by the Western National Parks Association
Chat with a ranger to get suggested activities if you have limited time in the park
Participate in a ranger guided program
Walk the paved 400 yard Cactus Garden Trail through desert plants and giant saguaros.
Begin the Scenic Bajada Loop Drive that has gorgeous view points, many roadside pullouts, and access to picnic areas and fantastic trails
We picked up our national park annual pass, browsed the exhibits to learn more about the park we were about to explore, and hit the restrooms as they're basically the only ones around. I was really impressed with the quality of the gift shop and we all snagged shirts too!
Know Before You Go
About the Red Hills Visitor Center and Tucson Mountain District:
Red Hills Visitor Center in the Tucson Mountain District of Saguaro National Park is located at 2700 North Kinney Road, Tucson, Arizona 85743.
The Visitor Center is open daily from 9:00 am to 5:00 pm and closed on Christmas Day.
The Red Hills Visitor Center has clean restrooms, museum exhibits, a park film, a bookstore and gift shop, and a short nature trail.
The 6.0 mile scenic Bajada Loop Drive leaves from the Visitor Center. The unpaved, combination one-way and two-way graded dirt road features scenic pullouts, picnic areas, and hiking trailheads, and is drive-able in most vehicles.
The Tucson Mountain District at Saguaro West has Four picnic areas: Sus, Signal Hill, Cam-boh, and Ez-kim-in-zin. Each picnic area has one picnic table with an overhanging end for wheelchair users. A charcoal grill is located nearby. The pit toilet in each picnic area is wheelchair accessible. Ground surfaces in all picnic areas are compacted soil and gravel.
In addition to seeing a large number of Saguaro Cacti, Saguaro West features the Signal Hill Petroglyphs — a large area of ancient petroglyphs at the Signal Hill Picnic Area.
Bicycling is permitted along the Bajada Loop Drive and Golden Gate Road (both roads are unpaved), as well as all paved roads. Bicycling is not permitted on any trails, except the 0.5 mile Belmont Multi-use trail.
About Saguaro National Park:
Saguaro National Park is open 365 days per year. You can walk or bike into the park 24 hours a day. Vehicle access is from sunrise to sunset daily.
Admission to the park is $15.00/vehicle, $10.00/motorcycle, or $5.00/person and $5.00/bicycle. Free admissions days are offered on Martin Luther King, Jr. Day, the first day of National Park Week, National Public Lands Day, and Veterans Day.
The National Park is split into two separate sections, one on each side of the city of Tucson, Arizona in Pima County: the Rincon Mountain District to the east and the Tucson Mountain District to the west.
View maps of Saguaro National Park's two scenic loop drives and numerous hiking trails and download the park newspaper.
There are no concession stands, snack/soda machines or restaurants in either section park. Water fountains are found at both visitor centers and only there.
There is little to no cell reception of service through the entire national park.
Be prepared! It is hot and dry in the Arizona Desert! Carry and drink at least one gallon of water per person, per day, especially in the summer, and bring food and snacks. Wear sunscreen, sturdy shoes, and bring a hat.
Pets are allowed only on roadways, picnic areas, and the two paved trails — the Desert Ecology Trail and the Desert Discovery Trail. Pets must be on a leash of no more than six feet at all times.
All resources (living and non-living) are protected in the National Park. Picking/taking of any resource is prohibited.