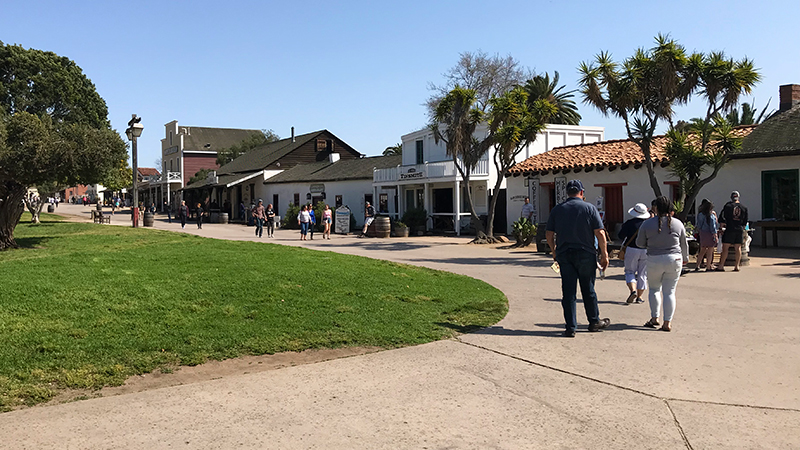 After visiting Mission San Diego, we still had a few hours to kill before the WordCamp San Diego speaker dinner, so we headed over to Old Town San Diego State Historic Park. We haven't been there in almost 10 years and Natalie didn't remember it at all so we were all excited to check it out again.
Our first stop was the Robinson-Rose Visitor Center to grab a map of the park and see a diorama of 1860s San Diego. You can also pickup a self-guided tour booklet of the park for a small fee.
Old Town San Diego State Historic Park is an open-air museum where visitors can experience the history of early San Diego. The park recreates life between 1821 and 1872 when San Diego was transformed from a Mexican pueblo to an American settlement.
There are 10 California Historic Landmarks within the Old Town San Diego State Historic Park, including La Casa de Estudillo, Old Town Plaza, Casa de Pedrorena, Casa de Machado, Casa de Bandini, Casa de Stewart, Site of Casa de Cota, Exchange Hotel, First Publicly Owned School Building, and of course, Old Town San Diego State Historic Park.
About Old Town San Diego State Historic Park
San Diego became California's first Spanish settlement when a mission and fort were established here in 1769. Later, it passed into the hands of the newly made Mexican government before California gained statehood in the United States after the Mexican-American War.
Occupying nine square blocks, the California State Historic Park was established in 1968. It is made up of five original adobe buildings, reconstructed sites, and early twentieth century buildings designed to match the time period. The Historic Plaza remains a popular gathering place, and there is a working blacksmith shop, a schoolhouse, an old convent, a courthouse and jail, and a variety of museums like the Wells Fargo Museum. Depending on when you visit, you may also experience live music, living history demonstrations, and special activities.
The park's historic buildings also house a variety of retail shops and restaurants like a leather goods shop, ice cream shop, jewelry store, souvenir stands, a root beer and jerky store, candy stores, a gem and rock shop, a cigar shop, and even a soap shop to name a few. And at the edge of the park sits Old Town San Diego Market with more shopping and vendor carts.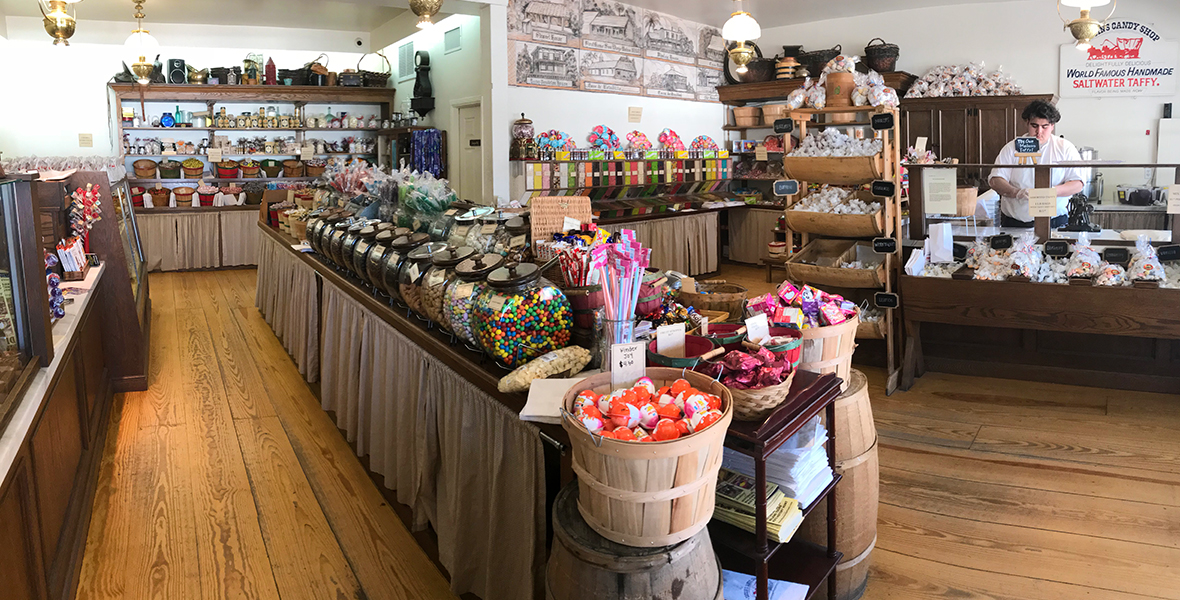 Things To Do
Some of our favorite stops were:
Cosmopolitan Hotel and Restaurant: A restored 1870s boutique hotel with 10 rooms and an indoor and outdoor restaurant.
McCoy House Museum: Learn how this humble Mexican pueblo transformed into an American frontier town that grew into one of the largest cities in the United States of America.
La Casa de Estudillo: Explore this National Historic Landmark and the oldest surviving adobe in the park that is built around a beautiful courtyard.
La Casa de Machado y Silvas: Highlighting an early commercial venture of the 1850s.
Seeley Stables: An collection of stagecoaches, horse-drawn buggies, and vehicles from the 1800s.
La Casa de Machado y Stewart: The humble home of one of the soldiers of the presidio.
The Schoolhouse: The first publicly-owned school in San Diego County.
The San Diego Union Building: The recreated 1868 newsroom houses working letter presses.
The Robinson-Rose Building: The one-time Lodge of the Freemasons and home of San Diego's first newspaper The San Diego Herald.
Know Before You Go
The 29 acre Old Town San Diego State Historic Park is located on San Diego Avenue and Twiggs Street at 4002 Wallace Street, San Diego, California 92110 in San Diego County.
Download the park brochure.
While Old Town San Diego State Historic Park sits adjacent to the Old Town Transit Center, with Coaster, Trolley, and MTS Bus service, there are also many free and paid parking lots available.
Admission to all museums on site are free.
From May to September, the Visitor Center and museums are open from 10:00 am to 5:00 pm. From October to April, the Visitor Center and museums are open from 10:00 am to 4:00 pm Monday through Thursday and from 10:00 am to 5:00 pm Friday through Sunday. Museums are closed Thanksgiving, Christmas Day, and New Years Day.
The outdoor park and restrooms are open from 10:00 am to dusk.
There are several shops and restaurants operating in Old Town San Diego State Historic Park.
The park was established in 1968. In 2005 and 2006, California State Parks listed Old Town San Diego as the most visited state park in California.
Old Town San Diego became a California Historical Landmark in 1969, was designated a San Diego Historic Landmark in 1970, and was added to the National Register of Historic Places in 1971.