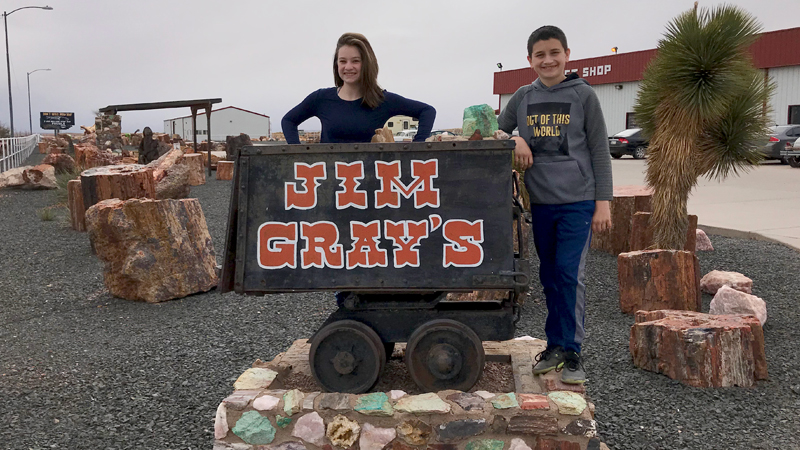 During our time in the Route 66 town of Holbrook, Arizona we hunted dinosaurs, teepees, and beautiful, rainbow petrified wood treasures. That meant a stop at Jim Gray's Petrified Wood Company.
Jim Gray's Petrified Wood Company is the place to go to find rocks, gems, minerals, fossils, souvenirs, Indian crafts, and of course, rainbow petrified wood. The family owned and operated rock shop sits just south of downtown Holbrook and offers visitors an unparalleled selection of natural petrified wood, polished petrified wood, and even furniture made of petrified wood.
We stopped in the store twice on our short visit!
Our first visit to Jim Gray's Petrified Wood Company was on our very first day in Holbrook We came for the pressed pennies and the funky dinosaurs and were blown away by the museum and store… but we didn't buy anything because I wanted to see what I might find at Petrified Forest National Park or other local stores.
Our second visit was on our way out of town to buy all sorts of goodies and a slab or petrified wood for our home because they definitely had the best prices and the biggest selection.
About Jim Gray's Petrified Wood Co.
Originally known as the Holbrook Rock Shop, Jim and Cathy Gray started the Petrified Wood Company more than 48 years ago with a pickup truck and a pile of petrified wood. Since then, the business has grown to become a worldwide dealer of Arizona Rainbow Petrified Wood.
They actually own the mineral rights to several sections of land near Petrified Forest National Park and do their own digging, cutting, and polishing to create gorgeous petrified wood rounds, tabletops, jewelry, artworks, and bookends.
Know Before You Go
Jim Gray's Petrified Wood Co. is located at 147 US Highway 180, Holbrook, Arizona 86025 in Navajo County.
The store has pressed penny machines and clean restrooms.
The family owned and operated store is open daily from 8:00 am to 6:30 pm.
In the store is also a museum featuring petrified wood and rock specimens from around the world.
Several giant dinosaur statues grace the parking area, which make awesome photo ops!
The Jim Gray's Petrified Wood Company dinosaurs came from the now defunct International Dinosaur Park and Museum of the Americas.