Hāpuna Beach is a gorgeous, half-mile long, mostly-sunny, white sand beach on the Big Island of Hawaii that is often called one of the best beaches in the world. A continuous shore break makes the beach a destination for families and those of all ages to play in the surf, and the afternoon winds and big waves make it a popular destination for surfers
We were so excited to visit the Hāpuna Beach State Recreation Area because we had heard that it was the best white sand beach on the island and a great place for swimming, snorkeling, bodysurfing, boogie boarding, and surfing.
Warnings abound about the popularity of this beach and how crowded it gets, but we arrived in the early afternoon and while the beach was full of people, it didn't feel very crowded and we found a parking spot without any waiting.
After parking, we grabbed everything from the rental car, walked through the park down to the beach, and were able to quickly stake out a great spot and wade right into the water. Now even though Hāpuna Beach is lined by trees, there is no shade anywhere on the beach, so be sure to bring an umbrella, a hat, and lots of sunscreen!
We heard that the snorkeling was really good at Hāpuna Beach — there is a small cove in the small cliffs at the north end of the beach and a rocky point at the south end where the snorkeling is very good. So we hauled all of our rented snorkel gear to the beach, but ended up having so much fun jumping and playing in the waves that we never ended up snorkeling!
As the time passed, the wind kicked up and the waves got bigger and bigger and bigger, which sent many families packing and brought out the surfers. The kids loved the giant waves and Brian and I enjoyed watching them and the surfers.
A few hours of jumping in the waves had pretty much kicked the kids' butts. They were tired and we all were hungry, so we called it a day, packed up our stuff, and hit the snack bar.
The Hāpuna Beach State Recreation Area has a concession stand and a shaded picnic pavilion. The snack bar is open daily and serves fish tacos, salads, burgers, smoothies, and shaved ice. The cafe also rents boogie boards, beach chairs, umbrellas, and snorkel gear if you need it.
We all ordered HUGE sno-cones and relaxed on the grass under the shade trees while we devoured them. They were way to melty and messy to eat in the rental car!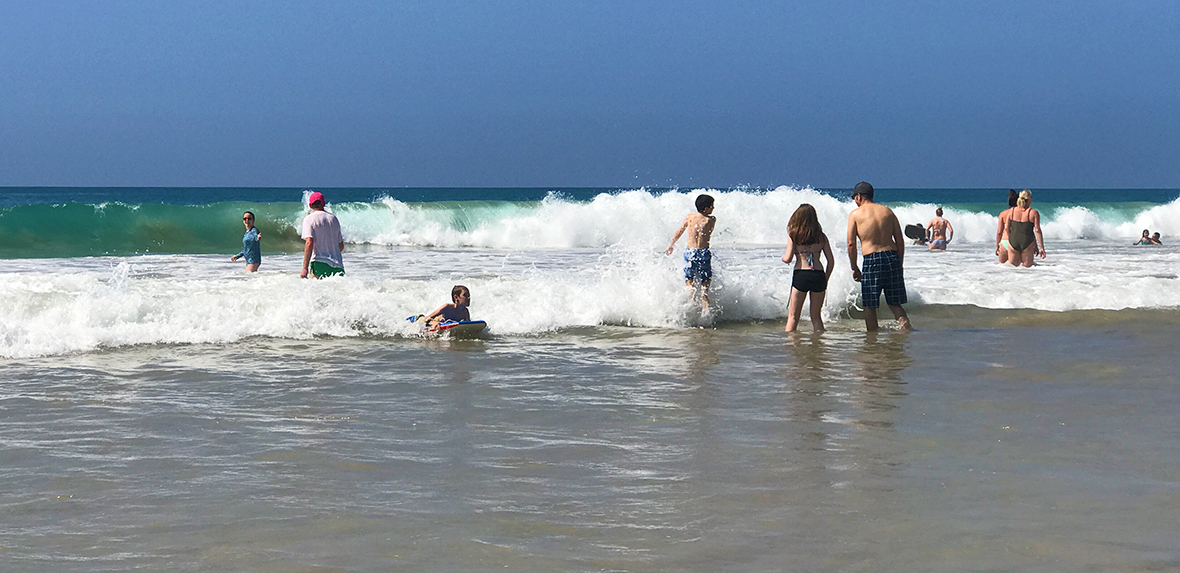 Hawaii White Sand Beaches
While most white sand beaches are composed of inorganic sand made from quartz and other minerals, the white sand on the beaches of Hawaii is made mostly of shells from marine organisms and coral fragments. Waves and marine animals work together to break down the reefs and shells and deliver the sand to the beach. Parrot fish are especially known for munching the coral whole and spitting it out as sand. If you pick up a bit of sand and look closely, you can see tiny shell and multicolored coral pieces.
White sand beaches are stunning, but a downside of this type of sand is that it's not very good for building sand castles. So if you're hoping to build sand castles, this isn't the best beach to it!
Know Before You Go
Hāpuna Beach State Park is north of Kailua-Kona, off Highway 19 near mile marker 70 on Old Puako Road, Kamuela, Hawaii 96743. Turn makai (towards the ocean) at the sign for Hāpuna Beach State Park and continue for a quarter mile to the parking lot.
Because Hāpuna Beach is one of the best Big Island beaches, it is often very crowded. Arrive early in the day to pick your spot and avoid the afternoon winds.
Parking is free for locals, but Big Island visitors pay a $5 parking fee to help maintain the park.
The beach is open daily from 7:00 am to 8:00 pm and the snack bar is open daily from 10:00 am to 4:00 pm.
Do not leave valuables in your car.
There is a professional lifeguard on duty year-round.
Camping is available at Hāpuna Beach! Four-person, single room, screened, A-frame shelters with wooden sleeping platforms and a picnic table are available for rent at $30 per shelter per night. Online reservations must be made at least seven days in advance of check-in date.