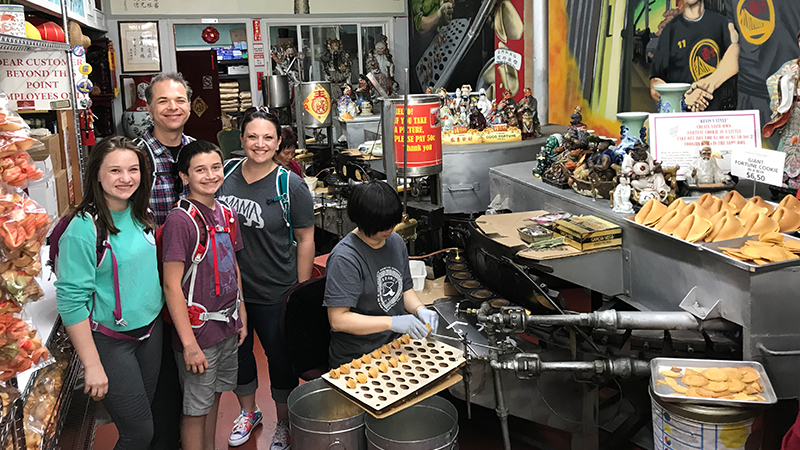 I have fond memories of eating delicious flat fortune cookies that tasted way better than the cardboard-like cookies they pass out at Chinese restaurants. My parents' best friends at the time went to San Francisco often to visit family and they would always bring us back a fresh bag of cookies from the fortunate cookie factory. But I had never been there…
Recently my son Carter has developed quite the taste for fortune cookies, so I told him about the mysterious fortune cookie factory in San Francisco, and we made plans to go on our Mother's Day weekend getaway.
After climbing the Filbert Steps and the Greenwich Steps and touring Coit Tower, we walked a little over a mile to Chinatown in search for the Golden Gate Fortune Cookie Factory. We weren't quite sure where it was located, so we wandered around Chinatown for a while, making pressed pennies, peeking in little shops, and enjoying the bright colors and beautiful lanterns overhead.
The fortunate cookie factory is tucked off the main streets in an alley and thankfully, you can smell it before you find it. The delicious aroma of fresh baked fortune cookies greets you at the street and guides you to the entrance of the tiny Chinatown bakery.
The Golden Gate Fortune Cookie Factory has been supplying fortune cookies to Chinatown and shipping them around the world since 1962. The folded handmade fortune cookies and flat missed-fortune wafer cookies production is about 25,000 pieces every day, which is pretty amazing when you see how they're actually stuffed and folded by hand!
When we arrived, we walked right in and discovered just how small this "factory" is. It's not much bigger than our kitchen and family room and it's very hot inside, but who really cares when you get free samples of the best fortune cookies you have ever tasted hot off the cookie presses!
Inside barrels of fortune cookies sit on the floor, racks of vanilla, chocolate, strawberry, and green tea bagged cookies line the walls, boxes of chocolate covered fortune cookies sit on a table, and a crowd surrounds the one friendly man processing purchases.
After being handed some samples, we squeezed through the crowd into the factory area to see the cookies being hand-stuffed and hand-folded up close. And of course I had to snap some photos, which meant I also had to make a donation. They ask for $0.50 per photo and and I was more than happy to pay because while we were taking photos, more free samples were being pushed into our hands and we were happily devouring them.
The process of making a fortune cookie is remarkably fast!
The thin circular cookies are created on a press, the flat cookie is pulled off the press, a fortune is placed on one side of the hot, soft cookie, it is folded in half, then shaped over a steel rod into the shape of a fortune cookie. What's interesting is that any flat cookies not perfect enough to become a fortune cookie gets tossed in a barrel and either handed out as samples or turned into flat wafer cookies.
Before leaving, we bought a bag of traditional vanilla fortune cookies and a bag of small chocolate and vanilla wafer cookies, and even more warm samples were stuffed into our bag! WooHoo!
When we stepped back into the alley, our jaws dropped.
We must have arrived just in time because when we left, the line to enter the fortune cookie factory was out the door, and down the alley almost all the way to the main street!
I'm not kidding when I say that stopping in the Golden Gate Fortunate Cookie Factory may have been our worst idea to date. Their fortunate cookies are by far the best we have ever had and now I think all other fortune cookies are ruined forever.
I guess this means we're just going to have to visit again on our next trip to San Francisco!
Know Before You Go
The Golden Gate Fortune Cookie Factory is located at 56 Ross Alley, San Francisco, California 94108 between Jackson and Washington Streets in Chinatown.
The tiny, sweltering bakery pumps out thousands of homemade, hand-folded fortune cookies every day and you can watch them being made!
The Golden Gate Fortune Cookie Factory is open Monday through Friday from 9:00 am to 6:30 pm and Saturday and Sunday from 9:00 am to 7:00 pm.
Free samples of warm flat cookies are handed out happily and they are to die for.
They have the traditional vanilla flavor, as well as chocolate, strawberry, and green tea flavors. You can also purchase chocolate covered fortune cookies, fortune cookies with sprinkles, adult-only fortune cookies, custom fortune cookies, and giant fortune cookies!
Because of the crowds and craziness inside the tiny factory, it's best to come with cash and not try to pay by card.