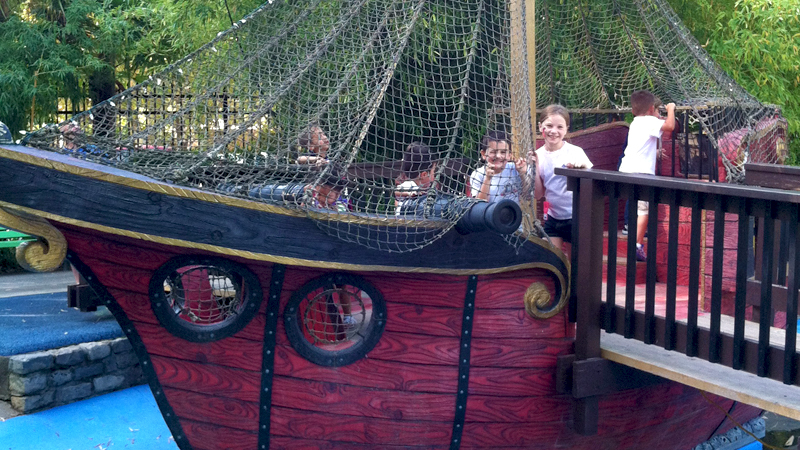 With the mission of promoting the imagination, creativity, and education of children, Fairytale Town in William Land Park is one of our favorite places to picnic and play with little children. Located only three miles south of Downtown Sacramento, Fairytale Town is nestled among the trees, gardens, and grassy fields of William Land Park, across from the Sacramento Zoo and next door to Funderland Amusement Park.
For more than 50 years, the gated, 3.5 acre, nonprofit park has brought storybook nursery rhymes and fairy tales to life for children and families alike. Today Fairytale Town remains the only literacy-based park that serves children in the Sacramento region.
Let The Kids Lead
Our favorite way to enjoy Fairytale Town is to put the kids in charge.
From the moment we pass through Humpty Dumpty's Gate into the enchanted park, the kids run the show, and they LOVE being on charge! They get to lead us around the park doing anything they want in any order they want — even if that means looping the Crooked Mile more than 25 times in a row. The Crooked Mile is clearly our favorite play area in the park with a record of 54 times looped in a row.
I also love that the perfect Fairytale Town visit is about 2-3 hours tops, depending on whether or not you picnic in the park. By then, the kids are pooped out and ready for a nap — and so are we!
Storybook Boxes
Over 20 magical Storybook Boxes introduce children to the play sets with a story and a song.
The Storybook Boxes are operated with special keys that can be purchased online, at the park Box Office, or at the Dish & Spoon Cafe. My kids LOVED the stories and songs, each had their own keys (no fighting), and they would take turns bringing the magic Storybook Boxes life.
The best part if that the keys are good forever, so you can buy it one time, and bring it back to the park with you every time you visit. And, if you love the stories and songs, they are also available on CD for purchase. Sales of the magic keys and CDs support programs and improvements at Fairytale Town.
Special Events
Fairytale Town offers fun community programs and special events throughout the year that focus on cultural themes, holidays, and literacy, and during the summer months, programs are held nearly every weekend. Just a few of the events include:
Safe and Super Halloween
A Midsummer Night's Dream and Crystal Ice Cream Fantasy
Dr. Seuss' Birthday Celebration
ScholarShare Children's Book Festival
The Children's Theater Festival
Farms, Friends & Fairytales
Annual Puppet Festival
By far our favorite event of the year is the Safe and Super Halloween.
Every year the theme is different, and the park goes all out with incredible decorations, candy stations throughout the entire park, photo spots, children's activities, a costume parade, and more. One year the entire park was transformed into the Wizarding World of Harry Potter, which was the same year my kids decided to be Harry and Hermione, so it was so perfect! I even wore my own Hogwarts robe.
Other themes have been Lord of The Rings, Grimm, and Pirates. Last year's theme was Superheros, and while the event was still really fun, the candy took a BIG slide downhill. In years past, the candy was M&Ms, Reece's, Kit Kats, Hershey's, Nestle Crunch, Butterfingers, and other yummy candies. But last year, it was almost devoid of chocolate. It was mostly junky toys and gross, cheap candy — and pretty much everything went in the trash. The kids and the parents were both disappointed. I hope it doesn't stay that way for 2017!
Animal Interactions
At Fairytale Town you can interact with the live farm animals living in the park, and if you're lucky, you can also experience hands-on interaction facilitated by the park staff that provides education about an animal's care, handling, biology and history.
At Farmer Brown's Barn, you can visit Daisy, a miniature Hereford heifer, and Eeyore, a miniature Sicilian donkey who is Daisy's constant companion. Complete with a two-story spiral slide and a farm display, the Barn area is also home to the three blind mice. Incubating eggs are hatched in the barn throughout the year from a mixed-breed family of chickens and a rooster, and there is an observation beehive, beekeeping tool display, and a wall of arachnids.
You can also visit Mary's Little Lambs, The Three Little Pigs, The Three Billy Goats Gruff, and the rabbits Peter, Flopsy, Mopsy, and Cottontail from The Tale of Peter Rabbit.
Fairytale Playsets
Sacramento's Fairytale Town is home to more than 20 storybook play sets based on popular fairy tales and nursery rhymes, two performing arts stages, and interactive learning gardens.
As I said, our most favorite attraction in the park is the Crooked Mile. It is always our first stop in the park and our last, and we usually hit it a few times in the middle of our visit too. We also love the slides:
The Old Woman In The Show Slide, the fastest, tallest slide in the park — Most people underestimate just how fast it is! If you're sliding with your child, be wary of the speed and of the sun, because it's a metal slide and it gets very hot.
Owl's Tree House Slide, a tall corkscrew slide in the trees that just begs kids to slide down over and over. Plus, what's not to love about an awesome tree house — that's every kids dream!
Alice's Rabbit Hole Slide, a small, not so steep, tunnel slide that makes kids feel like they're sliding to a secret, magical underground world.
Farmer Brown's Barn Slide, a bright yellow, plastic, spiral slide. Climb up into the second story of the barn, out a small door, and ride the curly slide back down.
The Jack and The Beanstalk Slide, this giant's foot is seriously the biggest foot you'll ever see, and the most fun to climb on!
While Natalie loved playing pretend in Cinderella's Coach, and on The Little Train That Could — Carter always went for the play sets that had him climbing and running. Carter was (and still is) happiest climbing on and squeezing through the holes of the giant slice of Swiss Cheese, crossing the drawbridge and exploring King Arthur's Castle, playing on Captain Hook's Pirate Ship and finding buried treasure, and running around at the Sherwood Forest Playground.
And they both enjoyed getting their faces or arms painted!
New Kids To Play With
While my kids are getting a bit old for Fairytale Town, we still get to keep coming back again and again because my sisters now have young children. My nieces and nephews range from 3 months to 5 years old, and cousin-time is the perfect excuse to pack a picnic lunch and head to the park on a beautiful day. We really can't wait for spring to come!
Know Before You Go
Fairytale Town is located at 3901 Land Park Drive, Sacramento, CA 95822, across the street from the Sacramento Zoo and next door to Funderland Amusement Park in William Land Park.
Service animals are welcome, but pets are not allowed inside Fairytale Town.
Visit the park website to plan your visit, get hours, ticket information, and prices — and learn about combo tickets to Fairytale Town and the Sacramento Zoo at a discounted rate.
Give yourself at least an hour to play, but plan on spending about two hours for a play visit and three hours for a picnic and play visit.
Magic Story Boxes are featured at most of the play sets. The key-operated digital boxes play both stories and songs to add an auditory element to the park experience. You can buy keys online and in the park and use them again and again each time you visit the park.
Don't feed the animals — They are on a special diet.
Normally I'd say visit during the week to avoid crowds, but Fairytale Town is very busy during the week, especially in the spring months, when up to 1,500 children may visit on any given day. Plus, approximately 20,000 children visit each year on school field trips. We've found that the best times to visit the park are in the late afternoons during nap time or after the little ones wear out and go home.
Stay out of the moat — The waterways can be really slippery and are not meant for play, swimming, or wading.
The Dish And Spoon Cafe Menu is posted on the Fairytale Town website with prices, so if you're on a budget, you can plan ahead.
You can bring your own food and drinks into the park to enjoy as long as you do not bring any alcoholic beverages or cooking devices. This means you can pack a picnic, then treat the family to a snack bar dessert!