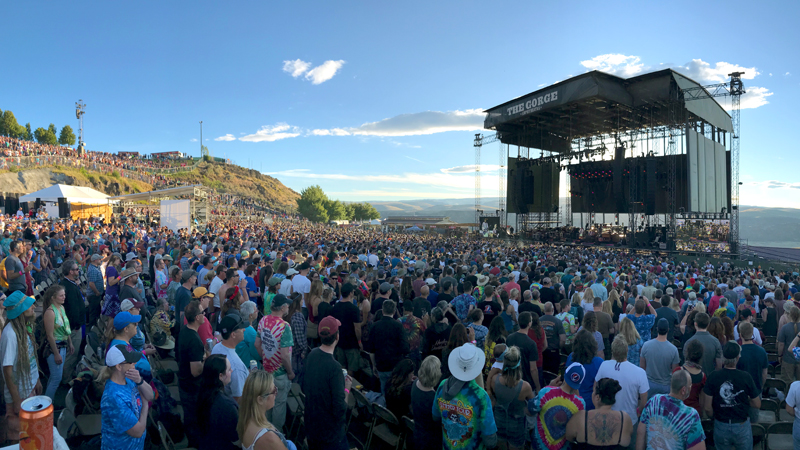 Ever since the end of Dead & Company's 2017 summer tour, we have been looking forward to this day — our first show of their 2018 summer tour.
Brian and I saw Dead & Company in San Francisco and Los Angeles in 2015 by ourselves, but after that we began bringing the kids and making it a family affair!
In 2016, we saw Dead & Company at Moda Center, The Gorge Amphitheater, Toyota Amphitheater, and Shoreline Amphitheater.
In 2017, we saw two shows at Shoreline Amphitheater in Mountain View, two shows at Folsom Field in Boulder, and two shows at Wrigley Field in Chicago.
In 2018, we planned a road trip around six shows — one at The Gorge, one at Autzen Stadium, two concerts at Shoreline Amphitheater, and two at Folsom Field.
The Gorge Amphitheatre is by far one of the most beautiful concert venues I have ever been to and not only were we all excited to go back, but thrilled to once again have box seats! Traveling to all of these shows with our kids and buying four tickets for every one isn't cheap, so we did general admission tickets for every show but this one. For Dead & Company at The Gorge, we splurged and it was sooooo worth it!
The view of the sun setting over the Columbia River Gorge as Dead & Company jammed and we sang and danced along was once again something I'll never forget.
Parking and Lodging
At our last concert at The Gorge, we camped at The Oasis Campground. It was awesome, convenient, and easy, so this year we planned to camp in The Terraces at The Gorge and even bought a camping pass. But with a show in Eugene, Oregon the next day, we knew we'd have a long day in the car and wanted to get a really good night's sleep.
While camping at The Oasis was awesome, it was also very loud and we didn't sleep very well, so we ended up selling our camping pass on StubHub and booking a hotel in Ellensburg instead. This ended up working out great because it meant we had more time for pit stops at the Portland Women's Forum Scenic Viewpoint and the Living Rock Studios on our drive to Eugene the next day.
Another thing that ended up working out great was purchasing upgraded parking at The Gorge. With "Star Parking," we got some of the best parking, which meant we also got out of the venue very quickly after the show.
Dead & Company At The Gorge
Dead & Company — Bob Weir, Bill Kreutzmann, Mickey Hart, John Mayer, Oteil Burbridge and Jeff Chimenti — began the West Coast swing of their 2018 summer tour at The Gorge Amphitheatre in George, Washington.
Weir kicked things off with Mississippi Half-Step Uptown Toodleloo followed by Mayer leading an awesome Bertha, and band rocking Tennessee Jed. Next was a live debut of Mister Charlie, a blues tune written by Robert Hunter and Ron "Pigpen" McKernan, sung by Mayer. To round out the first set, the band delivered Loser, Crazy Fingers, and a rockin' Cumberland Blues — this was our first time hearing Crazy Fingers live!
The second set got started with a long Playing In The Band, an easy, smooth Eyes of the World, and Burbridge singing Comes A Time, which the crowd went wild for. I love that every time Oteil gets a song, the crowd erupts in cheers like it's the first time he's ever sang a song.
Next Terrapin Station led into Drums/Space (what we call set break #2), which then led into New Speedway Boogie followed by a bluesy Black Peter and reprise of Playing in the Band. Dead & Company then closed out the show with U.S. Blues as the encore.
Overall, we had a blast and loved the show, but it felt a little tired — like the band was jet-lagged, or tried from traveling, or maybe the heat was getting to them. I kept wishing for a big jam, my body was aching to get my dancing on, and everything just felt slow. I'm hoping that the next show in Eugene, Oregon picks up the pace…
Dead & Company Gorge Amphitheater 6/29/18 Setlist:
Set 1:
Mississippi Half-Step Uptown Toodeloo
Bertha
Tennessee Jed
Mr. Charlie
Loser
Crazy Fingers
Cumberland Blues
Set 2:
Playing in the Band
Eyes of the World
Comes A Time
Lady With A Fan
Terrapin Station
Drums / Space
New Speedway Boogie
Black Peter
Playing in the Band (reprise)