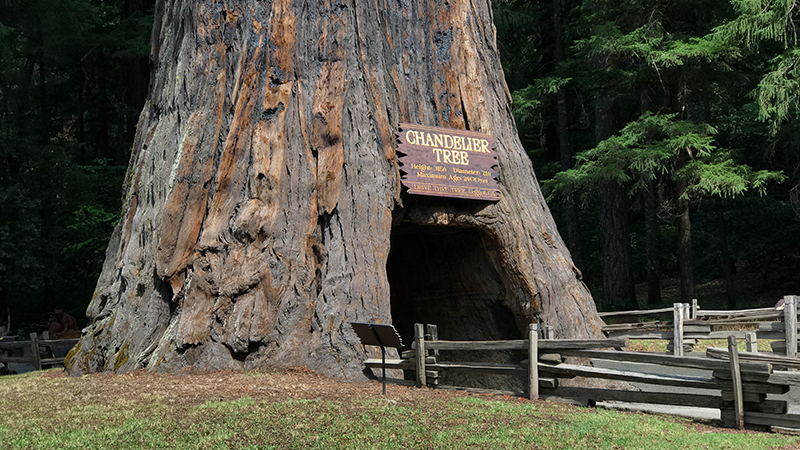 I'm a total sucker for roadside attractions. I'll pretty much make Brian stop at everything there is to see as long as we have time. So naturally, we made time on our big summer road trip through Crater Lake National Park, Redwood National and State Parks, and the Humbolt Redwoods to visit all three drive-through trees along California's famed Avenue of the Giants (US Highway 101).
We had already carefully driven the adventure truck through the Klamath Tour-Thru Tree and walked through the Shrine Drive-Thru Tree because the truck was too big. Now it was time to check out the Chandelier Drive-Thru Tree!
The Chandelier Drive-Thru Tree at Drive-Thru Tree Park stands 315 feet tall, measures 21 feet in diameter, and is approximately 2000 years old. The opening in the towering coastal redwood that allows visitors to drive through it was cut in 1936 or 1937.
This drive-through redwood tree is named for the enormous branches balanced on both sides of the massive trunk. The branches, which are each the size of small trees and begin about a hundred feet up the trunk, make the tree look like a candelabra or if you're upside down, a chandelier.
We arrived at the Chandelier Drive-Thru Tree in the late afternoon on our drive home, and like the Shrine Drive-Thru Tree, the adventure truck was too big to fit through the opening. So we waited for a gap in cars and walked through the opening, which was still cool!
While we were excited about the experience of driving through an enormous redwood tree, or at least watching other people drive smaller cars through the tree, we were really at the Drive-Thru Tree Park because I found out they have a pressed penny machine. Carter collects pressed pennies on all of our vacations, so I scope out all the locations in advance and we usually try to find as many of them as possible.
Unfortunately, the Gift Shop lost power just before we arrived and the whole thing was locked up. We could see the penny machine through the window, but we couldn't get to it. It was torture. Carter and I weren't going to get back in the truck until we had at least one penny, so we waited in the shade, watching people drive through the tree one by one. I even took pictures for a few carloads of people. Luckily, we only had to wait about a half hour. Soon the power popped back on and we were able to get pressed pennies (and a few other things).
Phew! Brian was getting antsy and was almost ready to make us get back in the truck!
Know Before You Go
Chandelier Drive-Thru Tree in Drive-Thru Tree Park is located at 67402 Drive Through Tree Road, Leggett, California 95585 in Mendocino County just off CA Highway 101, also known as the Redwood Highway.
When you reach the junction of Highways 1 and 101 turn onto Highway 1, toward Fort Bragg. Then turn left onto Drive Thru Tree Road. The park entrance is approximately a quarter of a mile from where you turned.
The park is privately-owned and it has been operated by the Underwood Family since 1922.
The entrance fee for Drive-Thru Tree Park is $5.00/vehicle and $3.00/motorcycle, bikes, walk-in.
It is open daily but closed on Thanksgiving Day and Christmas Day.
Drive-Thru Tree Park has picnic tables, restrooms, and large gift shop, as well as plenty of parking for motorhomes, trailers, and larger vehicles.
The picnic area behind the gift shop has a view of the duck pond which provides a welcome resting spot for the migrating ducks and geese.
There are two other coastal redwood trees you can drive through along California's Avenue of the Giants: The Klamath Tour-Thru Tree and The Shrine Drive-Thru Tree.