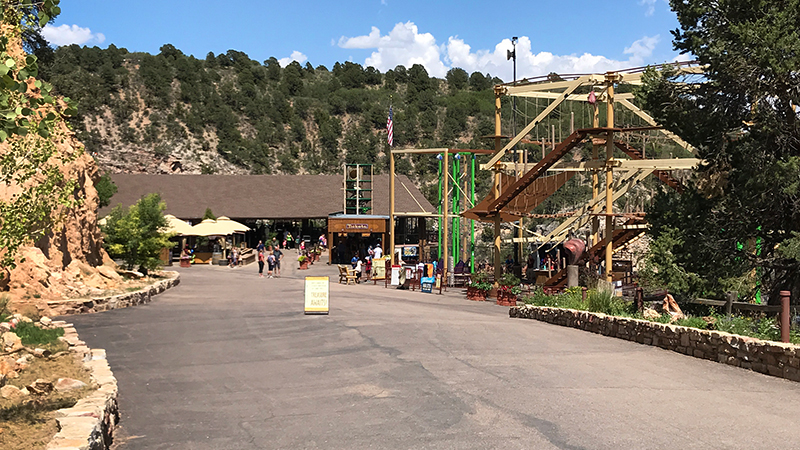 When we're road tripping, we like to see as many things as possible and have as many new experiences as possible, which means we're often on the go from early in the morning to well into the evening, and our visit to Colorado Springs wasn't any different. Our first day in the Pike's Peak region began with hiking and scrambling over giant rock formations at Garden Of The Gods Park, then after a picnic lunch, we explored the Manitou Springs Cave Dwellings — an incredible experience we all highly recommend. Finally, mid-afternoonish, we headed over to Cave Of The Winds Mountain Park.
We've explored several caves and caverns near us in California — Moaning Cavern, California Caverns, Black Chasm Cavern, , and Shasta Caverns, as well as Bear Gulch Cave and Balconies Cave at Pinnacles State Park — and were excited to check out a cave system in Colorado and see how it compares.
Cave Of The Winds Mountain Park in Manitou Springs, Colorado offers underground cave adventures that explore 20 different rooms and two miles of caverns, as well as a bevy of above ground adventures like zip lining, rappelling, or traversing an awesome ropes course on the rim of Williams Canyon.
We bought the kids wristbands for the above ground activities and the whole family tickets for the Discovery Tour of the caves. Our tour began right on time with about 16 people in our group. Our tour guide was Samantha and she was awesome. She told jokes and kept our whole group engaged — even when forcing you to get a posed photo taken in the cave that they later tried to sell you.
In terms of comparing this cave system with other caves and caverns we have visited:
Colorado's Cave Of The Winds is definitely bigger, with more tunnels and stairs. The walls are much smoother with more curving depressions, protrusions, and holes, and there are far fewer formations.
The caverns in California have way more formations, and not just more stalactites, stalagmites, and columns, but entire walls of flowstone, huge draperies, and stunning examples of helictites across the ceilings, as well as other formations like soda straws, cave bacon, and cave popcorn.
We all really enjoyed the Discovery Cave Tour, but my one complaint is that is was very rushed.
We moved from room to room very quickly with no time to just look around and absorb what we were seeing. The minute our tour guide was done sharing the facts for a room, we were on our way to the next room, and she wouldn't begin the talk for the next room until everyone was present. This meant that we had almost no time to enjoy the caves or take photos, even if we stayed at the back of the line.
What was even weirder was that few people in our group had a camera or phone out for photos. At first, I thought maybe we weren't supposed to take photos, but when I asked, our tour guides said I could take as many as I wanted. Unfortunately, with the tour being so rushed, I hardly had time, and I refused to be that jerk who takes flash photos in front of other people's faces even if it meant I got better photos.
After our underground cave tour, the kids did the rock climbing, Geronimo's Leap, and Wind Walker Challenge Course. They had a blast on the ropes course, but eventually called it quits when our of nowhere, it began to rain… and not just a little rain, but an insane amount of rain that was pouring down upon us. We ran all the way to the truck and by the time we climbed inside we all were soaked and cracking up!
Underground Adventures
Conveniently located in Manitou Springs, near Pikes Peak and Colorado Springs, Cave Of The Winds is one of the premiere show caves in the United States, and at 7,000 feet elevation, it is also one of the highest. Cave Of The Winds began offering public tours in 1881 and today offers three underground cave tours that feature stalactites, stalagmites, flowstone, draperies, columns, soda straws, and many other amazing underground geological features and formations.
Discovery Tour: On this 45-60 minute guided walking tour, you'll explore the electrically lit portion of Cave of the Winds, which includes 15 rooms, 0.5 miles of concrete walkways, and 196 stairs. You'll also learn about the history and geology of the cave while being shown some of its most beautiful formations.
Lantern Tour: This 90-minute guided walking tour travels through almost a mile of the unimproved Manitou Grand Caverns in pitch black darkness with only candles to light the way. On this tour, you'll navigate dark narrow tunnels, low passageways, uneven stairs, and rooms with muddy, original floors. You'll also learn the history of Cave of the Winds and hear frightening folklore and scary ghost stories.
Caving 101: On this 2-2.5 hour guided tour through the wild, undeveloped depths of the Manitou Grand Caverns, you'll becrawling, climbing, and walking through wet and muddy passages of various sizes for nearly a mile while learning basic spelunking skills and the history and geology of the cave.
Above Ground Adventures
Cave Of The Winds Mountain Park offers so much more than underground cave tours and cavern tours. There is also a variety of fun, challenging, and thrilling above ground activities for the whole family. While we skipped the Terror-Dactyl, a ride that drops you 150 feet into Williams Canyon at 100 miles an hour (CRAZY!), we did get to try out several of the other attractions.
If you're not into the crazy rides like our family, here are the things to do above ground at Cave Of The Winds that we recommend:
Stop by the Josephine Snider Nature Center to learn about the history of Cave of the Winds and its discovery.
Try your hand panning for gemstones just like a Colorado miner panning for gold during.
Choose your own adventure of the Wind Walker Challenge Course, a maze of steel beams, ropes and ladders sitting on the rim of a 600 foot drop into Williams Canyon.
Zip line over Williams Canyon on the Bat-a-Pult, an epic 1200-foot aerial attraction that sends our down the line and pulls you right back!
Try your hand at rock climbing on the Cliffhanger Climbing Wall.
Test your balance by climbing Geronimo's Leap and actually leaping off the top for an exciting ride back to the ground.
Give your muscles a workout by climbing up and sliding down the Stalactykes Adventure Side.
Natalie and I did the Bat-a-Pult before our cave tour and woah… it was weird! Normally gravity carries you down a zip line, but this isn't a true zip line. This ride is motorized, so it shoots you down the line, jerks to a hard stop, then pulls you backwards up the line to where you started. Riding zip line backward was a very strange experience, one I'm not sure I ever want to do again.
Cave Of The Winds History
The discovery of Cave Of The Winds is marred with controversy, with multiple people claiming credit and battling each other for the title of founder, but the official story from Cave Of The Winds is as follows:
While the caves at Colorado's Cave of the Winds are millions of years old, and legends from over a thousand years ago tell of a cave at Manitou Springs where the Great Spirit of the Wind resided, the cave network wasn't officially "discovered" until the late 1800s.
In 1869, Arthur B. Love noticed a thin cleft in the western wall of Williams Canyon. It was a dramatic limestone archway and cave entrance. Nothing really happened with the caves after this discovery, but in 1880, two brothers named George and John Pickett went exploring with their Boys Exploring Association for new caves in Williams Canyon. During their hunt, they found the same limestone archway. As the story goes, at the cave entrance, their candles flickered in the wind coming from a nearby crevice. Of course, they had to see where the wind was coming from and when they crawled through the limestone archway, they discovered a large chamber unlike anything they had ever seen before.
Later that year, the exploration into Cave Of The Winds continued. During the excavation of several passages in the spectacular Williams Canyon caves, George Washington Snyder uncovered the incredible Canopy Hall, a large room nearly 200 feet long containing thousands of stalactites and stalagmites. This discovery inspired Snyder to continue to excavate the cave system and begin to offer guided tours in 1881. That same year, on an adjacent piece of property he purchased, Snyder discovered the Manitou Grand Caverns which were eventually connected to Cave Of The Winds by ongoing excavation.
Twenty-six years later, in 1907, electricity was brought into parts of the Colorado caves, making it even easier to offer guided tours. Tour operations have continued at Cave of the Winds since February 1881, making it one of Colorado's oldest and most famous attractions. Over the years, the Mountain Park has expanded to offer guests a visitor center, snack bar, gift shop, and a large variety of above ground rides and activities for the whole family.
Know Before You Go
Cave of the Winds Mountain Park is located off Colorado Highway 24 at 100 Cave of the Winds Road, Manitou Springs, Colorado 80829 near the Manitou Cliff Dwellings in El Paso County and the Pikes Peak region.
Cave of the Winds Mountain Park is open every day except Christmas Day. From Memorial Day to Labor Day, the hours are 8:00 am to 9:00 pm. From September to May, the hours are 10:00 am to 5:00 pm. Hours may vary on holidays.
Parking is free.
Discounts are available.
Wear comfortable clothing and make sure your shoes have good traction if going on a cave tour. Consider bringing a light jacket, even in the summer, because the temperature in these Colorado caves is always 54 degrees.
The caves have narrow, short passageways with over 200 stairs, so strollers and baby backpacks are not allowed, but front baby carriers are allowed.
The nature center, pavilion, cafe, gift shop, and restrooms are all accessible. Cave of the Winds is not accessible due to its narrow passageways and stairs. Wheelchair-bound guests receive a complimentary visit to the Canopy Hall, the first room in the Cave, which highlights beautiful formations.
The onsite Canyon Rim Grill offers visitors water and drinks, popcorn, snacks, ice cream, and other yummy food items.
Established in 1881, Pickett's Mercantile Gift Shop is the place to go for souvenirs, apparel, geodes, crystals, jewelry, knives, glassware, toys, artwork, and unique gifts.
Pets are not allowed at Cave of the Winds Mountain Park.
All of the activities and advenures at Cave Of The Winds Mountain Park require the purchase of an individual ticket or a package deal. We purchased both kids an unlimited wristband so they could do most of the activities as many times as they wanted and I just got a Bat-a-Pult ticket so I could zip line with Natalie.
Most of the cave formations are made of limestone formed by millions of years of seashells being pressed together.