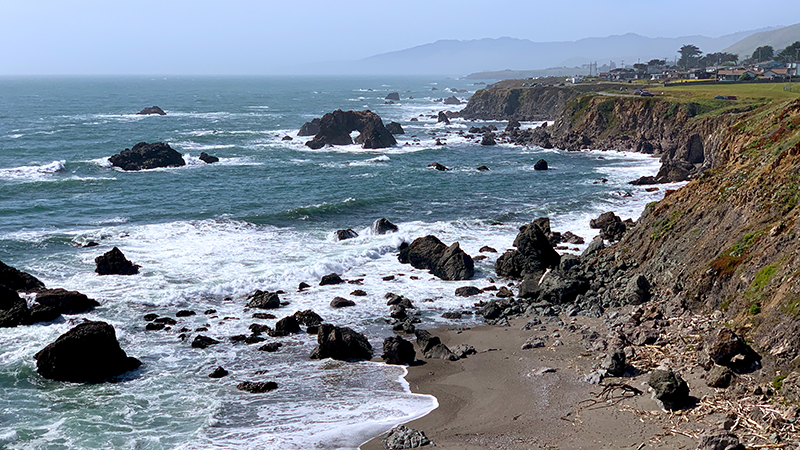 As we worked our way down the Sonoma County coastline, exploring beaches and quaint seaside towns, we were treated to stunning views of an arched rock offshore — we first spotted it from Blind Beach at Goat Rock State Beach
Arched Rock is one of the most iconic island formations within Sonoma Coast State Park. It's located right next to Marshall Gulch Beach, but from that beach, you can't actually see the arch! Due to it's position, you need to be farther north or south to see the giant arched opening.
Arched Rock Beach
Arched Rock Beach, located just a couple miles north of Bodega Bay, is named for the giant arched rock island visible to the north.
There is a trail that descends the rocky bluffs to the small beach, but the winding, very narrow, steep, dirt path is suffering from heavy erosion, making it fairly dangerous. Even though it was a beautiful day, there wasn't a soul on Arched Rock Beach and I can only imagine it's because they took one look at the trail and thought, "No way!"
Luckily, you don't need to stand on the beach to enjoy fabulous views of Arched Rock, the rugged coastline, or the gorgeous Pacific Ocean. You can do all of that from the parking lot along Highway 1.
Know Before You Go
Arched Rock Beach is located within Sonoma Coast State Park at 4442 CA Highway 1, Bodega Bay, California 94923 in Sonoma County.
Download the Sonoma Coast State Park Brochure.
There are no restrooms and no facilities available and no dogs are allowed on this beach.
There is a trail to the beach, but it is heavily eroded and dangerous. Also, like many beaches in the Sonoma Coast State Park, this is a dangerous beach and it is not recommended for swimming.